Frankie Edgar absolutely demolishes Yair Rodriguez in lopsided performance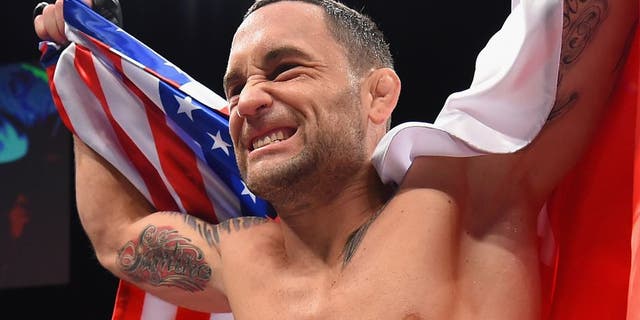 DALLAS Frankie Edgar heard all about the hype surrounding Yair Rodriguez going into UFC 211 on Saturday night.
He then proceeded to smash that hype into a million pieces as Edgar absolutely demolished Rodriguez over two rounds until the fight was stopped on the advice of the ringside physician.
Despite giving up size and reach to his opponent, Edgar showed no fear getting right in his face as soon as the fight started before landing a stinging right hand that rattled Rodriguez.
Edgar continued his assault with a big takedown against the cage before he began hammering away at Rodriguez from the top with punches and elbows from inside the guard.
While Rodriguez did his best to play defense on the ground, Edgar absolutely mauled him with punches while opening up a huge cut on his cheek as blood started streaming across his face.
Edgar wasted no time planting Rodriguez on the mat with another huge takedown in the second although the young Mexican prospect did his best to grab onto a knee bar on the mat to slow him down.
Edgar finally slipped his leg through and then just started battering Rodriguez with punches and elbows once again.
Rodriguez was like a turtle on his back with Edgar just having his way with the former "Ultimate Fighter" winner as the mouse on his eye just continued to swell with each shot landed.
As Rodriguez went to the corner, the ringside physician came in to check on the swollen eye that was completely shut by this point in the fight. Rather than sending Rodriguez back out with little to no vision from his eye, the fight was stopped.
Edgar earns the TKO victory while reminding the world that he's still an elite featherweight as Rodriguez looks to regroup following his first loss in the UFC.
Following the fight, Edgar called for the winner of the upcoming UFC 212 main event between Jose Aldo and Max Holloway as they unify the featherweight title in Brazil on June 3.