Frank Mir: 'This is the best I've ever been'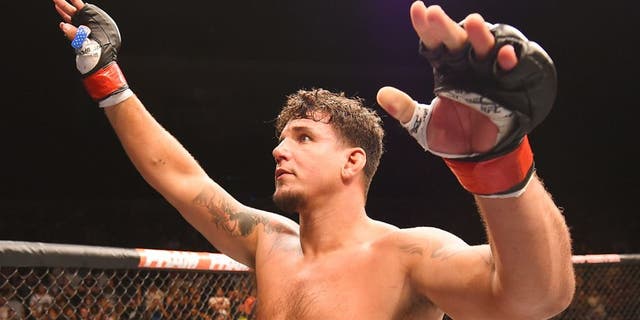 Frank Mir knows better than most that MMA can be a prisoner-of-the-moment sport like almost no other athletic competition known to man.
When he was downtrodden and riding a four-fight losing streak, back in February 2014, Mir heard cries for retirement almost daily from fans and media alike.
Fast forward to 2015, where Mir has won two fights in a row -- including knockouts over Antonio "Bigfoot" Silva and Todd Duffee -- and miraculously he's back ranked among the top 10 fighters in the heavyweight division. At UFC 191, Mir will face No. 4-ranked Andrei Arlovski with a chance to climb back into the top five for the first time in several years.
The former heavyweight champion has enjoyed this career resurgence, but the last thing he wants to hear is how "the old Frank Mir" is back. In actuality, the new Frank Mir is a much more dangerous and lethal fighter than even the 25-year-old version who won the UFC title back in 2004.
"This is the best I've ever been," Mir told FOX Sports recently. "I hope a year from now, that will be the best I've ever been. That's one thing that really keeps me from wanting to retire is that I'm improving. If you're seeing improvements and getting better and not going backwards, it inspires you to go out there and keep pushing it.
"And really that's why I fight -- I go out there, I love martial arts, I love what it teaches me about myself, (it) breaks myself down and I go out there and perform. Going out there and performing against other world-class fighters showcases and brings out the truest in what I'm doing and how I'm living. I can go back and work and improve and strive to be a better person."
A big part of Mir's new skill set that's landed him two consecutive knockouts is the addition of boxing coach Angelo Reyes, who has become an integral part of his training camps over the last year.
Reyes has Mir going hard rounds with professional boxers like Bermane Stiverne while teaching him the sweet science that often gets lost when two MMA fighters stand in the center of the cage and start winging punches.
"I really love the boxing world," Mir said. "We have to start on our feet and the reaction and the science -- and Angelo has shown me how much of a science boxing can be. It's not about being in good shape or throwing combos. It's about throwing this and seeing what my opponent does and making movements and reactions on the fly and having set patterns to analyze with your opponents.
"Sparring with some of the guys I'm working with I really get to see it implemented -- it's a real quick lesson if I'm not throwing something proficiently. If I'm throwing a jab and it's not the right time or placement, they let me know really quick."
Make no mistake, Mir has fallen in love with boxing since working with Reyes, but he's never going to abandon what got him in the race in the first place.
When Mir debuted in the UFC 14 years ago, he was known as a devastating finisher on the ground. It's been almost four years since he's finished a fight by submission, but Mir still loves Brazilian jiu-jitsu and putting an opponent to sleep on the ground more than any knockout he's ever landed.
"I think everybody still has to be threatened by my ground attacks, which is still something I work on religiously. I want to be good on the ground and I love submissions," Mir said. "If you ask me if I would rather win a fight by knockout or by submission, I still choose submission.
"Chokes are my favorite thing in the world. I've just always been amazed by the ability to put a choke on somebody and it's like ninja magic. I don't care how tough you are, you put a choke on somebody, they go to sleep."
Whether it's a knockout, choke-out or decision, Mir hopes to get past Arlovski to wrap a bow on a great 2015 with three wins inside the calendar year. A win at UFC 191 would undoubtedly put Mir back in the top five of the division and staring at title contention in 2016, but he's not going to allow himself to get too reactionary just yet.
Just like everyone was ready to see him ride off into the sunset after four straight losses, Mir isn't prepared to call for a title shot after three consecutive wins -- at least not yet anyway.
"Andrei, if he's successful in September, I think he's closer to a title fight right now because he has four wins in a row and this would be my third win in a row," Mir said.
"Right now there's still guys out there who are closer to a title shot than I am. If Stipe (Miocic) is able to be successful over (Ben) Rothwell, there's a strong argument for him to be there, but I think it definitely puts you in the conversation where one more win over a top-five guy and I'm right there knocking on the door."