Frank Mir: Mark Hunt hits harder than anyone I've ever fought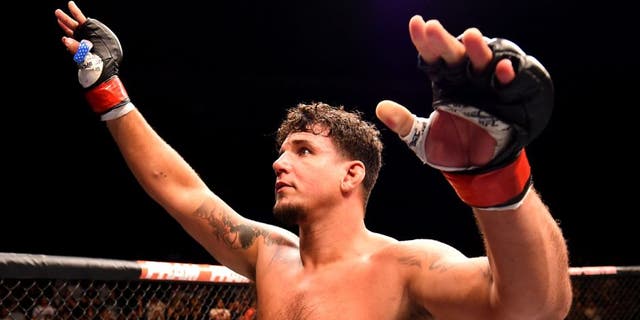 Frank Mir spoke recently for the first time since getting knocked out by Mark Hunt last weekend in their Brisbane main event. The heavyweight legend seemed in good spirits and was philosophical in discussing everything from the blow that took him out, to the damage he's sustained over the course of his career, to the idea of retirement.
Ever the warrior, Mir seemed to simply admire what Hunt was able to do in their fight, and said that with power-punching big men, all it usually takes is one shot. "Sometimes when a guy weighs 240 pounds, 250, 260 pounds, when the shot comes through and a guy is able to land a shot on another guy, typically, they fall down," he explained on his Phone Booth Fighting podcast.
Furthermore, Mir said that after nearly 15 years, he now has an answer to the question of who hits the hardest of any opponent he's faced. "Especially when you have a guy who is a K-1 champion like Mark, who I think hits harder than anybody," he revealed.
"I've now been hit by Roy Nelson, Junior Dos Santos, you name it. I've been hit by some of the most powerful guys in the division and I was never really able to answer that question when someone asked me, 'Who hits the hardest?' And now, I'll tell people, I've never been hit like I was hit by Mark Hunt. It wasn't like it caught me on the chin. It caught me on the ear and completely took my legs out, rung my bell and put me on queer street. I didn't know where I was going."
Mir's humility and willingness to give credit where it is due doesn't mean that he's meek or planning to leave the sport he loves, as Brian Stann openly hoped he would. Mir says he does think about his future, a possible second career in broadcasting and his brain health.
The submission artist simply doesn't seem to think that he's reached a point of no return when it comes to the damage his brain has sustained. "I take it into consideration. I, too, don't want to have a problem with my mind when I get older," he said.
"I don't feel that's occurred yet. I've been fighting now, going on 15 years in November, and I seem to be able to still hold a conversation pretty well. And, I've kind of gone through the gauntlet in terms of how many fights I've had and who I've fought and who I've been hit by.
"Our sport is not as dangerous as people think it is, in terms of head trauma."