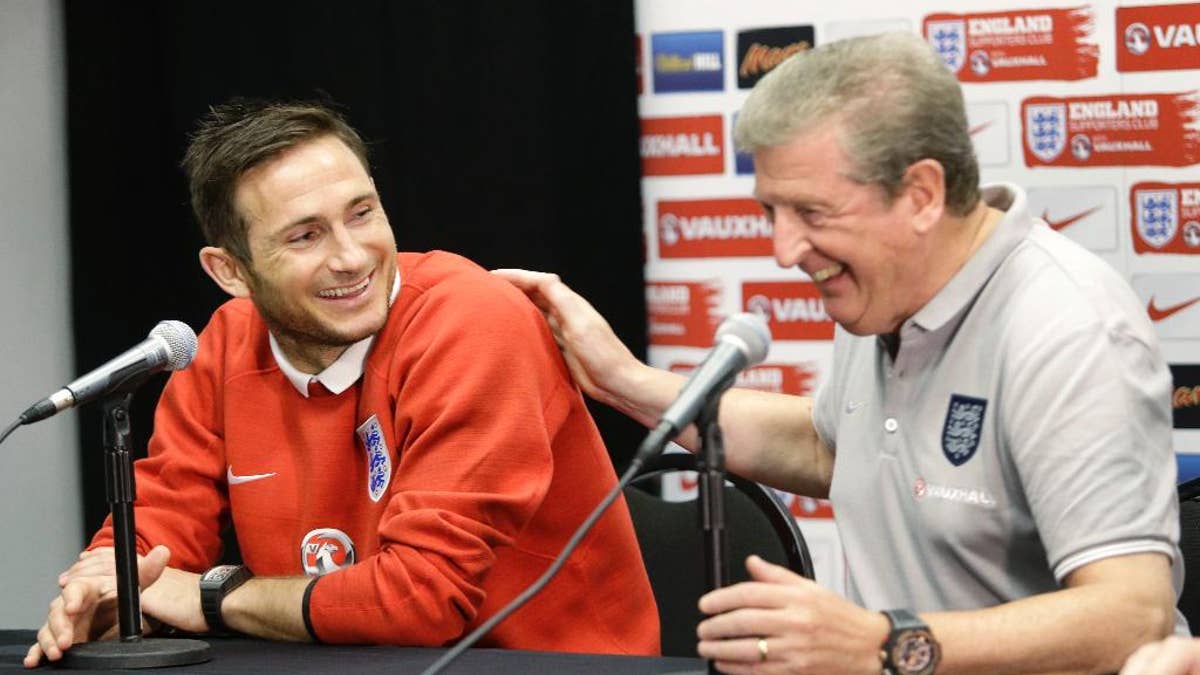 MIAMI GARDENS, Fla. – Preparing for the World Cup with England in Miami, Frank Lampard is considering whether to return to the United States to see out his playing career.
The midfielder turns 36 later this month and is considering whether to join a Major League Soccer club after confirming the end of his illustrious 13-year Chelsea career this week. But any decision about his future employer will be on hold until England returns from Brazil.
"The American thing is an option, I make no bones about that," Lampard said Tuesday. "I'm looking at different options, but the main thing is I want to carry on playing. I feel very fit and fresh and I'm enjoying it so ... I'd love to play for a few more years. I can't tell you where that is now and that is something to be parked at the minute."
Although a wrench to leave the club where he established himself as one of the midfield greats, Lampard is relieved.
"It's a weight off my shoulders to an extent," said Lampard, who scored a Chelsea record 211 goals in 648 appearances.
The priority now is England, and Lampard will assume the captain's armband in the penultimate warm-up match on Wednesday against Ecuador when Steven Gerrard is rested. Lampard didn't feature in Friday's 3-0 victory over Peru at Wembley Stadium and also wasn't deployed from the bench in the previous international against Denmark in March.
"It doesn't bother me thinking about being a cover player or a starter," Lampard said at the Sun Life Stadium in Miami Gardens where England will take on Ecuador. "I will do my best to start a game, but I am very respectful of the manager.
"I do see my role here in a broader sense — as I think all the experienced players should have — of helping things going in the right direction. We've been here before, we've been here when it hasn't been so great."
That experience has been gained by playing at both the 2006 and 2010 World Cups.
"I'm certainly along for the ride ... it's a fantastic ride," Lampard said.
And one he didn't expect at such an advanced stage in his career.
"If we go and win it, I'll probably hang my boots up," Lampard said of his international career. "I don't like to say it. I love playing. It's kind of obvious it comes in the end ... most players finish with England in their low 30s at the most. I've had some of my most enjoyable England years in the back-end, in the last two years.
"I've enjoyed and appreciated what I've got. When you're young you don't always appreciate being in the squad, the ambiance around the squad. That's why I won't write myself off yet."
Lampard is yet to win anything with England to join the collection of winners' medals he amassed with Chelsea since joining from West Ham in 2001. He won the Premier League three times, the Champions League and Europa League once each, four FA Cups and two League Cups, but didn't agree to a new deal at Stamford Bridge.
"Chelsea have been fantastic with me throughout my career and it was mutual," Lampard said. "And that's the way I wanted to go. I maybe would have gone away last year in a different way, but now I go with a very happy feeling and respect for the club."
___
Rob Harris can be followed at www.twitter.com/RobHarris