Frank Gore: Andrew Luck a 'football god'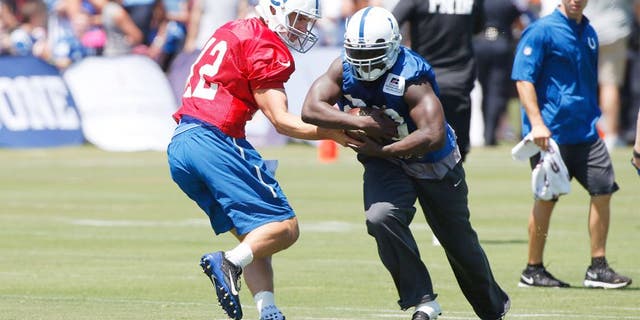 Indianapolis Colts running back Frank Gore sounds like he's enjoying the opportunity to play with quarterback Andrew Luck.
In an interview with The Jim Rome Show, Gore heaped praise on the 25-year-old Luck.
"He runs meetings like a coach," Gore said. "Basically, I'm playing with a coordinator on the field. He's a football God. He sees everything, and he sees the big picture of everything."
Gore, who has run for more than 11,000 yards in his career, joined the Colts in March after 10 seasons with the San Francisco 49ers. He said Luck offers something he never experienced during his years with the 49ers.
"He's different. He knows what's coming," Gore said. "He lets me know when (there's) something I don't see. He's just different. How he's in the huddle, off the field, in the meetings, he runs it. He runs the show, even in the off-season, he ran it. One day he had running backs, the next day he has receivers. He's just different. He's a football God."
With Gore and veteran wide receiver Andre Johnson on board to help Luck, the Colts hope to make a Super Bowl run after advancing to last year's AFC title game.
(h/t Stampede Blue)