Francisco Rivera, John Lineker throw 100 punches in epic two-minute slugfest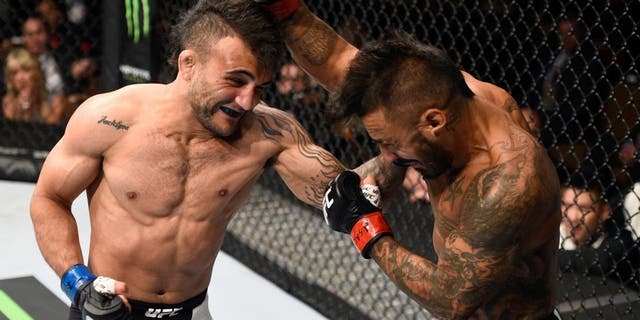 The highly anticipated bantamweight bout between Francisco Rivera and John Lineker lived up to the hype Saturday night at UFC 191 as both fighters bit down on their mouthpiece and slugged it out before Lineker walked away with a submission win.
Lineker, who was making his bantamweight debut after struggling with the weight cut at 125, met Rivera in the middle of the Octagon and immediately started swinging haymakers. Rivera was game, and started throwing some heavy shots on his own. But it was Lineker who got the best of the exchanges.
See for yourself:
According to the MMA stats gurus over at FightMetric, the pair of bantamweights exchanged exactly 100 strikes during the two minutes they stood in front of each other.
Once the fight went to the ground, it was all Lineker, who was able to grab Rivera's neck and lock in a guillotine at the 2:08 mark for the win.
Keep up with all the action from UFC 191 with our live blog.