Francis Owusu's miracle catch is garnering national attention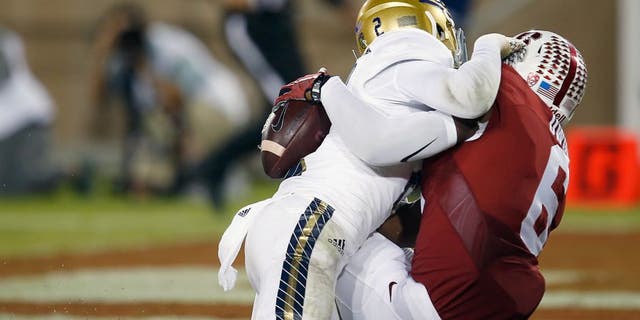 Francis Owusu's catch was one of the best you'll ever see. Tony Avelar AP Photo
By now you've seen Stanford's Francis Owusu's miracle catch against UCLA last Thursday night in Palo Alto.
The catch has made Owusu a small time celebrity. Text messages have poured in, as have tweets, including one from Dallas Mavericks forward Dirk Nowitzki. Nowitzki called the catch "incredible."
Even Owusu's coaches and teammates are in disbelief over his effort.
"I'm still in a state of disbelief," said head coach David Shaw. "I don't know how he did it."
As for Owusu's explanation of the catch:
"When I turned around, I saw the ball in the air. Everything after that was kind of blurred when the defender hit my head," he said, according to the San Francisco Chronicle. "I kind of had an idea where it was going to land, and from there, instincts just took over. I put my arms where I thought the ball would land and was able to catch it. Once I caught it, I wasn't going to let go."
(h/t San Francisco Chronicle)