Francesco Totti to retire at end of season and join Roma front office, club reveals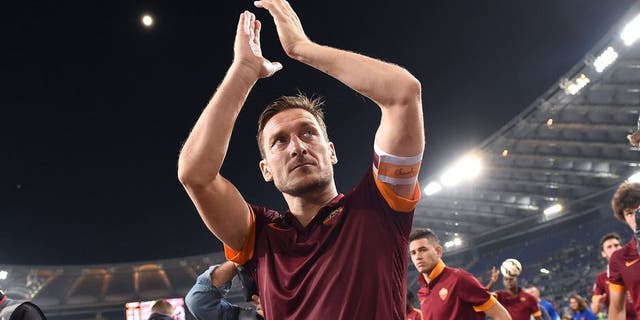 It appears Francesco Totti is finally ready to hang up his boots.
The Roma captain and club legend will retire at the end of the season at 40 years old, Roma's sporting director confirmed Wednesday. Tottiwill havebeen with Roma for 25 years.
The attacking player was set to be out of contract with Roma at the end of the season and will transition to a front office role as a director for Roma.
"In terms of Totti, I already knew that there was an agreement with the club that this would be his final year as a player, then hed start as a director," Roma sporting director Monchi said, according to reports in Italy.
"Francesco is Roma, I want to be as close to him as possible," he added. "I'd love to learn even one percent of the huge amount that he knows."
Monchis comments confirm ones from Roma general manager Mauro Baldissoni before Romas derby vs. Lazio over the weekend. The GM said Totti had a six-year contract to stay with Roma as a director and, "we don't envisage seeing him on the field again, but he will be with us for many more derbies. Totti, asked about that later, told reporters: "Somebody else may be saying that, but not me."
It sure seemed likely Totti would retire when his contract ran out this summer, and now it appears that is the plan Roma's front office is set on.
Whenever Totti is ready to announce it himself, the Italian leaves behind a towering legacy at the only club he has ever played for since he began his professional career in 1992.He has a Serie A title, two Coppa Italian titles and two Supercoppa Italiana titles with Roma, where he is the clubs most-capped player. For Italy, he won the 2006 FIFA World Cup.
MORE FROM FOX SOCCER