France lays out 'rules of the road'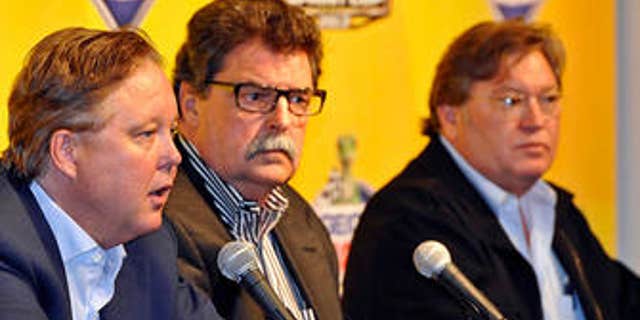 JOLIET, Ill. – NASCAR chairman Brian France laid out the "new rules of the road" to Sprint Cup series principals in a 17-minute Saturday meeting held inside the Nationwide Series garage at Chicagoland Speedway.
With the character of the sport coming into question in the past week, NASCAR is taking immediate steps to rebuild its integrity.
The cornerstone of the plan is what could be described as the 100 percent rule.
"Expectations are that a driver and a team give 100 percent effort, their best effort, to complete a race and race as hard as they possibly can," France said.
Later today, NASCAR is expected to release a technical bulletin detailing new rules that will be effective Sunday. President Mike Helton recited the draft of Tenet 12-4L to the competitors and the media, which states:
"NASCAR requires its competitors to race at 100 percent of their ability with the goal of achieving their best possible finishing position in an event. Any competitor who takes action with the intent to artificially alter the finishing positions of the event or encourages, persuades or induces others to artificially alter the finishing position of the event shall be subject to a penalty from NASCAR. Such penalties may include but are not limited to disqualification and/or loss of finishing points and/or fines and/or loss of points and/or suspension and/or probation to any and all members of the teams, including any beneficiaries of the prohibited actions.
"'Artificially altered' shall be defined as actions by any competitor that show or suggest that the competitor did not race at 100 percent of their ability for the purpose of changing finishing positions in the event at NASCAR's sole discretion."
Helton offered a "working" laundry list of what actions would be acceptable, such as "contact while racing for position, drafting, pitting, tire and fuel management yielding to a faster car, alternative pit strategy and long fuel strategy." On restarts, Helton added that if a competitor elected to lay over for one driver, "you lay over for all" but that there would be further explanation in Sunday's drivers' meeting.
As for what was unacceptable, Helton included "offering a position in exchange for a favor, offering material benefit in exchange for track position" as was intimated but not proved last Saturday night between the Penske Racing No. 22 team and the No. 38 Front Row Motorsports team. Also related to Richmond was, "directing a driver to give up a position to the benefit of another driver, intentionally causing a caution," the former, which NASCAR found fault with from the No. 38 and Michael Waltrip Racing -- the latter, which allegedly happened with the No. 15 MWR Toyota.
Helton added "intentionally wrecking a driver, pitting or pulling into the garage to gain advantage from another competitor," would not be tolerated.
To deter collusion on the spotter stand, vice president of competition Robin Pemberton said only one spotter per team would be allowed on the spotter's stand and each can carry two analog radios, a scanner plus a Fanvision. Digital radio communication cannot be used between the spotters or in the cars.
Teams received what was described as "a dressing down" from France that was filled with recent comments from race fans and media outlets.
"Circumstances happen that are unhelpful in the credibility category," France told reporters. "There's no doubt about that. And you go back to what you're about, and what we're about is the best racing in the world with the best drivers giving 100 percent of their ability.
"To the extent that we get off of that for any reason, then it's our job to have the rules of the road and the rules of the race such that it achieves that every day. If it's not this, it might be something else. You deal with it. We have dealt with it as best that we can, and we move on."
Defending Sprint Cup championship crew chief Paul Wolfe said the message delivered to the teams was "just common sense."
"Everyone should have a pretty clear understanding of what that is now," he said. "If you go out there and run 100 percent to your ability and run a normal race then everything will be fine.
"I think it got everyone's attention. I don't expect it to be a big deal moving forward."