France fully focused and ambitious again after learning hard lesson of 2010 World Cup shambles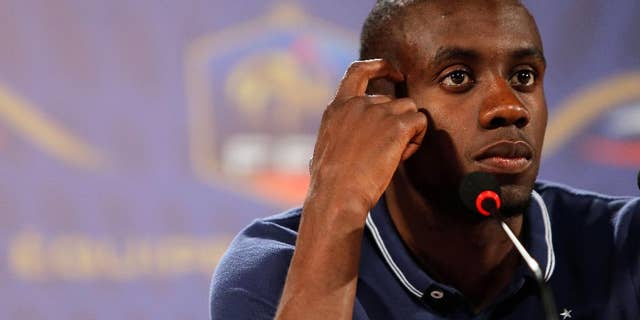 NEWYou can now listen to Fox News articles!
RIBEIRAO PRETO, Brazil – Learning a hard lesson from its traumatic World Cup experience of four years ago has made France a stronger force, and the players are cautiously optimistic they can go far this time around.
First up is a potentially bruising encounter against Honduras in Group E in Porto Alegre on Sunday, one which will give an early indicator of the resolve in coach Didier Deschamps' new-look team.
Only five players remain from the 2010 World Cup campaign, where France shamed a nation by going on strike at training and went out of the group stage without winning a match.
This squad is hungry, focused and determined to make for that shambles.
"Of course we have a lot of ambition, but we remain humble because we know we've come from and things can happen very quickly in football," France midfielder Blaise Matuidi said Friday. "We won't get carried away. We have our feet on the ground, but we're aware that we have a good team and that we can do something good at this World Cup."
The team has been totally transformed since overcoming a 2-0 deficit away to Ukraine in the first leg of their World Cup playoff and winning the return leg 3-0.
That result won back a large portion of long-suffering fans and the players have not looked back since, using that positive energy to good effect to rack up 31 goals in the past nine games, including an 8-0 hammering of Jamaica just before boarding the plane to Brazil.
"It's important to find the right balance in this type of match, but of course we're an attack-minded team and whoever we play we'll try to attack," Matuidi said. "We're expecting them to sit deep and play on the break. They have some quality players who play good football. I'm thinking of (Wilson) Palacios in midfield, who has played for a big club in Europe (Tottenham). But there's not just him, so we'll have to be vigilant."
Honduras showed in a recent friendly against England that it relishes physical combat more than technical skill, however, and Deschamps has briefed his players to be wary of getting drawn into confrontation.
"We're ready, we're prepared for that. We've seen their friendly games, and of course they're a physical side," Matuidi said. "But we shouldn't lose sight of why we're here. I think we can cause them problems of our own, and as for the physical challenge there will be a referee there to lay down the law, so we're not worried about that."
The problem for France is that, the last time it played a very aggressive team, it fell apart against Ukraine in the first leg of their playoff, with center half Laurent Koscielny sent off late on after completely losing his composure. At the European Championship two years, Zlatan Ibrahimovic and his Sweden teammates bullied France from start to finish in a 2-0 win.
"The only thing I'm convinced of is that we'll give everything, and we'll be above reproach in terms of our team spirit," Matuidi said.
Realistically, though, Honduras should be the more worried team considering the ease with which France has been scoring.
Striker Karim Benzema looks in supreme form after a successful season where he won the Champions League with Real Madrid. He scored twice and set up three against Jamaica and, with winger Franck Ribery out injured, is the now the undisputed leader in attack.
"Benzema is a world class goal scorer. He is Real Madrid's center forward, in the team that won the Champions League, so there's nothing you can add," Matudi said. "I hope he carries on the way he is now, at the top of his form, to help us have a great World Cup."