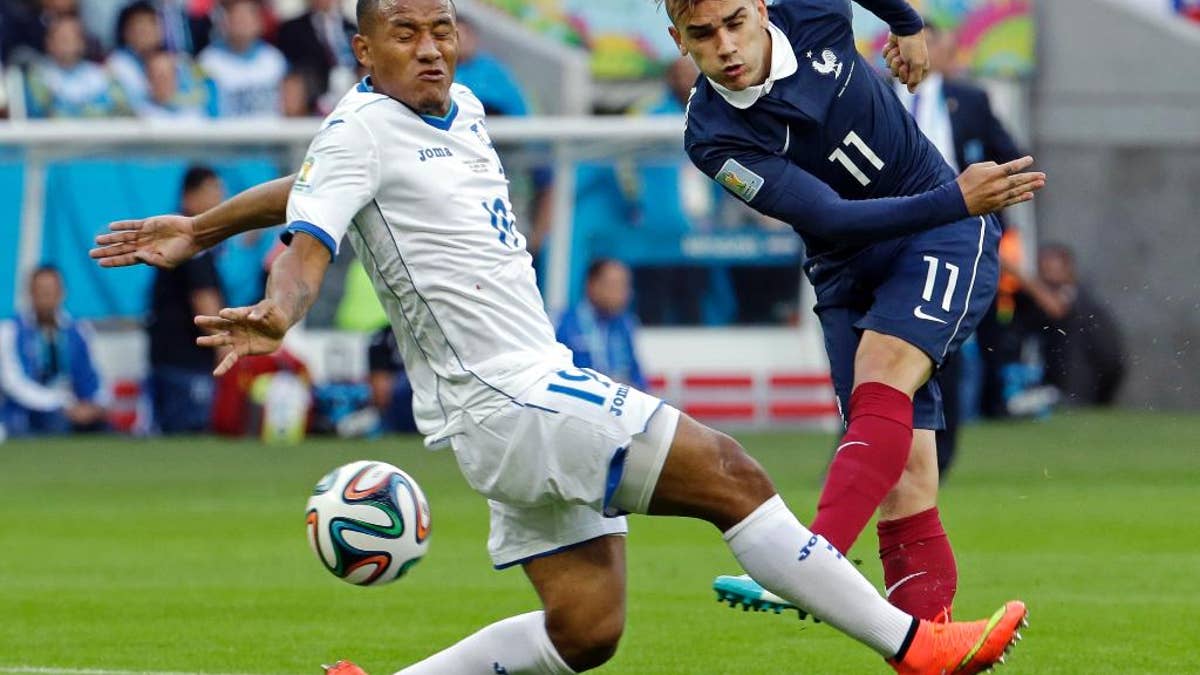 RIBEIRAO PRETO, Brazil – Antoine Griezmann can hardly believe he's playing at the World Cup.
With Franck Ribery out injured, Griezmann has been thrust into France's attack and into the spotlight. Despite playing only a few international games, he looks settled and was impressive at times in Sunday's 3-0 win over Honduras in Group E.
His versatility allows him to make the most of the "total freedom" which coach Didier Deschamps gives his mobile forwards.
The 23-year-old Griezmann's national team prospects appeared dim when he was banned by the French Football Federation for one year over a disciplinary issue.
When asked how he would have reacted a year ago if he'd been told he would be playing on football's biggest stage, he said: "I would probably have said 'Are you having a laugh?'"
In October 2012, he was among a group of under-21 players who left their training camp late at night and drove two hours to go to a Paris nightclub and back between two playoff games against Norway for the 2013 European Championship. France lost 5-3 and failed to qualify.
"I knew I had to work hard and show another image of myself," he said.
Once his ban was over, Deschamps called him up to face the Netherlands in March last year and Griezmann has scored three times in five appearances.
He is part of a revamped forward line that is interchangeable. Deschamps lets his forwards roam around at will, providing they don't neglect their defensive duties.
"We have total freedom in attack," Griezmann said. "He gives us carte blanche to enjoy ourselves as long as we help our fullbacks out."
Griezmann played in three positions against Honduras, with Valbuena and Benzema playing in two each.
Early on, Valbuena did most of his attacking down the right, but moved to the left midway through the first half to initiate an attacking move.
When Benzema dropped deep to collect a pass, Griezmann replaced him at center forward, and when Valbuena shifted over to the left Griezmann moved to the right.
"The coach gives me a lot of freedom to play between the lines," Valbuena said.
When Deschamps took Valbuena off, Olivier Giroud came on at center forward, Benzema took Griezmann's place on the left and Griezmann moved to the right — meaning Honduras had faced three different center forwards.
"It's easy to come into this team, because we play a possession game and the technical ability is high. I try to play one-touch football and speed the game up," Griezmann said. "It's pretty easy to play with Valbuena, because his style of play is similar to mine and we like to play one-twos."
His understanding with Benzema is also promising.
"He gives me a lot of advice on the pitch, tells me not to get stressed out, to play the way I do for my club and to pay attention to his runs," Griezmann said. "We're together a lot and we like to have a laugh."
For a diminutive player, Griezmann also has a great natural spring, as he showed by leaping above taller center half Maynor Figueroa to head the ball against the crossbar.
"That goes back to when I was young, when we were out playing with mates," Griezmann said. "One of us crossed the ball and the others did headers. I have this heading ability thanks to my friends."
Although Griezmann comes across as pretty unflappable, there is one thing that does annoy him: comparisons with Ribery, who was the same age when he broke into the France team just weeks before the 2006 World Cup and shone at the tournament.
"There's no comparison," he said. "Of course I'm flattered because we're talking about Franck Ribery, but everyone has their own way of playing."