FOXSports.com NFL Countdown: No. 9, Arizona Cardinals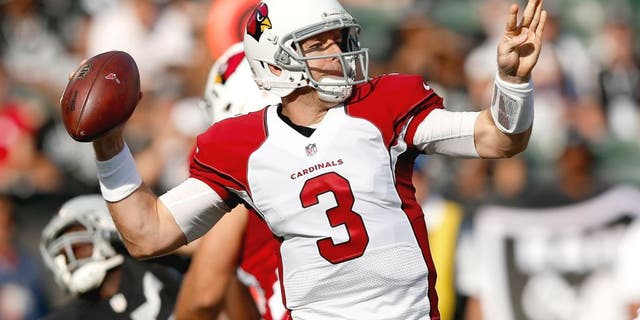 NEWYou can now listen to Fox News articles!
Our 2015 NFL preview series ranks every team, from worst to first. Today: the No. 9 Cardinals.
2014 record: 11-5 (lost in wild-card game to Panthers)
Head coach: Bruce Arians (third year, 21-11 regular season, 0-1 playoffs)
Key arrivals: *David Johnson (running back) *D.J. Humphries (offensive tackle), Mike Iupati (guard), A.Q. Shipley (center/guard), Corey Peters (defensive end), Cory Redding (defensive end), Sean Witherspoon (inside linebacker), LaMarr Woodley (outside linebacker)
(*denotes rookie)
Key departures: Rob Housler (tight end), Darnell Dockett (defensive end), Dan Williams (defensive tackle), Antonio Cromartie (cornerback)
2015 schedule (ET)
Sept. 13: New Orleans, 4:05 p.m.
Sept. 20: at Chicago, 1 p.m.
Sept. 27: San Francisco, 4:05 p.m.
Oct. 4: St. Louis, 4:25 p.m.
Oct .11: at Detroit, 4:05 p.m.
Oct. 18: at Pittsburgh, 1 p.m.
Oct. 26: Baltimore, 8:30 p.m.
Nov. 1: at Cleveland, 1 p.m.
Nov. 8: BYE
Nov. 15: at Seattle, 8:30 p.m.
Nov. 22: Cincinnati, 4:05 p.m.
Nov. 29: at San Francisco, 4:05 p.m.
Dec. 6: at St. Louis, 1 p.m.
Dec. 10: Minnesota, 8:25 p.m.
Dec. 20: at Philadelphia, 1 p.m.
Dec. 27: Green Bay, 4:25 p.m.
Jan. 3: Seattle, 4:25 p.m.
TRAINING CAMP QUESTION: Is there any rookie who can make an early splash like wide receiver John Brown did in 2014?
Keep an eye on Northern Iowa running back David Johnson, who was a third-round pick. With 35-year-old quarterback Carson Palmer coming off his second reconstructive knee surgery, the Cardinals appear focused on improving their running game after averaging an NFL-low 3.3 yards per carry in 2014. Andre Ellington (foot) will reassume his starting spot when healthy, but Johnson has a golden chance for snaps with the backup role up for grabs.
IF EVERYTHING GOES RIGHT
Palmer stays healthy and is the key to the Cardinals making the playoffs. Palmer guided the Cardinals to an 8-1 start in 2014, but after he went down in Week 10 Arizona sputtered to a 3-5 finish without him. This year, keeping Palmer healthy should give Arizona the ability to compete with the two-time NFC West champion Seahawks and upgraded Rams, who added Nick Foles. Adding A.Q. Shipley and Mike Iupati to the offensive line should go a long way toward keeping Palmer upright.
IF EVERYTHING GOES WRONG
Palmer gets hurt again as the offensive line fails to keep him upright. The pass-first Cardinals don't get much out of the backfield of Ellington, Johnson, Kerwynn Williams and Stepfan Taylor -- a backfield that produced just 81.8 yards per game last season, ranking 31st in the league. Ellington (660 yards last season) again doesn't stay healthy and proves he is not a feature back, or at least someone who can play on first and second down.
BREAKOUT PLAYER: Inside linebacker Sean Weatherspoon
Although he posted a combined total of 210 tackles with Atlanta during the 2011 and 2012 seasons, Weatherspoon was still considered to have not yet reached his full potential. Injuries then held him nine games in 2013 and kept him out all of last season. Weatherspoon now has a chance to reinvent himself on a one-year deal with Arizona in a defensive system where inside linebackers have the chance to excel.
CIRCLE THE DATE GAME: vs. Green Bay in Week 16 (4:25 p.m. ET/Dec. 27)
Green Bay hasn't played in University of Phoenix Stadium since the 2009 Packers suffered a 51-45 overtime loss in the highest-scoring game in NFL postseason history. Based on how strong both teams look on paper, the 2015 matchup could have playoff implications.
ALEX MARVEZ'S PREDICTION: 10-6, first place
The Cardinals will always reflect on what could have been in 2014 had Palmer (and even backup Drew Stanton) not suffered season-ending knee injuries. After a 9-1 start, Arizona lost four of its final six games before being bounced by Carolina in the first round of the playoffs. The Cardinals are set to contend for a Super Bowl once again with Palmer having already returned to practice following ACL surgery. However, don't expect the same pass-heavy offensive approach from head coach Bruce Arians. The Cardinals have taken steps to upgrade the NFL's No. 31 rushing offense with the free-agent signing of a road-grading left guard in Iupati and the selection of Johnson in the third round. The late offseason signing of ex-Cincinnati tight end Jermaine Gresham also should help the cause. I actually have more questions about the defense. New coordinator James Bettcher has big shoes to fill in replacing the departed Todd Bowles, who was so effective that the New York Jets hired him as their head coach. There were plenty of departures and arrivals in free agency as well. The most intriguing additions were Weatherspoon and outside linebacker LaMarr Woodley. This could be Woodley's last chance to prove he is still an effective pass rusher after a steep decline over the past three seasons.