FOX Sports Wisconsin Midweek Stock Report for Sept. 2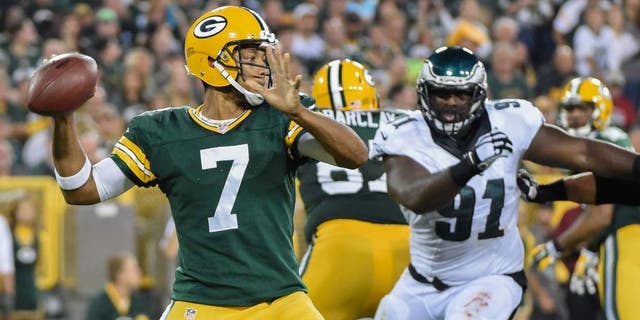 NEWYou can now listen to Fox News articles!
Every Wednesday, FOX Sports Wisconsin takes a look at which athletes' stock is trending up and whose is trending down.
In other words, who is making a meteoric rise and who is quickly plummeting.
With that in mind, let's "take stock" of the current sports scene in Wisconsin, shall we?
Adam Lind
Lind, arguably the Brewers' most consistent hitter this season, has hit .400 (6 for 15) over the past week. The 32-year-old first baseman also hit .309 in the month of August. Lind, who owns a .285 batting average this year, also has a .997 fielding percentage.
Brett Hundley
Hundley, the 22-year-old rookie QB out of UCLA, looked intriguing last Saturday, in Green Bay's preseason loss to Philadelphia, connecting on 22 of 31 pass attempts for 315 yards, two touchdowns and one interception. The athletic, 6-foot-3, 226-pounder ended the night with an impressive 111.6 passer rating.
Scooter Gennett
Gennett, 25, is enjoying a respectable closing kick this season. The second baseman has hit .308 since Aug. 23. Gennett enjoyed an especially memorable night last Saturday, when he went 4 for 5 with three RBI and three runs against Cincinnati. The second baseman hit .310 in July and .299 in the month of August.
Jean Segura
Following Tuesday night's 2-for-4, three RBI performance in a win over Pittsburgh, Milwaukee's shortstop is now hitting .350 (7 for 20) over the past week. Over his last eight games, the 25-year-old has four multihit outings.
Packers receivers
Green Bay's wideouts can't seem to catch a break this preseason. After Jordy Nelson's well-documented, season-ending right knee injury two games ago, Randall Cobb gave the Packers a scare last Saturday in their exhibition loss to Philadelphia. Cobb left the clash with the Eagles after landing hard on his right arm while trying to catch a pass near the sideline, on Green Bay's first offensive series. Cobb, who had 91 receptions last season, vows to be ready by Week 1, but there still must be a little unease in Titletown these days.
Casey Hayward
The Packers left cornerback seems to be trending in the wrong direction this preseason. Last Saturday, against the Eagles, Hayward missed a tackle on an early kickoff return that helped result in a 67-yard Philadelphia jaunt. Later, the fourth-year DB missed a tackle near the line of scrimmage that resulted in a 19-yard screen pass. . . . And, he was flagged for pass interference shortly thereafter. It would behoove Hayward to return to his rookie-year form -- and fast.
Domingo Santana
The prospect obtained from Houston is known as a feast-or-famine type hitter and this past week Santana was starving for a hit. In five games, he was just 2 for 17 (.118) -- of course one of the hits was a home run -- and struck out eight times.
Follow Kelly Beaton on Twitter