FOX Sports Wisconsin Midweek Stock Report for Oct. 7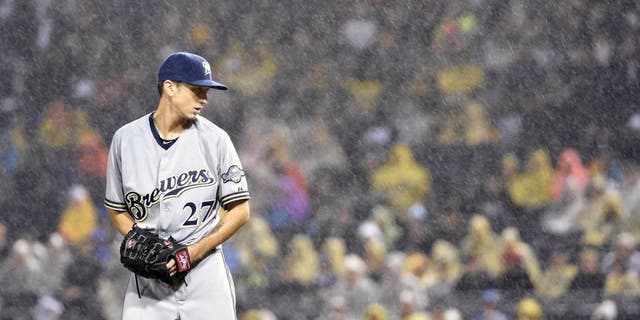 NEWYou can now listen to Fox News articles!
Every Wednesday, FOX Sports Wisconsin takes a look at which athletes' stock is trending up and whose is trending down.
In other words, who is making a meteoric rise, and who is quickly plummeting.
With that in mind, let's "take stock" of the current sports scene in Wisconsin, shall we?
UW-Oshkosh's offense
The Titans ran roughshod over UW-Stout last Saturday, winning by a rounding 69-14 margin. The real eye-opener? The Titans racked up a staggering 829 yards of total offense, including 456 rushing yards. Oshkosh (3-1) was up 41-7 by late in the second quarter. The Titans had several stars on the day, none bigger than sophomore receiver Sam Mentkowski, who registered eight catches for 209 yards and a pair of touchdowns.
Zach Davies
A 22-year-old right-hander, Davies showed promise in the baseball season's latter stages. Davies, who was acquired by Milwaukee from Baltimore for outfielder Gerardo Parra, finished 3-2 with a 3.71 ERA in limited time with the Brewers. In his final start, last Wednesday night, Davies worked seven solid innings, yielding five hits and no runs while striking out six in a win at San Diego.
Joe Schobert
The Badgers' star linebacker played like a man possessed during last Saturday's narrow loss to Iowa, ringing up three sacks, 3.5 tackles for loss and eight total tackles. Oh, and he also forced a pair of fumbles, had one recovery and produced five total quarterback hurries. For his performance, the Wisconsin senior earned Big Ten co-defensive player of the week accolades.
Jean Segura
Segura limped to the finish line this season, hitting .133 (2 for 15) in the season's final week. For the season, the 25-year-old shortstop hit .257 with six home runs, 16 doubles, 50 RBI and 25 stolen bases, in 560 at-bats. Since hitting .294 in his first full season in Milwaukee in 2013 Segura has seen his overall hitting and power take a dip.
Joel Stave
Saturday was not a banner afternoon for the Badgers' senior signal-caller, as his four total turnovers proved pivotal in Wisconsin's 10-6 defeat at the hands of Iowa. Stave was 21 of 38 for 234 yards, but he had zero touchdown passes and two interceptions. Under the senior's stewardship, Wisconsin went a combined 4 for 14 on third- and fourth-down conversion attempts. It was the first time Iowa won without scoring in the second half since 2007.
Jonathan Lucroy
The 2015 campaign won't go down as something to write home about for the Brewers' veteran catcher. After an early stint on the disabled list due to a broken toe, Lucroy returned on June 1 and was limited to seven homers and 43 RBI for the season. Then, in early September, Lucroy suffered a concussion. For the season, the 29-year-old backstop hit .264 in 371 at-bats -- that marked his worst batting average since his first season with Milwaukee, in 2010 (.253). He did not have a hit in the season's final week, in limited action.