FOX Sports Wisconsin Midweek Stock Report for April 27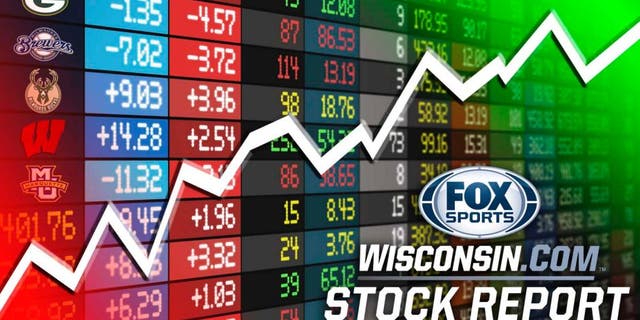 Every Wednesday, FOX Sports Wisconsin takes a look at which athletes' stock is trending up and whose is trending down.
In other words, who is making a meteoric rise, and who is quickly plummeting.
With that in mind, let's "take stock" of the current sports scene in Wisconsin, shall we?
Alex Hornibrook and George Rushing, Badgers QB and WR
At Wisconsin's spring game, Hornibrook and Rushing hooked up on a pair of long touchdown passes (46 and 43 yards). For Rushing, who will be a junior, that was one more catch than he had all of last season. He's hoping to compete for one of the top-four wide receiver positions. Hornibrook, a redshirt freshman, showed a nice touch on the deep pass and have a few fans hoping he'll win the job over senior-to-be Bart Houston. The season is still over four months away, but at least these two went into the spring hiatus on a good note.
Corey Clement, Badgers running back
It was a long 2015 season for Clement, who was injured and had an off-the-field incident. That all is seemingly behind him as he showed no effects from the sports hernia he endured last season. He carried the ball five times for 36 yards with a touchdown and a nice stiff-arm. Wisconsin needs a healthy Clement as it faces a tough schedule in 2016, while Clement needs a bounce-back year to regain some draft buzz.
Chris Carter, Brewers first baseman
Carter just continues to mash. When he gets a hit, the ball goes a long way. Last week he was 9 for 23 (.391) and of those hits, seven went for extra bases (five doubles, two home runs). For the week he slugged .870 and has a slash line of 297/368/672 so far. Not bad for a guy who has never batted above .239 in the majors and only once has had a slugging percentage of over .500 (.514 in 218 at-bats in 2012).
Ryan Braun, Brewers outfielder
The one-time MVP has quieted a lot of naysayers in the early goings of the 2016 season. With his thumb and back injuries of the past two seasons are seemingly behind him, Braun batted .500 last week (10 for 20) with two doubles, two home runs and seven RBI. On the season he is batting 373/440/657 with a team-high 17 RBI.
Badgers safeties
Wisconsin returns a lot of players on defense, but needs to fill both safety spots with the departures of Mike Caputo and Tanner McEvoy. Well, no one seems to have stepped up to fill that void yet as head coach Paul Chryst noted after last Saturday's spring game that's a position still up in the air. There's a lot of players competing for those two spots but can anyone make themselves stand out in fall camp?
Scooter Gennett, Brewers second baseman
Gennett did slug a double and home run last week, but those were just two of this three hits as he batted only .188 with five strikeouts in 16 at-bats. Making matters worse, he was pulled from the lineup before Tuesday's game after suffering oblique tightness.
Brewers pitching staff
In six games last week, Milwaukee pitchers allowed opponents to bat .303, issued 4.25 walks per nine innings -- which resulted in a 1.66 WHIP and .379 on-base percentage -- and served up 1.36 homers per nine innings (opponents had a .505 slugging percentage) while posting a bloated 5.77 ERA. The fielding independent pitching was a bit better, but at 4.99 that's really not something to crow about.
Follow Dave Heller on Twitter