FOX Sports Tennessee to Televise 80 Nashville Predators Regular Season Games in 2016-17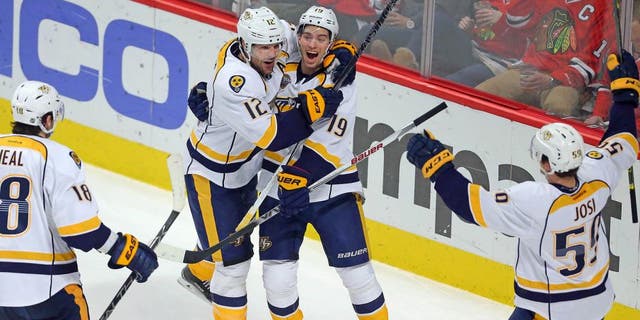 NASHVILLE (September 14, 2016) – FOX Sports Tennessee today announced it will televise 80 Nashville Predators regular season games during the 2016-17 NHL season, with the first game on FOX Sports Tennessee in Chicago against the Blackhawks on Saturday, October 15. Coverage will begin at 7:00 p.m. CT with the Predators LIVE! pregame show.
Additionally, FOX Sports Tennessee's Predators telecasts will be available for the first time on FOX Sports GO (FOXSportsGo.com), a free app that provides live streaming video through select programming distributors all season long, as well as other FOX Sports programming. FOX Sports GO is currently available for iOS, Apple TV, Android, Android TV, Fire tablets and Fire phones, Roku players and Roku TV, select Windows devices, and online at FOXSportsGO.com. Fans can download the mobile app for free from the iTunes App Store, Google Play, Amazon App Store and Windows Store. For more information, please reference the FOX Sports GO FAQ document that is attached.
In the broadcast booth, Willy Daunic (@WillyD1025) will return as the television play-by-play announcer alongside analyst Stu Grimson (@asgrimson). Lyndsay Rowley (@LyndsayRowley) will handle rinkside reporter duties throughout the season.
Also for the first time in franchise history, Predators LIVE!, the pre- and post-game show, will be a part of every game telecast. Hosted by Mark Howard (@MHOWARDZONE) and Terry Crisp(@ZenofTerryCrisp), the show will originate from the FOX Sports Tennessee Zone at Bridgestone Arena for all home games. Rowley, Daunic and Grimson will host Predators LIVE! on-site when the team is on the road.
A complete schedule of Nashville Predators games on FOX Sports Tennessee is attached (schedule subject to change). Schedule highlights on FOX Sports Tennessee:
The Predators will host the defending Stanley Cup Champion Pittsburgh Penguins on Saturday, October 22, with pregame coverage starting at 6:30 p.m. CT.
The Predators will head to San Jose for a Western Conference playoffs rematch with the Sharks Saturday, October 29, with coverage starting at 9:00 p.m. CT.
Shea Weber returns to Nashville for the first time as a member of the Montreal Canadiens on Tuesday, January 3. Pregame coverage will start at 6:30 p.m. CT.
Predators regular season games on FOX Sports Tennessee will reach more than 7 million households throughout Tennessee, Kentucky, Mississippi, Alabama and Georgia.
Predators fans can find exclusive game-day content, special features and videos on FOXSportsTennessee.com, Twitter, Instagram and Facebook.