FOX Sports North Midweek Stock Report for Aug. 5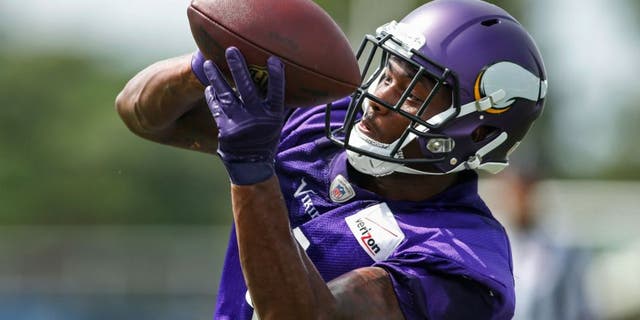 Every Wednesday, we here at FOX Sports North take a look at which athletes' stock is trending up and whose is trending down.
In other words, whose stock is making a meteoric rise, and whose value is quickly plummeting -- like the DeLorean Motor Company in the early '80s.
With that in mind, let's "take stock" of the current sports scene in Minnesota, shall we?
Stefon Diggs
We've heard murmurs in the past about the Vikings nabbing "The Steal of the Draft" (remember flash-in-the-pan Onterrio Smith?) so take this with a grain of salt, but . . . Diggs has the look of a valuable late-round draft pick, at the very least. The 6-foot, 195-pound receiver, whom Minnesota selected in the fifth round last May, has stolen headlines so far during the Vikings' training camp. Diggs, who had 62 catches for Maryland in 2014, had multiple highlight-reel receptions in last Saturday night's practice at Blakeslee Stadium in Mankato, including a 40-yard touchdown. Diggs should at least see some action on kick returns this season.
Trevor May
The Twins have struggled recently, so it's easy to lose sight of May's growth. But the 25-year-old right-hander might have found his future role in the bullpen, where he produced three scoreless appearances from July 30-Aug. 2. In two of those outings, May struck out a pair of batters. The 6-foot-5 righty yielded just one total walk for the week.
Maya Moore
From filling the stat sheet to getting her very own line of Jordan sneakers, Moore has seen her brand expand this summer. The Lynx forward, recently named the Western Conference Player of the Month, topped 20 points in a game three times from July 29-Aug. 1, in three Minnesota wins. Moore, 26, did it all in a 16-point win versus Atlanta on July 31, scoring 21 points to go along with 10 rebounds, five assists and two steals.
The Twins' offense
Minnesota's hitters are as cold as a Peanut Buster Parfait these days. Paul Molitor's troops lost 11 of 15 games recently, and the Twins' offense is the main culprit. Minnesota scored just six total runs over a four-game stretch in the past week. In seven games last week, the Twins hit just .177 with a .235 on-base percentage and .323 slugging percentage.
Torii Hunter
Hunter turned 40 on July 18 and, let's face it, has looked his age in recent weeks. The Twins' veteran clubhouse leader went 2 for 19 (.105) in six games last week. And this coming off a July when he batted 188/231/329. Hunter's overall run production this season (17 home runs, 56 RBI) has been respectable, but he needs to heat up if the Twins hope to stay in contention.
Follow Kelly Beaton on Twitter