FOX Sports congratulates The Postseason on its Emmy victory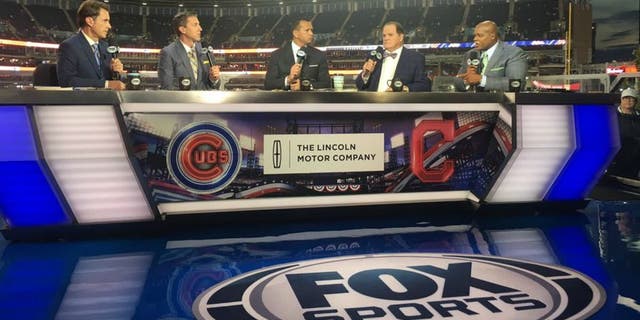 NEWYou can now listen to Fox News articles!
The National Academy of Television Arts & Sciences presented its 38th Annual Sports Emmy Awards in May, and FOX Sports took top honors in 11 different categories.
The award for Outstanding Studio show Limited Run went to MLB ON FOX FOX/FS1/FOXSPORTS.COM THE POSTSEASON
FOX Sports would like to congratulate everyone involved in its production.
First name Last Name Title
ERICSHANKSEXECUTIVE PRODUCER
JOHNENTZEXECUTIVE PRODUCER
JAMIEHOROWITZEXECUTIVE PRODUCER
KENTCAMERAEXECUTIVE PRODUCER
BARDIASHAH-RAISSENIOR COORDINATING PRODUCER
JUDY H.BOYDCOORDINATING PRODUCER
PETEMACHESKASENIOR PRODUCER
JONKAPLANSENIOR PRODUCER
ROYCEDICKERSONPRODUCER
CAROLLANGLEYPRODUCER
SCOTTRIDDELLPRODUCER
AARONSTOJKOVPRODUCER
PTNAVARROPRODUCER
FRANKTHOMASPRODUCER
KEVINBURKHARDTPRODUCER
ALEXRODRIGUEZPRODUCER
PETEROSEPRODUCER
TOMVERDUCCIPRODUCER
KEN ROSENTHALPRODUCER
DONTRELLEWILLISPRODUCER
GEORDIEWIMMERCOORDINATING DIRECTOR
DAVIDFALLERDIRECTOR
JOHNMOOREDIRECTOR
JASONGOLDENBERGSEGMENT PRODUCER
ERINHOSKINSFEATURE PRODUCER
ETIENNEMATERREFEATURE PRODUCER
RICKTHOMASFEATURE PRODUCER
TRAVISALMEIDAHIGHTLIGHT PRODUCER
TAMERTARTIRSENIOR ASSOCIATE PRODUCER
STEPHENMONTESENIOR ASSOCIATE PRODUCER
TOMFITZPATRICKSENIOR ASSOCIATE PRODUCER
AMADACHAVEZSENIOR ASSOCIATE PRODUCER
CHRISCONTRERASSENIOR ASSOCIATE PRODUCER
JASONDOVITZASSOCIATE PRODUCER
JAKEFULLERASSOCIATE PRODUCER
ABBYLIEBERMANASSOCIATE PRODUCER
STEPHANIELOPEZASSOCIATE PRODUCER
MARKMASONASSOCIATE PRODUCER
ANTHONYMASTERSONASSOCIATE PRODUCER
TY MIKAN ASSOCIATE PRODUCER
SARAHMIKKELSONASSOCIATE PRODUCER
TYLERMUSTINASSOCIATE PRODUCER
STEVEOWENSASSOCIATE PRODUCER
DAISYREYNOSOASSOCIATE PRODUCER
RYANSHEEHYASSOCIATE PRODUCER
TYLERWONGASSOCIATE PRODUCER
BASSELELGHARIBASSOCIATE PRODUCER
RYAN LITTLEASSOCIATE PRODUCER
ADAMGREENBERGASSOCIATE PRODUCER
TOM WELLSASSOCIATE PRODUCER
MARKMAXHAMASSOCIATE DIRECTOR
BRENDANSIMMONSOPERATIONS PRODUCER
JASONTOTHOPERATIONS PRODUCER
CHRISTOPHERSTOLTEOPERATIONS PRODUCER
JUANORTIZOPERATIONS PRODUCER
JENNIFERNIELSENOPERATIONS PRODUCER
DUSTINMYERSOPERATIONS PRODUCER
SCOTTLEMBKEOPERATIONS PRODUCER