FOX Power 40: The most important people in the NFL in the next 40 days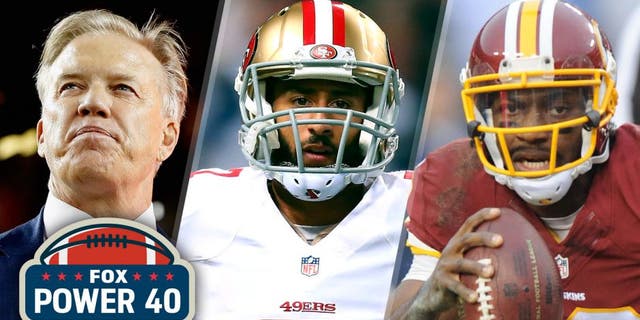 Over the next 40 days, the NFL will have its busiest action of the entire year. Top players will switch teams via free agency, others will be surprisingly cut or traded, general managers will make bold moves, and coaches will get their staffs in order. But it's not just the known names and commodities that wield the most power and influence over this period. There are power agents playing teams against one another for prized clients. There are team presidents with massive hurdles ahead. There are owners, looking to not only make the most of their most coveted asset, but do so in a 32-team ecosystem including a score of other billionaire egos. There are league employees, media figures, and those in the medical field.
Peter Schrager and Mike Garafolo are in the thick of it all. Here is the unveiling of their inaugural list of 2016's FOX Power 40. These are the 40 most important people in the NFL over the next 40 days.
Agent, CAA

The agent's lone big-name free agent this year is cornerback Prince Amukamara, who should do well. But France either represents, or co-represents along with his partners at CAA, at least a half dozen projected first-round picks in this year's draft. There's often a debate about how much an agent can actually impact a prospect's draft stock, but France will have a hand in plenty of pre-draft action this spring.
NFL Draft Expert, ESPN
When Kiper issues a new mock draft or hops on a conference call with reporters to offer insight, teams take note. For all the thousands of draft experts out there online, Kiper's words still move the needle the most. He's been right a lot more times than he's been wrong, and is still the gold standard when it comes to NFL Draft media guys. An encyclopedia when it comes to prospects, Kiper also has contacts around the league and a pipeline to the college football community. His words carry weight throughout the year; never more than these next forty days.
Head coach, Cleveland Browns

No matter what's coming in Jackson's second stint as a head coach, there's no doubt his hiring was a coup for the Browns. Jackson was a candidate for multiple openings yet chose the Browns before even interviewing with the Giants. Even if Jackson wasn't going to get the Giants' job or the 49ers' gig, the perception is the Browns nabbed him and he chose Cleveland. Many players around the league respect Jackson, so his hiring should help the Browns in free agency as they try to retain a few players (center Alex Mack opted out of his deal but remains open to returning to Cleveland) and bring in a few more (wide receivers Mohamed Sanu and Marvin Jones are among the free agents who played for Jackson in Cincinnati).
President & CEO, DEC Management
Canter's one of the more colorful personalities in the NFL ecosystem, both rambunctious and doggedly loyal to his clients. He also represents some of the top free agents on this year's market. The Miami Dolphins slapped a transition tag on Olivier Vernon, but Canter's prized player could get a bigger offer elsewhere next week. Eric Weddle, Sean Smith, and Paul Soliai -- all free agents -- €"are on Canter's client list, too. Canter's a must follow on Twitter and unlike any other guy in his profession. He'll have his hands full over the next 40 days.
Director of Salary Cap and Agent Administration, NFLPA
Though most fans haven't heard his name, Levin plays a big role each spring because many agents consult him as they negotiate contracts with teams. In fact, the union recently enacted a new rule stating all agents have to keep Levin and the NFLPA updated on all contract renegotiations over $2 million per year. Levin aims to prevent subpar contracts and language for agents and he'll also advise Russell Okung as the left tackle negotiates his own deal.
Head coach, Houston Texans
The Texans juggled a potpourri of quarterbacks in Brian Hoyer, Ryan Mallett, T.J. Yates, and Brandon Weeden last season. It resulted in a wild-card round exit, with a shutout at home. All expectations are that they'll select a quarterback in this year's draft, but when? And who? Do they go with a quarterback in the first round at 22? It'll ultimately be in O'Brien's hands. And as a noted quarterback guru (Tom Brady's old whisperer), the next quarterback of the Houston Texans could be what gets both the franchise and O'Brien over the hump as an elite NFL team. Does O'Brien throw a life raft to Christian Hackenberg, his old quarterback at Penn State? If he does, is 22nd overall too early? "Billy O" is as intriguing a figure in the NFL as any over the next 40 days.
Dr. Daniel Cooper, MD

His work is done, but the influence on the coming weeks has yet to be fully determined. Cooper performed the surgery on Notre Dame linebacker Jaylon Smith's knee after Smith tore his ACL and MCL and also suffered nerve damage. A possible No. 1 overall pick, Smith's stock is already dropping significantly over concerns he'll miss his rookie season and might never be 100 percent again. Cooper is a respected surgeon and Smith is confident he'll regain form. How his knee looks during physicals with teams and at the Scouting Combine recheck will determine how soon a team takes a chance on him in the draft.
President, Lagardere Unlimited Football
Joel Segal represents some of the biggest names and highest paid players in the sport (Justin Houston, the Pouncey brothers, DeSean Jackson), but the power agent also has one of the more intriguing prospects of April's NFL Draft in Connor Cook. There's an impression that Cook isn't a "leader" -- a tricky intangible that can't be solved with a flick of the wrist in a workout -- €"and it's Segal's job to both address and change it between now and April 28. Cook was a four-year starter at Michigan State, won 34 games there, two Big 10 Championship Game MVPs, and has an NFL body. But is he a first-round pick? On top of working to get Bruce Irvin and Chris Johnson new deals in free agency, Segal has Cook, and top prospects DeForest Buckner, Eli Apple, and Josh Doctson in April's draft.
General manager, Indianapolis Colts

He and Chuck Pagano navigated a difficult, drama-filled season and came out on the other end practically holding hands in solidarity at a press conference to announce twin five-year extensions. It was a sign things weren't as bad on the inside as they seemed outside. But expectations for Andrew Luck's prime remain high, so there will be no second honeymoon for Grigson and Pagano. The GM has to make sure he and the coach are on the same page with the moves to come.
Head coach, Ole Miss
Freeze's phone line will be lighting up over the next few weeks, as he has three unique prospects in the 2016 NFL Draft, all worthy of further inspection. In addition to possible No. 1 pick Laremy Tunsil, who was suspended for multiple games this season, there's wide receiver Laquon Treadwell, who we're told didn't ace all of his interviews at the NFL Draft Scouting Combine, and defensive tackle Robert Nkemdiche, arguably the most polarizing prospect in this entire draft class. Nkemdiche was once the No. 1 high school recruit in the country, but had a series of incidents off the field in Oxford, and fell from a hotel room while drunk during the season. His character is being poked and prodded by NFL evaluators. Freeze is the first call.
Free-agent offensive lineman

The salaries at a number of positions have skyrocketed in recent years, but the guard market has stayed flat since Carl Nicks signed with the Tampa Bay Buccaneers in 2012. Osemele could change that, though it's actually up to him. While many teams view him as an outstanding guard, some saw what he did at tackle last season and think he can play there. That will drive up his price. Whispers are he'll crack $10 million per season. Which team Osemele chooses could determine whether he plays guard or tackle next season. If he stays inside, he can reset the market for interior linemen.
Offensive tackle, Ole Miss
Tunsil is the odds-on favorite to be the first overall pick in April's draft. A 6-foot-5, 305-pound road paver, Tunsil's been described as a guy with moves similar to a ballerina. Smooth on his feet, tough in the run game, and an athletic specimen, €"Tunsil is the top prospect in a draft where there are no slam dunks at the quarterback spot.
Head coach, San Francisco 49ers
Remember how poorly things started for Kelly in Philadelphia? Right off the bat, he butted heads with LeSean McCoy over a workout bonus and that relationship never recovered. Kelly's reputation will follow him to the Bay Area, where the offseason program begins next month. Kelly must navigate the Colin Kaepernick situation as best he can and will have to strike the right tone in a locker room that needs to quickly come together after the past two rocky seasons.
General manager, Atlanta Falcons
Dimitroff's Falcons haven't been to the playoffs since 2012, and he's surrounded himself with former NFL general managers Scott Pioli, Ruston Webster, and Phil Emery in the Atlanta front office. All eyes are on the Falcons' GM the next forty days, as there's an expectation the Falcons put together a formidable defense and surround Matt Ryan and Julio Jones with additional pieces on offense. Roddy White's already been shown the door, but he might not be the only veteran sent packing. The Falcons have the 17th pick in the NFL Draft and $27 million of cap room. Oh yes, there's a new stadium being built in Atlanta, too. Those season tickets don't sell themselves. Dimitroff -- "and his posse of ex-GMs -- are already on the clock.
President, Atlanta Falcons; head of NFL's competition committee

The head of the NFL's competition committee was suspended during last year's spring meeting following the Atlanta Falcons' crowd-noise investigation. McKay will be leading his committee once again later this month in Boca Raton, when several rules changes will be discussed and voted on. Will there be any further clarity on what a catch is? Probably not. But a proposal to eject players for multiple personal fouls will be kicked around and there will be talk of eliminating the cut block. Those are big issues involving player safety for McKay and the committee to consider.
Owner, New England Patriots
A year ago at this time, the Patriots were coming off a dramatic Super Bowl win and their owner, coach, quarterback, and equipment staff were embroiled in a deflated ball controversy. "Chilly" and "frosty" were words used to describe Kraft and his old friend Goodell's relationship. A year later, things are better, but they're not great. Kraft still carries a big stick in league circles, and with all the broadcast chiefs on-site in Florida at the annual league meetings, he'll be playing point as a leading member of the league's Executive, Finance, and Broadcast Committees.
Free-agent offensive lineman
During the NFLPA's annual meeting at the Scouting Combine, nervous agents ripped the union's executive director DeMaurice Smith and the players on hand for considering cutting their max fee from 3 to 2 percent. Agents also believe the union is working to eliminate them altogether. While that doesn't seem likely, Okung stands as the latest free agent to represent himself. (Linebacker Jon Beason did so a few years ago.) The left tackle's deal will be scrutinized more than any other contract this spring.
Executive Vice President, Media President & CEO NFL Network
Rolapp's name may not be a household one, but he's been the point person on many of the league's massive broadcasting rights deals over the past several years. He brought last year's Bills-Jaguars game to a digital-only platform, and in the next 40 days, will likely sell off exclusive digital rights to the league's highly lucrative Thursday Night Football package. The NFL, perhaps more than any of the other major American sports leagues, is aggressively exploring the possibilities of streaming and broadband ventures. What's the difference between Google, Yahoo!, Amazon, Hulu, and others? Rolapp will be sifting through that -- and their bids -- over the next few weeks.
Agent, Priority Sports & Entertainment
A former scout for the Bears and personnel director for the Eagles, McCartney is now a respected agent who will be working on contracts for clients Kirk Cousins, Arian Foster and Haloti Ngata. McCartney's experience as a front-office employee didn't lead to his taking a discount for Cousins, though he surely understands the Redskins' desire to get a long-term deal done rather than have Cousins play on the franchise tag. It's a fascinating situation, and how McCartney negotiates that deal with the Redskins should be interesting.
General manager, Los Angeles Rams
While team president Kevin Demoff will be running point on the move and head coach Jeff Fisher will do the coaching, Les Snead is in charge of firming up the ever-changing L.A. Rams roster. And it's one that is being overhauled. Gone are veterans Chris Long, James Laurinaitis, and Jared Cook, while there are major questions about the quarterback position. Los Angeles also has to address a defensive backfield that features three free agents in starting cornerback Janoris Jenkins and safeties Mark Barron and Rodney McLeod. Snead does have three picks in the top 40, though, getting the Eagles' second-round pick in the Nick Foles-Sam Bradford trade a season ago. Snead's a highly capable general manager. Now it's time to win.
Owner, Dallas Cowboys

This month marks the first league meetings since Jones pulled the strings to get Stan Kroenke and the Rams to Los Angeles despite the overwhelming support of some of the NFL's most influential owners for the Chargers/Rams partnership for the proposed stadium in Carson. Jones was by no means an underdog. He's been influential for years. But this latest win gives him plenty more juice. When Jones speaks in the room and to the media on all league issues during the meetings, it will carry plenty of weight.
General manager, San Francisco 49ers
Baalke's 49ers roster underwent an extreme makeover the past 12 months with key players (Patrick Willis, Justin Smith, Chris Borland, Anthony Davis) retiring and others leaving via free agency (Mike Iupati, Frank Gore). Add in the recent drama at the Combine with Colin Kaepernick's agents, a top 10 pick, and an entirely new coaching staff, and the 49ers are one of the more intriguing franchises to watch over the next 40 days. Baalke will be the point person in charge of the ever-changing roster. Anquan Boldin, recently named the Walter Payton Man of the Year, is a free agent and there are countless other decisions to be made.
General manager, New York Jets

He was voted the executive of the year by the Pro Football Writers Association. That was a nice honor for a first-year GM, but he basically had a ton of cap room to blow through and perhaps things might have gone differently had IK Enemkpali not broken Geno Smith's jaw. This offseason will be a bigger challenge for Maccagnan. He's facing quite the dilemma right now because journeyman quarterback Ryan Fitzpatrick nearly led the Jets to the playoffs and is looking to cash in on that performance but hasn't ever been, and won't be, an elite quarterback. Plus, what will Maccagnan do with Muhammad Wilkerson, who wants more than just a one-year tag?
General manager, Philadelphia Eagles
A year after being overruled on player personnel decisions by Chip Kelly, Roseman's back in the saddle as the man in charge of Philadelphia's front office. He's already been aggressive in coming to extensions with key players Sam Bradford, Brent Celek, Zach Ertz, Vinny Curry, and Malcolm Jenkins before the start of the free agency period. But all Eagles fans will be watching April 28-30, and how Roseman -- a team employee for 17 years -- €"does in the NFL Draft. Chip Kelly won several battles over Roseman over the past 12 months, but it looks like Roseman -- €"for now -- €"won the war.
General manager, Oakland Raiders

The Raiders have a ton of cap space and plenty of cash to burn. They will be players for practically all of the top free agents. Stop us if you've heard this before. But wait, suddenly Oakland appears to be a much more attractive destination. Quarterback Derek Carr, wide receiver Amari Cooper, defensive end Khalil Mack and coach Jack Del Rio have the Raiders moving in the right direction. Yeah, the stadium's not great, and who knows where they'll be playing in 2017 and beyond? But suddenly, Oakland's money seems as green as everyone else's, and McKenzie is dealing from a position of strength this time around.
President, Los Angeles Rams
Demoff, a Los Angeles native himself, was responsible for delivering the Inglewood Project pitches to NFL owners in January, and is the point person for ensuring a smooth and easy cross-country move. In addition to uprooting an entire franchise, he's responsible for finding a training camp facility, a location for the team headquarters, and working with media partners to establish a footprint in the country's second biggest media market. Demoff's big work was getting the L.A. move approved; the dirty work starts now.
Free-agent quarterback

He hasn't said anything publicly lately, but one would have to believe he'd jump at the chance Colin Kaepernick seems to be taking for granted -- to have Chip Kelly potentially resurrect his career. Though Niners general manager Trent Baalke was noncommittal when asked at the Scouting Combine about the possibility of adding Griffin, Baalke did admit a quarterback's ability to run makes him more attractive for Kelly's offense. Watch San Fran to see if the Niners take the chance on Griffin that Kaepernick refuses to take on them.
Quarterback, Denver Broncos
After weeks of speculation, it's now official -- the Sheriff is hanging 'em up. But that doesn't mean he will just necessarily disappear. Intrigue in Manning's next move crosses over football, media, and business worlds. Is he interested in joining the media ranks to call games on Sundays? Would he rather be in studio? Does he go off the radar a la Brett Favre? Or is he looking to own a team, as has been rumored for years? Manning is a Hall of Fame player. He's also a Hall of Fame personality and marketer. What's next?

Quarterback consultant

Two years ago, Palmer guided Blake Bortles through the pre-draft process. That and a well-run pro day at Central Florida helped solidify Bortles' status as the top quarterback in the draft and led to the Jaguars selecting Bortles third overall. This year, Palmer has taken on an even bigger project in Penn State's Christian Hackenberg, whose college career didn't live up to the hype. The projections on Hackenberg are all over the place and Palmer will try to nudge Hackenberg's actual draft slotting as high as possible. Hackenberg's pro day on March 17, with Palmer leading the drills, will be huge.
Partners, Rep 1 Sports
The Tollner brothers' Rep 1 Sports has become a one-stop shop -- €"both as agents and as a marketing company -- €"for top quarterback prospects. Bruce and Ryan, the sons of legendary college coach Ted Tollner, are the agents of record for Ben Roethlisberger, Blake Bortles, Marcus Mariota, and this year added both Carson Wentz and Jared Goff to their client roster. It's a tricky dance, representing the top two quarterback prospects in a single draft, and the Tollners will have to keep both future pros (and their families) feeling the love as top priorities in the days leading up to the biggest day of everyone's lives.
General manager, Jacksonville Jaguars

The Jaguars have the most cap space in the NFL heading into free agency (almost $90 million), but as last year proved, it takes more than money to lure players to one of the NFL's smaller markets. That's why Caldwell and assistant to the general manager John Idzik have made it clear they'll be interested in a lot of players to see what sticks. If there's a premier free agent, you can bet the Jags will make the call. Can Caldwell lure players like linebacker Bruce Irvin, center Alex Mack and defensive end Olivier Vernon? He's certainly going to try.
General manager, Tennessee Titans
It's not enough that Robinson is a first-year general manager for a team that's' been absolutely irrelevant for the last five seasons. He's also got an ownership situation that insiders believe is a bit in flux, a head coach in Mike Mularkey that many don't believe was the best candidate for the job this offseason, and a roster with several glaring needs. He's got the first pick in the draft and plenty of cash in free agency. A former New England Patriots scout and Jason Licht's No. 2 in Tampa Bay, his time is now. Batter up.
Quarterback, New Orleans Saints

His $30 million salary-cap number is dragging the Saints down right now, and it's clear a restructure is in order. Brees and agent Tom Condon hammered the Saints during contract talks in 2012, which led to a five-year, $100 million deal. Brees didn't take a hometown discount then. Will he now, given his age (37) and the Saints' cap situation (among the lowest space in the league)?

General manager, Cleveland Browns
The Browns are in the midst of a fascinating transition period (yet again), and all eyes are on Brown -- €"the 39-year-old, Harvard-educated lawyer -- €"in charge of it all. Cleveland currently has one of the least impressive rosters in the sport, three decades worth of lousy results on the field, and a gaping hole at quarterback. Add in a new coach, the No. 2 overall pick in the draft, and an owner who's never been afraid to tell it like it is in the media, and Sashi Brown and the Browns franchise have a lot riding on the next 40 days.
General manager, New York Giants

The Giants have made big splashes in free agency before. One was in 2005 (when Ernie Accorsi was general manager and Reese was director of college scouting) and another came in 2009. Both of those spending sprees brought in key pieces for Super Bowl victories. Another big splash by Reese in 2014 resulted in back-to-back six-win seasons and the end of the Tom Coughlin era. Armed with over $50 million in cap space and a defense that badly needs upgrades on all three levels, Reese's decisions in the coming weeks will determine whether the Giants contend again soon, or whether he'll follow Coughlin out the door.
Commissioner, National Football League
The Commissioner is always the most important man in this ecosystem, but he takes a minor backseat to other influencers during this 40-day stretch. Still, the annual league meetings will take place on March 20-23, and he's the Chief of State. Consider this the Commissioner's annual State of the Union with his 31 bosses. Every owner flies in (some private/some commercial), and there are hours of discussions on everything from health and safety, to international initiatives, to the league's handling of domestic abuse, to new rules. Last year's meetings in Arizona were clouded in a fog of Deflategate controversy and hope for a Los Angeles move on the horizon. This year's key agenda items are still being formulated.
Wide receiver, Detroit Lions
For a guy who was so sure about being on the verge of retirement that he rushed out a statement through the Lions before the postseason was over, Johnson sure is taking his sweet time making a final decision. The Lions' new regime would absolutely welcome him back at a number lower than the $15.95 million he's due this season, but Johnson has to make it clear he wants to play, and play in Detroit. If it's about heading elsewhere, he should probably make that clear, too.
Quarterback, North Dakota State University
Wentz started just two years and did so at FCS school North Dakota State University. But after two very impressive weeks in Mobile at the Senior Bowl and in Indianapolis at the Combine, the 6-foot-5, 240-pound red head is now considered the top quarterback prospect in the 2016 NFL Draft. NFL executives say that he aced every aspect of his week in Indy -- from the on-field workouts to the interviews -- and that the quite lofty Andrew Luck comparisons being made in the media are not that far off. Just two Division I-A or FCS quarterbacks have gone in the top 10 in the last 35 years -- Phil Simms and Steve McNair. Wentz will be number three.
Quarterback, San Francisco 49ers
He's hurt by the reports that leaked out last year regarding his relationship with the team and his teammates. He believes they came from management. This is a big part of the reason his agents have requested permission to seek a trade. But how much interest is there elsewhere? Not much. Not as the unquestioned starter, anyway. And perhaps no one could resurrect Kaepernick's career like Chip Kelly. The Niners are willing to pay him $12 million-plus for this upcoming season, but he won't be handed the starting job. Whether Kaepernick can get over his hurt feelings will have a huge impact on the Niners and whatever franchises might employ him next.
President, Denver Broncos
The honeymoon never lasts as long as it should for a Super Bowl champion, and in the case of Elway, it almost never even happened. Negotiations for long-term deals with star defensive free agents Von Miller (franchised) and Malik Jackson have been well under way for months, but in the next 40 days, there's also the looming free agency of Brock Osweiler, Brandon Marshall (restricted), Danny Trevathan, Omar Bolden, Evan Mathis, Vernon Davis, David Bruton, Ronnie Hillman, Tyler Polumbus, C.J. Anderson (restricted), and Shiloh Keo. Add in the Peyton Manning factor and Ryan Clady's current contract ($10.1 million for 2016), and that's enough to handle for an entire career, let alone one offseason.