FOX NFL Game of the Week: Broncos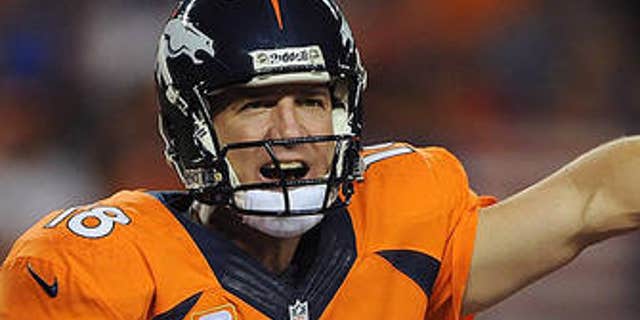 While a matchup featuring Washington traveling to Denver may have seemed like a must-see affair during the preseason, a glance at the NFL standings seems to override this perspective. The Burgundy and Gold sit in third place in the downtrodden NFC East with a 2-4 record, while the Broncos are riding high at a 6-1 mark.
However, Washington's plight is not as problematic as it initially appears, as Mike Shanahan's club is coming off two wins in the last three weeks, and is just a 1 ½ out of first place in its division. On the other end of the spectrum, Denver, once deemed infallible, showed signs of vulnerability in its Sunday night loss to the Colts. Serving as a juncture of sorts for both teams, this Mile High matchup doubles as the NFL FOX Game of the Week.
Five Things to Watch: Denver Broncos Click here for a preview on the Washington Redskins.
Spotlight: Broncos defense
The once-a-week nature of the NFL schedule lends itself to exaggeration from the previous game's outcomes, as a win sprinkles nothing but praise and spurs hope for the rest of the season while a loss puts the rest of the fall's forecast in doubt.
Keeping this sentiment in mind, the Broncos, still very much the Super Bowl favorite in the AFC, have to be questioning the merit of their defense. With the return of All-Pro linebacker Von Miller, the Denver resistance was imagined to be a wrecking ball against the Colts. Instead, Indianapolis lit up the Orange Crush for 39 points, with Andrew Luck finding the end zone four times and the Colts rushing game notching 121 yards. Worse, the revered Champ Bailey re-injured his left foot, and is expected to miss multiple weeks. Considering the Broncos rank last in the NFL in pass yards surrendered, it's not an absence they can afford.
That Manning guy under center, from what I'm told, is not bad at chucking the pigskin around. Alas, it will be for not if the Broncos defense can't provide any semblance of toughness. If Denver harbors aspirations of a deep playoff run, this flaw needs to be alleviated in a hurry. Which leads us to...
Matchup watch: Washington offense versus Denver front seven
Washington flaunts a high-octane offense, as its 415.8 yards per game are fourth-most in the NFL. This ball club has two distinct points of difference from Denver: 1) Washington is a more balanced scheme, with 274.3 pass yards and 141.5 rush yards (fourth-highest in the league) per outing and 2) Washington hasn't translated this yardage accumulation to the scoreboard, averaging 25.3 points per contest, a figure that's inflated by Week 7's 45 points against a badly beat-up Bears defense. On the bright side, Robert Griffin III had his first solid display since returning from knee injury, and Alfred Morris and Roy Helu are proving a devastating 1-2 punch on the terrain.
I don't see Denver magically refining its feeble secondary in a week, especially with Bailey on the sidelines. What can be corrected is the pressure, or lack thereof, from the Broncos front seven. Miller was mostly a nonfactor in his return last week, recording just two tackles. Given that Miller notched 30 sacks in his previous 31 games, Denver is looking toward the third-year man as the catalyst for this comatose unit. Whether Miller can provide such force after his league-sanctioned sabbatical remains to be seen.
Your weekly reminder of Peyton Manning's excellence...
- The Broncos are averaging 42.6 points per game. The Bears, the second-highest scoring team in the NFL, come in at a 30.4 mark.
- Manning leads the league with 25 touchdowns passes. Tony Romo, Philip Rivers and Matthew Stafford are tied for second with 15 scores a piece.
- Despite having the second-most air forays, Manning's three picks are the lowest among the top-25 passers who qualify in attempts.
- He's on pace for a record 5,863 yards and 57 touchdowns.
THAT good.
#FreeMonteeBall
Concededly, Knowshon Moreno has had a nice revival in 2013 with 413 rushing yards, another 198 yards off 23 receptions in the receiving arena and eight touchdowns. Conversely, Moreno hasn't been that efficient, finishing with 3.3 yards per attempt or less in four of seven outings. And Lord knows you can't bring Fumblin' Ronnie Hillman in as a reinforcement.
Which brings us to Ball, the highly-touted rookie from Wisconsin who was envisioned as Denver's primary back before the season. This outlook has not come to fruition, as Ball saw little action in Weeks 5 and 6 before receiving a goose egg in touches last weekend. Granted, Ball's pass protection could use some work, but he's not that bad at it, and his explosiveness and versatility more than negate this perceived weakness. If/when Moreno gets his annual injury, it better be Ball, not Hillman, who gets the backfield love. (In a related note, I wanted to shorten the hashtag by subtracting Ball's first name, but apparently that phrase has a different connotation. Who knew?)
The Broncos win if...
Perhaps if RG3 is back to being a dexterous dual threat this game could be closer than imagined. Even if such a circumstance transpires, hard not to visualize Manning going nuts on a Washington defense surrendering 30.7 points per game (third-most in the league). It could be a high-scoring affair, but one in which the Broncos undoubtedly emerge victorious.
The original article can be found at FOXSports.com: FOX NFL Game of the Week: Broncos.