FOX Fantasy Picks: Pocono 400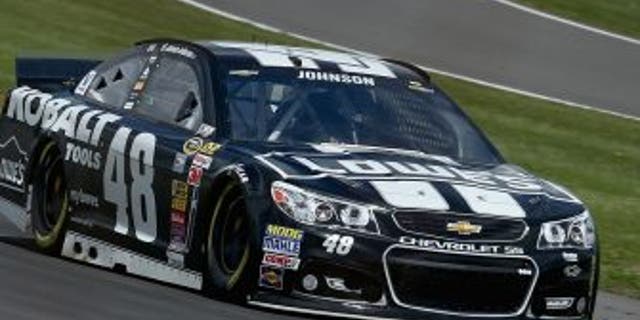 OK, FOX Fantasy Racing players, it's like a whole new season this week!
It may be the 14th weekend of the Sprint Cup Series season, but for FOX Fantasy Racing teams, the picks are reset and you can use each driver four times over the next 13 weeks.
As we pointed out early in the season, take the time to plan out the next 13 races and pick your drivers wisely. Be sure to plan for the long stretch of races headed toward the Chase and not burn all the best drivers early in this stretch.
To kick off this second section of the fantasy season, the series heads to the "Tricky Triangle"€ of Pocono Raceway. There are plenty of solid picks for this weekend's Pocono 400, but remember you may want to save one of those picks for later in this 13-race stretch.
Just like each week, these are simply suggestions, so pick your team wisely, and best of luck. If you haven't done so yet, be sure to sign up for FOX Fantasy Auto Racing, create your team and start playing today!
Captain: Jimmie Johnson
Pocono stats: 3 wins; 10 top 5s; 16 top 10s; Average finish: 8.8
From questions about what's going wrong to questions if they can be stopped, Jimmie Johnson and the No. 48 team have certainly stepped up their game over the past few weeks since the Sprint All-Star Race break.
Wins in the Coca-Cola 600 at Charlotte Motor Speedway and last week at Dover International Speedway have thrust Johnson to the top of the Chase standings (as they stand now) and put them in a position to go three-for-three with a win Sunday at Pocono.
While Charlotte and Dover are two of Johnson's best tracks, he's certainly no slouch at Pocono. The six-time champion won this race last year from the pole and finished 13th in the August race, despite hitting the wall midway through the event.
Johnson missed the third and final round of knockout qualifying on Friday, but that should not slow him down in his quest for his fourth Pocono win, and third consecutive win of the 2014 season.
Driver #2: Joey Logano
Pocono stats: 1 win; 1 top 5; 3 top 10s; Average finish: 15.6
While his stats might not be the most impressive at Pocono Raceway, Joey Logano and his No. 22 team should be a factor in Sunday's race. The 24-year-old has one victory at the "Tricky Triangle" in 2012, and scored back-to-back top 10s in last year's events.
Throughout the early part of the season, Logano and crew chief Todd Gordon have shown they could care less about the stat book. The only thing the No. 22 team is after are trophies.
This team has two wins already this season, and confidence on their side, and is headed to a track where Logano already has a victory. Look for a big fantasy day out of the No. 22 bunch.
Driver #3: Brad Keselowski
Pocono stats: 1 win; 2 top 5s; 3 top 10s; Average finish: 13.6
Much like his Team Penske teammate, Brad Keselowski's stats at Pocono Raceway are up and down, but the former champion has completed 100 percent of the possible laps in his eight Sprint Cup Series starts. The driver of the No. 2 Ford also won the 2011 race at the "€œTricky Triangle" with a banged-up ankle.
Healthy and hungry for a second win, Keselowski heads to Pocono coming off a second-place finish at Dover last week.
Pocono often comes down to pit strategy and fuel mileage, something that plays right into the hands of Keselowski and crew chief Paul Wolfe. The No. 2 team's stellar qualifying results continued on Friday, and Keselowski will roll off the grid from the third spot.
Also like his Team Penske teammate, Keselowski should be a solid fantasy pick for Sunday's race.
Driver #4: Denny Hamlin
Pocono stats: 4 wins; 8 top 10s; 10 top 10s; Average finish: 12.6
Denny Hamlin may be a native of Chesterfield, Va., but he certainly feels at home at Pocono Raceway.
When Hamlin made his first trip to the 2.5-mile track in 2006, he swept both weekends, winning both poles and races. Hamlin has gone on to win two more Pocono races, put his No. 11 Toyota on the pole for Sunday's race and was 10th-fastest in final practice.
Hamlin has one win already this season at Talladega, and another would go a long way toward securing a Chase spot.
Driver #5: Brian Vickers
Pocono stats: 0 wins; 4 top 5s; 5 top 10s; Average finish: 16.6
Brian Vickers is the only driver on the roster this weekend without a win at Pocono, but the driver of the No. 55 Michael Waltrip Racing Toyota has been fast all weekend.
So far this season, Vickers has shown glimpses of strength, while struggling at other times. With two top-fives and five top 10s through the first 13 races of the season, Vickers is leading the charge for MWR.
The No. 55 Toyota will start Sunday's race from the ninth spot, and was in the top three in the first two practice sessions, while he was 17th in Saturday's Happy Hour.
While Vickers might not score the victory Sunday at Pocono, look for this team to have a good day and lead to a good day for your fantasy lineup.
As always, these are simply suggestions, so do your research, pick wisely, and best of luck. Drivers such as Kevin Harvick, Kurt Busch and Tony Stewart also look strong and may come in handy later in the year. Also keep in mind the second Pocono race falls in this 13-race stretch, so you can learn a lot for that race based on Sunday's results.
If you put more faith in the Las Vegas odds, check out this week's "Let it Ride" segment from NASCAR Race Hub.