Fowler turning heads in first trip through playoffs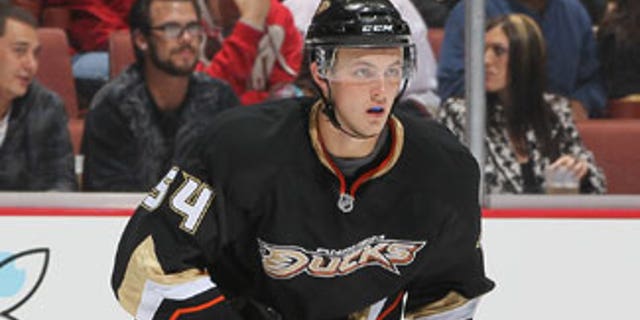 NASHVILLE -- When Anaheim coach Randy Carlyle was looking for something to praise out of his team's 4-3 loss to Nashville in Game 3 of this Western Conference quarterfinal on Tuesday, he found one in the play of rookie defenseman Cam Fowler.
With the score tied in the third period Sunday, Fowler broke in alone on Preds goalie Pekka Rinne. He wristed the puck high to Rinne's right shoulder, but the 6-foot-5 Finn got a blocker on it and turned the shot aside. The Predators' victory earned them a 2-1 edge in the best-of-7 series entering Game 4 Wednesday at Bridgestone Arena.
"I haven't tried to think about it too much," the 19-year-old Fowler said of the missed opportunity. "I think you have to focus on the positives and that was being able to get an opportunity like that, being able to jump into the play -- but I was just saying, as a defenseman, I don't get to work as much one-on-one with the goalie as I would've liked. He made a good save, I think. He's such a big goalie. He takes up so much of the net, it's hard to find a place to put it, but it definitely would've been nice to score. I think it would've given our team momentum to kind of thrive off of."
Momentum is something the Ducks are definitely in need of following Game 3 in which they were badly outshot (37-16) and outplayed. In Fowler, one of four rookies who has played in the series for the Ducks, they have a source of strength.
In averaging 20:55 of ice time per game, he is the only Ducks' defenseman who rates a plus (plus-1) entering Game 4. He also has 2 assists, tied for first among the team's defensemen.
"Cam is playing the game to his strengths and that's what the key is," Carlyle said. "He's played in situations that have been intense before, but not as intense as this, though. The things that he does as far as skating ability, reading the plays and movement of the puck are his strengths, so he's just continued to fit right in and we think there's another level that he can get to. When a young player displays this kind of composure, this kind of confidence, we feel he can continue to grow into an even more dominant player.
"But I just caution: He's only 19 years old. We just try to temper that enthusiasm and not try to push him into situations that he cannot have success in."
One of those situations would be on the penalty kill, where Fowler has only played 16 seconds of ice time in the entire playoffs. Conversely, fellow Ducks defenseman Francois Beauchemin has played 19:31 -- virtually an entire period -- on the penalty kill in the series.
Fowler has noticed a stark difference between playing in the regular season and playing in the playoffs.
"It's how quick your decisions have to be," said Fowler, selected with the 12th pick of the first round in the 2010 Entry Draft. "I realized it the most in the first game. Plays that I had normally been using -- that I had been able to complete in the regular season -- in the playoffs they were a split-second late. They were hitting somebody's shaft of their stick or hitting a skate blade or something.
"So that was the biggest adjustment. In the regular season, you can maybe get away with going to your second option because you have a little more time, but here if you see an open man you've got to move it to him right away because everything happens so fast."
Ducks veteran Lubomir Visnovsky, who led all NHL defenseman in points with 68 during the regular season and plays on the power play with Fowler, praised the rookie's patience and creativity.
"He plays like it's not like his first season," Visnovsky said. "He plays like he's been here for five seasons."
That poise comes in handy against the Preds, who have a ferocious forecheck, especially at home.
"Oh, yeah, that's been the pride and joy of their game," Fowler said. "They thrive off their forecheck and they have a lot of quick guys who can get in there and disrupt plays. That's what I was saying, at home here, they really come at you hard and force you to make some plays. Even on the power play, it seems like there's always somebody right in your face and you have to move it right away. They're a team that kind of swarms the puck and we're used to it and we just have to make those little plays a little bit earlier."
Note: Carlyle was asked if he might consider making any changes to the Anaheim defense for Game 4, including possibly veteran Andreas Lilja, but he did not commit either way.
"Yeah, we have different options as far as bringing some different people into the lineup," he said.