Four injured at Dakar Rally in Argentina after car plows into crowd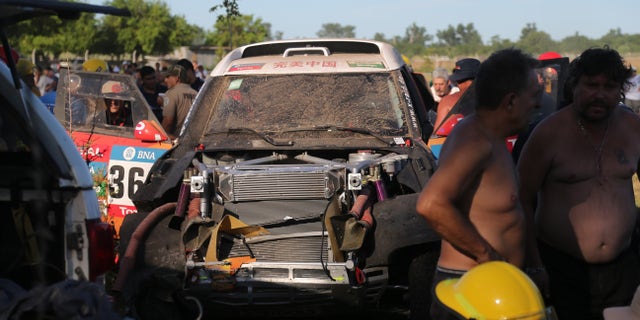 ROSARIO, Argentina (AP) – Several spectators were injured during the Dakar Rally on Saturday after a Mini Cooper plowed into the crowd before the start of the race in Argentina.
The accident occurred at kilometer 6.6 of the prologue to the Dakar 2016, which starts between Buenos Aires and Rosario. Organizers suspended Saturday's special stage.
A Dakar statement said four spectators were injured and taken to local hospitals. However, it did not provide details on their injuries.
Daniel Modesto, a doctor at the Santa Francisca de Arrecifes hospital, told Argentine station TN that 10 people were treated for injuries, including a pregnant woman and four children. He said one child and one adult man were seriously injured. The child was airlifted to a larger hospital, while the man was transferred in an ambulance, he said.
The vehicle that veered off the road was No. 360, which belongs to Guo Meiling. Guo is the first Chinese woman to compete in Dakar.
It was unclear she or other drivers were injured.
Competitors were participating in a special stage to determine Sunday's opening day order.