Four Downs: Louisville QB Jackson stars in Music City Bowl win over Texas A&M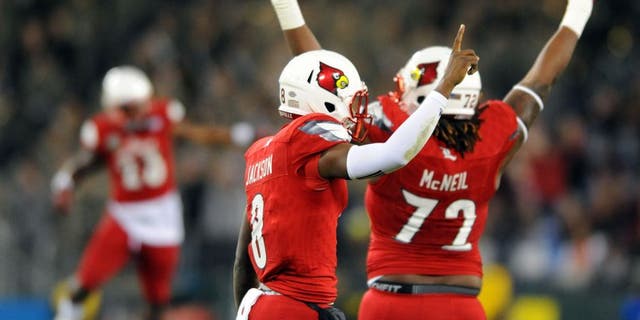 NEWYou can now listen to Fox News articles!
Freshman quarterback Lamar Jackson led the Louisville Cardinals to a 27-21 Music City Bowl win over Texas A&M on Wednesday night, helping the Cardinals complete their rebound from an 0-3 start. Here are four thoughts on the game and what lies ahead for both programs:
1. Bobby Petrino's offense has adapted to Lamar Jackson, and the 2016 Cardinals offense looks loaded
This is not your older brother's Bobby Petrino offense.
The dual-threat skill set of freshman Lamar Jackson, who joined former Heisman winner Johnny Manziel as the only FBS quarterback in the past four seasons to pass for 200 yards and rush for 200 yards in a bowl game (against Texas A&M, no less), has forced Louisville's offensive guru to restructure his scheme, but it's paid off. He's become a threat to score on every read-option call. In Jackson's final two outings against SEC defenses in Kentucky and Texas A&M, he tallied 769 total yards and seven touchdowns.
Now the program enters the postseason with an answer at the quarterback position for the first time since Teddy Bridgewater left.
Louisville's offense was comically young in 2015 and it showed at times. Turnovers were an issue during the 0-3 start, which came against a difficult schedule in Auburn, Houston and Clemson, and a midseason drought against Boston College, Wake Forest and Syracuse forced the team to rely on its defense. But over the final four games, the Cardinals averaged more than 34 points per game.
The two-deep roster featured just one senior this past season, meaning Jackson will be joined by the vast majority of his supporting cast next season. Running backs Brandon Radcliff and Jeremy Smith (857 combined yards, 10 touchdowns) are set to return along with some combination of Louisville's ultra-talented receiving corps.
If Jackson continues to make strides as a passer -- and Petrino continues to blend read-option elements into his playbook -- Louisville could become a nightmare for ACC defenses next season.
2. Kevin Sumlin's team hung around despite its problematic QB situation
Texas A&M travelled to Nashville with issues. The transfers of former elite recruits Kyle Allen and Kyler Murray left Sumlin's offense, which had already struggled throughout the season, in the hands of the last schorlaship quarterback on the roster: Jake Hubenak.
The results were shaky at the start against a fearsome Louisville pass rush. Hubenak spent most of his night running from the likes of NFL prospects Devonte Fields and Sheldon Rankins, but he found a rhythm when it mattered, finishing the night 28 of 48 passing for 307 yards and two touchdowns. His two turnovers were costly, but considering the circumstances, the fact that he had Texas A&M playing for the lead on its final possession was a reflection of both Hubenak's in-game improvement and the ability of the Aggies' defense to manufacture stops against Jackson & Co.
Where Sumlin turns moving forward is going to be the $5 million question this offseason. Hubenak submitted his name for consideration on Wednesday night. The coaching staff may be able to land a high-profile recruit or transfer in the meantime. The skill positions are loaded with talent, but somebody will need to get the likes of Christian Kirk and (maybe) Josh Reynolds the ball.
The Aggies, despite the standout talents of a few defensive studs and the improvement delivered by first-year defensive coordinator John Chavis, simply cannot compete when they rank in the 70s in scoring offense. That's not how this program is built. If Hubenak is not the answer Sumlin is looking for, his staff will need to go out and find one this offseason.
3. Myles Garrett should be the poster child of the sophomore-to-NFL debate
As Leonard Fournette obliterated Texas Tech's defense to the tune of 212 yards and four touchdowns in the Texas Bowl, the sophomore-to-NFL conversation reemerged. Should the LSU star be allowed to enter the 2016 draft two years out of high school? Should he sit out his junior season to preserve his health? It's a familiar topic that's been broached with past stars like eventual No. 1 pick Jadeveon Clowney, but Fournette, playing the oft-injured running back position, has become the 2015 face of the debate.
He's not the only sophomore worth discussing, though.
Quick question: How many NFL general managers would select Fournette over Texas A&M sophomore defensive end Myles Garrett if both were eligible in the 2016 draft? It's a short list -- if there's a list at all. Garrett is going to be in the picture for the No. 1 pick whether it's 2017 or 2018 ... and given the devaluation of running backs in the modern game, Fournette, despite his obvious talents, will not likely be considered that high.
The Aggies' 6-foot-5 pass-rushing extraordinaire followed up an excellent true freshman campaign (11.5 sacks) with 12.5 sacks as a sophomore, despite being the biggest blip on every offensive coordinators' radar. Factor in his tackles for loss and he was even more disruptive this time around.
The rule did not prevent Clowney from becoming a top draft pick -- sometimes pure talent is too obvious -- so do not expect it to hold back a talent like Garrett. Still, it's worth mentioning: The sophomore ineligibility rule is probably costing Garrett even more than Fournette.
4. NFL decisions could affect Louisville's defense
Eighteen Louisville players have been drafted in the past five years -- and there are more on the way.
After placing the likes of first-round picks Bridgewater, DeVante Parker, Calvin Pryor and Marcus Smith on NFL rosters in recent years, Petrino's roster features multiple players that could draw significant pro attention in the coming weeks and months.
Productive seniors Sheldon Rankins and James Burgess, who was ejected for targeting in the first 11 seconds of the Music City Bowl, have exhausted their eligibility, but decisions from the likes of rush linebacker Devonte Fields and athletic safety Josh Harvey-Clemons could be the difference between plugging a few holes and a complete defensive makeover for coordinator Todd Grantham.
Harvey-Clemons is graded as a good-but-not-great safety prospect that projects to the next level. Fields, a 6-foot-4 menace in the pass rush, returned to college football following a domestic violence incident at TCU and wrapped up his '15 campaign on a tear: He logged three sacks against Texas A&M, giving him 8.5 sacks in his past four games and 11 on the year.
Grantham said after the game he expects Fields to return, but if there's a first- or second-round grade in the works, that could change in a hurry. Such decisions could be the difference in the Cardinals challenging the upper echelon of the ACC and falling into eight- or nine-win territory once again.