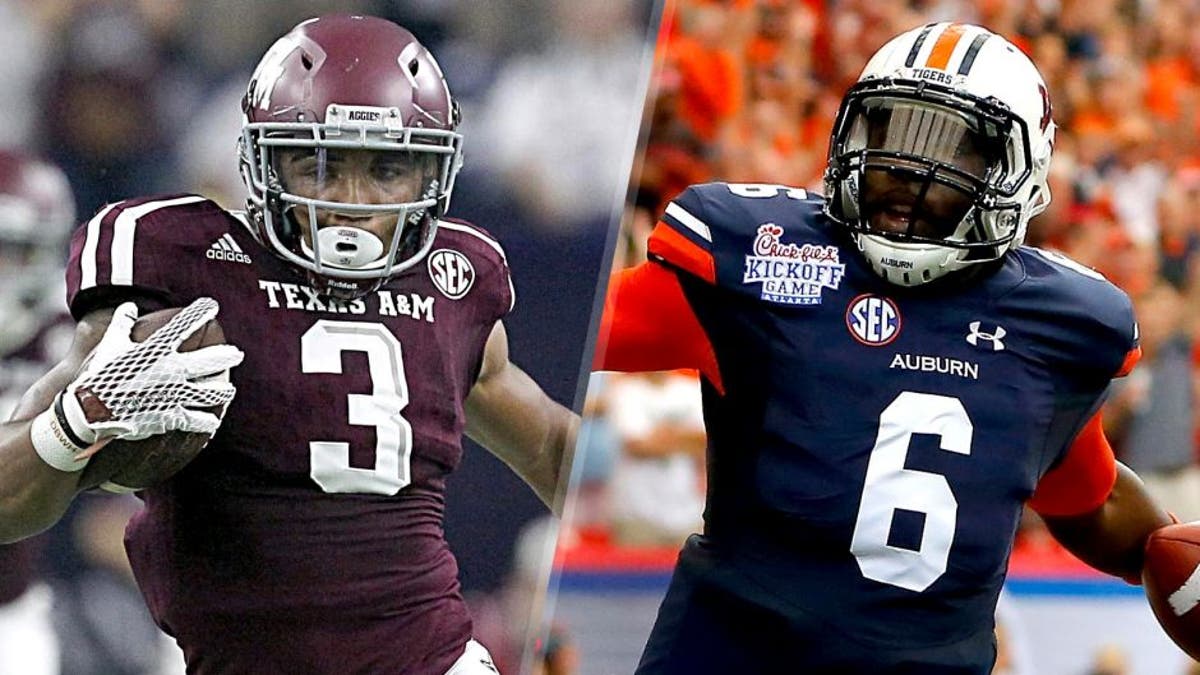 Welcome to a new season, ladies and gentlemen. Opening weekend saw a whole a bunch of new stars, new coaches and dramatically different-looking teams, but there's one 2014 storyline we can already tell is about to repeat itself.
The SEC West is really freaking good and may send two teams to the playoff.
And in three, two …
C'MON, MANDEL, NOT AGAIN -- 2-5 in the bowls last year! You must be trying to get a job at the SEC Network.
Au contraire, all you less fortunate football fans in other parts of the country (Columbus, Ohio excluded). I am in fact the Dragnet of college football writers -- only the facts. Not only will I now share them with you, but I've already anticipated your likely responses.
First, a quick review of Saturday's results: Alabama 35, Wisconsin 17. Auburn 31, Louisville 24. Texas A&M 38, Arizona State 17. Ole Miss 76, Tennessee-Martin 3. Arkansas 48, UTEP 13. Mississippi State 34, Southern Miss 16. Only a weather cancellation in Baton Rouge could keep the West from going 7-0.
Well anyone would look good beating up on UTEP and Tennessee-Martin.
No argument there, but the division's three wins over Power 5 teams were more than any other conference, much less a division. Those three foes, by the way, went a combined 30-10 last season, including bowl results. Meanwhile, the conference as a whole played fewer FCS opponents (two) than any other power league through Saturday. As you know, they save those for mid-November.
So what? Maybe Arizona State and Wisconsin aren't that good this year.
It's certainly possible. That's why it's always tough to read too much into Week 1 results. However, last season the West posted Week 1 non-conference wins over Boise State, Wisconsin and West Virginia. Those teams finished 30-11.
I see you're already jumping all over Texas A&M. Didn't you learn anything from last year's opener?
First of all, no, I'm one of the few that did not come away from Kenny Hill's Thursday night clinic against South Carolina ready to anoint the Aggies a title contender. Second of all, that was a conference game; this came against a respected non-conference foe. Third -- A&M didn't have a defense remotely like this one last year. That D-line is frightening.
Are you going to overhype Mississippi State like last year?
Probably not. Dak Prescott and the Bulldogs were picked seventh in the division and were fairly underwhelming against Southern Miss. I feel pretty confident in the other five, though (haven't seen LSU yet).
But I thought all your Fox Sports 1 colleagues said the Pac-12 is the best conference this year.
Yep. I'm guessing they're backtracking like a center fielder right about now.
But … but … but .. 2-5!!
Yes, the SEC West flopped big time last postseason. But first of all, bowl games are weird. They're played a month after the regular season. While unavoidable that fans read into them, they're not the most accurate measuring stick.
But more importantly, this is 2015. The committee's certainly not going to be looking at 2014 bowl results, so why would I?
Ohio State is still better than any of those teams.
Now that I won't argue against. At least not yet. Let's see how the Buckeyes fare Monday night in Blacksburg.
Look, it's a long season. But in terms of first impressions, the Pac-12 did nothing to help its offseason argument that it's closed the gap on the SEC what with a ranked Stanford team (No. 21) scoring six points at Northwestern, Colorado losing to Hawaii and Washington State falling to Portland State. The ACC went 0-3 against Power 5 foes, the Big Ten went 1-4 and the Big 12 only played two (going 1-1).
Meanwhile, the SEC as a whole went 10-1 against FBS competition. The Big Ten, by contrast, is currently 3-6. But of course, there's still Ohio State.
All of this is just a way of saying that come eight weeks from now, when the first committee rankings come out and there's three SEC West teams in the top six, don't go crying SEC BIAS. Results are results, and one week in, there's really no argument which division/league fared the best.
TRUE FRESHMAN QBs
On Sunday, I asked UCLA coach Jim Mora just how rare he found it to be that a true freshman quarterback, Josh Rosen, could be so poised in his first career start, Saturday's 34-16 win over Virginia.
"I don't know," he said. "I haven't really done the research. Obviously I've never started a true freshman quarterback. I don't have a barometer to compare it to."
Fair enough. I did the research for him, looking back at some of the most high-profile recent freshman quarterbacks -- Ohio State's Terrelle Pryor (2008), USC's Matt Barkley ('09), Penn State's Christian Hackenberg ('13), etc. The following chart lists their stat lines from their first career starts against FBS opponents. None come close to that of Rosen's debut performance against Virginia.
Two things stood out in the course of my research. One, as you can see, most had much rockier debuts than Rosen (though man did RGIII fly). But also, there just weren't that many true freshman quarterbacks, period, particularly among Power 5 schools.
This opening weekend, however, they were seemingly everywhere. In addition to UCLA, fellow Pac-12 teams Washington (Jake Browning) and Oregon State (Seth Collins) trotted out true freshmen as starters. Louisville's Lamar Jackson (against Auburn) and Texas A&M's Kyler Murray (against Arizona State) played significant roles. Syracuse's Eric Dungey took over for an injured Terrel Hunt and will likely keep the job with Hunt out for the season. Baylor's Jarrett Stidham and Missouri's Drew Lock saw action as well.
And then there's BYU's Tanner Mangum, technically a true freshman though he's three years out of high school. Mangum, who shared co-MVP honors at the 2011 Elite 11 camp with one Jameis Winston, returned in June from a two-year mission in Chile. Three months later, stepping in for injured star Taysom Hill (who, sadly, suffered a second-straight season-ending injury), Mangum threw the game-winning Hail Mary to beat Nebraska. Like Rosen, he benefitted from participating in spring practice … in 2013 (he grayshirted the year before).
"Being here that spring helped me a lot, because that was the first spring with the new [offensive] coaches, so I was able to get a good base of the offense and how it works," Mangum told FOX Sports on Sunday. "I felt like I had a head start."
Mangum, 22, is four years older than Rosen, who Mora described Sunday as "calm" against Virginia. "I learned a lot about his performance by being on the sideline and watching him react to things. He kept a very even-keeled demeanor throughout."
The next challenge will be keeping him even-keeled over the course of a 12-game (or longer) season. Doing so with a true freshman quarterback would have seemed preposterous only a few years ago. In 2015, there's multiple guys trying to do much the same thing.
DUCKS, SPARTANS MEET AGAIN
A year ago this week, I wrote a piece leading up to a Week 2 showdown between No. 3 Oregon and No. 7 Michigan State examining the possible ramifications for the then-brand new playoff selection committee. Looking back now, it's crazy how closely one of my hypotheticals foreshadowed actual events.
Let's say for example that Oregon gets the win, loses once in conference play but still ends up winning the Pac-12 at 12-1. If the fourth playoff spot comes down to the Ducks and, say, 11-1 Big 12 champion Baylor, Oregon's early-season conquest could well put it over the top, especially given the Bears' weak non-conference slate.
Baylor, of course, did get edged out, though not by Oregon, which made it comfortably -- presumably in part because of its impressive 46-27 win over the Spartans. Had the score been reversed, Ohio State, which later handed Michigan State its second defeat, probably wouldn't have had to sweat out Selection Sunday.
Whether this week's rematch in East Lansing will prove nearly as significant may depend on how well the fifth-ranked Spartans and seventh-ranked Ducks answer some questions that arose in their respective openers.
Oregon transfer Vernon Adams Jr. looked every bit as advertised in his debut against former school Eastern Washington, passing for 246 yards, rushing for 94 and helping produce 61 points. "His performance was better than 'very good,'" coach Mark Helfrich said Sunday. But the Ducks' defense looked surprisingly hapless at times in allowing its FCS foe 42 points and 6.38 yards per play. Helfrich said afterward his players were "taking this win hard."
Michigan State, meanwhile, showed off an impressive trio of young running backs, most notably true freshman LJ Scott (13 carries, 77 yards). But the Spartans allowed a kick return touchdown early, and its vaunted defense allowed two long touchdown drives late in a 37-24 win vs. Western Michigan."They're really good defensively," Helfrich said after watching the tape. "They've added quite a bit schematically from when we saw them last."
Last year, Oregon had Marcus Mariota and a hefty home-field advantage. The Ducks went in as prohibitive favorites. This year's matchup, on the other hand, is such a mystery that the Vegas line opened Sunday as a pick 'em. If Oregon's defense plays like it did Saturday, Spartans QB Connor Cook could have a career night. But that may still not be enough to keep pace with Adams and Royce Freeman.
This edition does not feel quite as hyped as last year's -- when Michigan State was coming off a Rose Bowl season -- but it may well be more intriguing.
THIS WEEK'S BOWL FORECAST
Each week, I'll update my predicted lineup for the New Year's Six bowls based on the latest week's games.
Peach: Notre Dame (at-large) vs. Boise State (Group of 5)
Fiesta: Virginia Tech (ACC champ) vs. UCLA (at-large)
Sugar: Alabama (SEC) vs. Baylor (Big 12)
Rose: Michigan State (Big Ten) vs. Oregon (Pac-12 champ)
Orange (semifinal): No. 1 Ohio State vs. No. 4 Auburn
Cotton (semifinal): No. 2 Texas A&M vs. No. 3 TCU
I don't want to overreact too much to Week 1, so the only change from my preseason forecast was subbing UCLA for Arizona State. Maybe I'll blow things up next week.
I'LL BE KEEPING AN EYE ON …
Notre Dame's running backs. The Irish seemingly have all the other pieces necessary for a special season but are now without two of their top three tailbacks coming into the season following Tarean Folston's season-ending knee injury. The Irish will lean on C.J. Prosise and true freshman Josh Adams.
Northwestern. The Wildcats, 5-7 the past two seasons, physically dominated Stanford in a 16-6 upset. Defensive linemen Dean Lowry and Ifeadi Odenigbo and linebacker Anthony Walker lead 10th-year coach Pat Fitzgerald's most athletic defense to date, which could have a say in the wide-open Big Ten West.
FIU. Ron Turner's Panthers quietly pulled the weekend's other biggest upset, stunning two-time defending American conference champ UCF 15-14 in Orlando. That's quite the reversal from a year ago when the Panthers lost to Bethune-Cookman in their opener en route to a third straight losing season.
Mike Leach. Just when I thought Washington State might be ready to turn the corner it loses its opener to Portland State. This is Leach's fourth season in Pullman. He loves it there, and his AD, Bill Moos, loves him, but at some point the Cougars have to stop being the Pac-12 North's laughingstock.
Jim Harbaugh. C'mon, you didn't think I could make it through an entire column without mentioning the now 0-1 Michigan coach?
REBUILDING
Both Penn State's James Franklin and Texas' Charlie Strong knowingly walked into daunting rebuilding projects two years ago. Both coaches' underwhelming 6-6 regular season debuts were hardly surprising. Both fan bases presumably understood their returns to glory would take a little while.
But at schools with 100,000-seat stadiums, patience is not in abundance. And so, one week into the coaches' second seasons, the natives are fuming in Happy Valley after long-disregarded Temple racked up 10 sacks and manhandled Penn State, 27-10. And all those burnt-orange faithful that made the pilgrimage to take pictures of Touchdown Jesus endured miserable flight homes after Notre Dame held the 'Horns to 163 yards of offense in a 38-3 rout.
I know it's tough, people -- but try to stay calm.
Texas' offense is still a mess, but you could see that coming as soon as Strong installed a pair of true freshman offensive linemen (Connor Williams and Patrick Vahe) in his Week 1 starting lineup, charged with making their debut against an athletic, experienced Irish front seven. "They were able to get pressure and run inside at our two young guys," said Strong.
Meanwhile, returning quarterback Tyrone Swoopes struggled even worse than he did much of last season, leading many to question why the coaches did not turn to more mobile redshirt freshman Jerrod Heard beyond a couple of series. If Heard were ready for that stage he would have beat out Swoopes to begin with. "We just felt that Tyrone was competing so hard, he gave us our best chance to get some positive things going," said offensive coordinator Shawn Watson.
As for Penn State, it seems like people have already forgotten that the NCAA wiped out its roster for two years in the since-shelved Jerry Sandusky-related sanctions. Franklin arrived to find a less-talented roster than the one he left behind in Nashville, particularly on the offensive line. That group struggled yet again Saturday to protect quarterback Christian Hackenberg, but that's not entirely surprising against a legit Temple defense that ranked fourth nationally in points allowed last season and brought back all 11 starters.
"Our best five [offensive linemen] are playing," said Franklin. "The guys that are backing them up are redshirt-freshman that we don't feel at this time are ready."
If you're a Texas or Penn State fan, the real problem will be if you don't see improvement over the course of the season. In the Nittany Lions' case, it may be tough to tell what with Buffalo and Rutgers next up on the schedule. In the Longhorns' case, Cal and Oklahoma State visit later this month. Things could get worse before they get better.
In both cases, help is on the way with stellar recent recruiting classes. But relying on true freshman linemen doesn't lend itself to quick fixes. The question is whether their fans can grin and bear the wait.
ON TO NEXT WEEKEND*
* Actually, this weekend's not over yet.
Three games we're most excited for:
Ohio State at Virginia Tech (Monday, 8 p.m. ET). At long last, our yearlong mystery will be resolved when an Ohio State quarterback takes the first snap. And then we'll all throw our hands up at the first incompletion.
Oregon at Michigan State (Saturday, 8 p.m. ET): It will be interesting to see what the Spartans' D does differently under new co-coordinators Harlon Barnett and Mike Tressel. The unit notched seven sacks in its opener.
Oklahoma at Tennessee (Saturday, 6 p.m. ET): Two talented tailback tandems square off in Tennessee's Jalen Hurd and Alvin Kamara and OU's Samaje Perine and Joe Mixon. It should be a great litmus test for both defenses.
Three games you shouldn't miss:
Iowa at Iowa State (Saturday, 4:45 p.m. ET, FOX): This will be a big one for whichever side's embattled coach -- Iowa's Kirk Ferentz or Iowa State's Paul Rhoads -- pulls the W. Rhoads has won three of the past four.
LSU at Mississippi State (Saturday, 9:15 p.m. ET): LSU sure would have liked to get in that canceled tuneup before opening SEC play. QB Brandon Harris will get quite the acclimation when those cowbells start ringing.
Boise State at BYU (Saturday, 10:15 p.m. ET): New Broncos QB Ryan Finley had a rough debut against Washington. If BYU can pull off a second straight upset it might be time to start thinking New Year's Six bowl.
One under-the-radar gem:
Temple at Cincinnati (Saturday, p.m. 8 ET): The American is shaping up to be extremely competitive but as of now these are two of the leading contenders. The Owls defense looks to keep up the pressure against Bearcats QB Gunner Kiel.
Stewart Mandel is a senior college sports columnist for FOXSports.com. He covered college football and basketball for 15 years at Sports Illustrated. You can follow him on Twitter @slmandel and Facebook. Send emails and Mailbag questions to Stewart.Mandel@fox.com.