Forward Pass: Who will jump at chance to dethrone Oregon in Pac-12?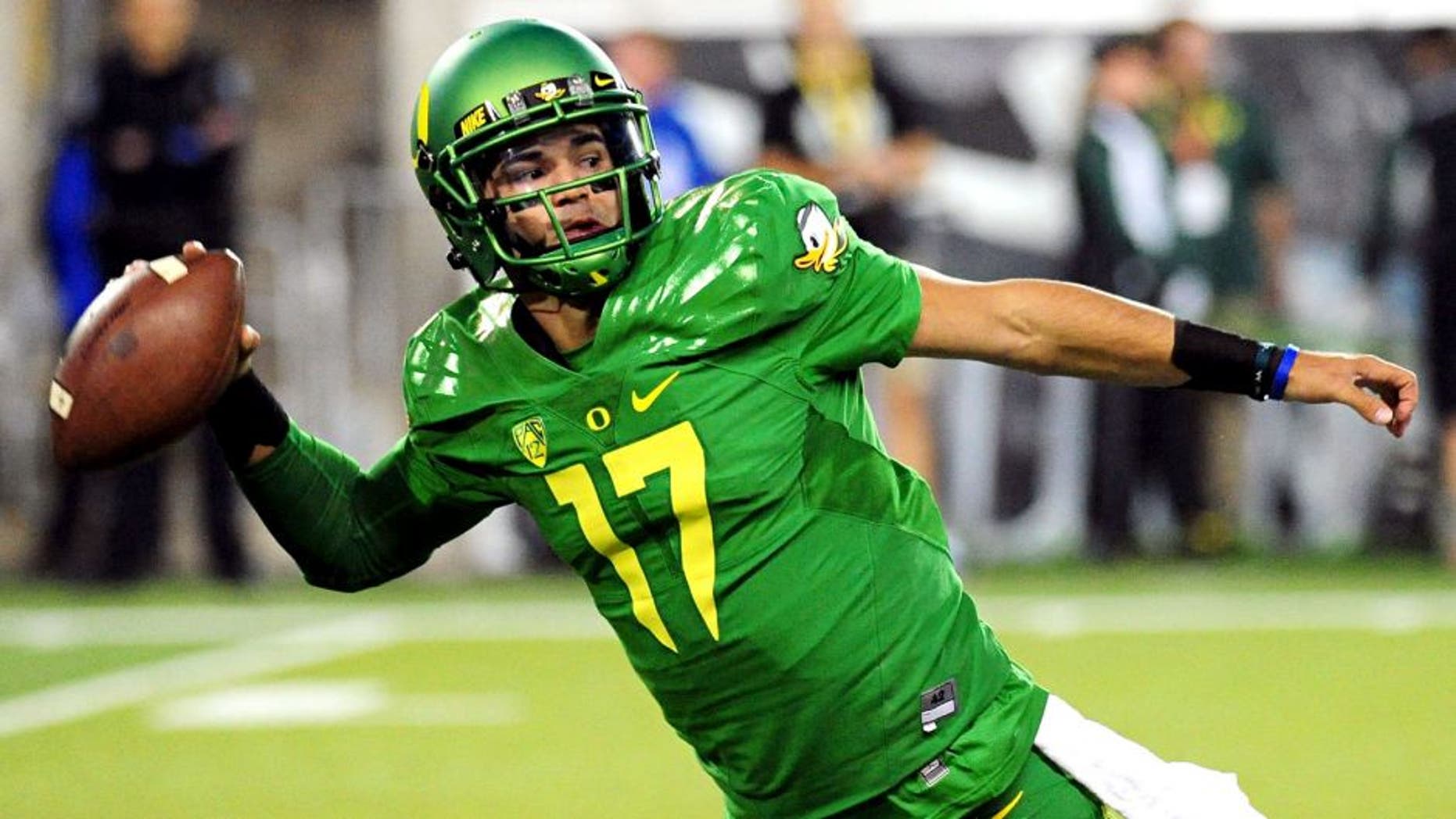 If you missed Saturday night's Oregon-Utah game, you probably had much the same reaction as Portland Trail Blazers point guard Damian Lillard, who tweeted afterward: "Is that the real final score of the Ducks game?"
There have been plenty of 62-20 type games at Autzen Stadium in the eight years since a then-obscure offensive coordinator named Chip Kelly came to Eugene. It's just that the visiting team was always on the wrong end of them. Oregon had certainly shown cracks early this season, and respect for Utah has been building. Still, no one would have foreseen quarterback Travis Wilson hanging 62 on the Ducks in their own stadium.
The Pac-12, for the first time in seven years, is apparently wide open. UCLA, Utah, USC and Stanford all enter October more likely to represent that conference in the College Football Playoff than last year's national runner-up, Oregon.
"This league is too good to get ahead of yourself in any way, shape or form," victorious Utes coach Kyle Whittingham told FOX Sports on Sunday. "We don't have all the answers. We're just glad to get out of the gates 1-0."
The surreal scene at Autzen on Saturday night reminded me of a game I covered there in 2009. USC was then a seven-time defending Pac-10 champion and annual Top 5 fixture, but Pete Carroll's Trojans had shown signs of slippage early that season. On Halloween night, though, first-year head coach Kelly's 10th-ranked Ducks annihilated No. 4 USC 47-20, after which a visibly stunned Carroll struggled for answers to reporters' questions.
You knew right then a sea change was coming in that conference, and indeed, Oregon would go on to its first of five BCS/CFP bowls in six years while the Trojans slunk to the Emerald Bowl. (Carroll left for the NFL after the season.)
Now, a similar shift seems underway.
Oregon always had the potential to slide a bit in 2015 given it lost the greatest player in school history, Heisman winner Marcus Mariota. Coaches in fact had to pull struggling replacement Vernon Adams Jr. -- who's nursing a broken finger on his throwing hand -- early in Saturday night's game ("Vernon is not 100 percent," offensive coordinator Scott Frost said afterward. "I watched him throw in warmups ... he just isn't himself.")
As it turns out, Mariota helped mask the loss of someone Oregon misses even more -- former longtime defensive coordinator Nick Aliotti. The Ducks fell from No. 7 nationally in yards per play allowed (4.61) in 2013, Aliotti's last season, to 64th (5.52) under promoted replacement Don Pellum last year but still managed to reach the national championship game.
So far this season they're an abysmal 103rd (6.23).
Adams' finger will eventually heal, but third-year coach Mark Helfrich -- whose program fell out of the AP poll Sunday for the first time since 2009 -- will be hard-pressed to find a quick fix for that defense, which seems to be only getting worse.
"When you play like we played [against Utah], it's on me," he said.
But who steps up in Oregon's place in the Pac-12 this season?
UCLA will now likely be seen as the team to beat following an impressive 56-30 road win at Arizona on Saturday. Freshman quarterback Josh Rosen shined in his first Pac-12 start. But injuries to LB Myles Jack and other stars showed in a game where the Wildcats rolled up 353 rushing yards (6.0 per attempt).
Asked afterward what impressed him about his defense, Bruins coach Jim Mora replied: "Well, I like to stop the run, so I'll say -- nothing. Nothing impressed me."
USC bounced back from its Week 3 Stanford loss by pummeling surprisingly hapless Arizona State, 42-14. Quarterback Cody Kessler is currently the nation's second-rated passer. But the Trojans need to show they can win close games.
Stanford has brushed off its opening-week 16-6 loss at Northwestern and is already 2-0 in conference play, with the explosive offense many of us expected. But the Cardinal's inexperienced defense has struggled at times.
Cal is off to a 4-0 start behind star quarterback Jared Goff but still buried at 79th in total defense. And no one else in the North is capable of winning the conference.
And then there's Utah.
It's been a long climb for Whittingham's program since joining the conference in 2011. Last season, the Utes broke through a bit and won nine games largely on the strength of their strong offensive and defensive lines, but continued to lack a formidable quarterback.
But Wilson, a four-year starter who's struggled with injuries, finally started looking more comfortable late last season. On Saturday night he shredded Oregon both with his arm (four touchdown throws) and his feet (six carries for 100 yards and a TD). And that was despite dealing with a shoulder sprain that sidelined him the week before against Fresno State.
Whittingham on Sunday was clearly happy for Wilson. But he was also pleased with running back Devontae Booker. And his defense and special teams, both of which stymied Oregon and could do the same to other league foes.
"This team has a lot of confidence, and even more so after [Saturday] night," he said. "We feel like we're on a more level playing field now than at any time since we entered the league."
Several other Pac-12 teams presumably feel the same way. Oregon is finally vulnerable. The door is open.
CAN GEORGIA LEAVE NIGHTMARES BEHIND?
For Georgia fans, Saturday's date with No. 13 Alabama is both the biggest game Sanford Stadium has hosted in seven years … and a painful reminder of the one seven years ago.
On Sept. 27, 2008, No. 3 Georgia, led by Matthew Stafford and Knowshon Moreno, hosted the No. 8 Crimson Tide for a primetime showdown. Dawgs fans staged a rare "blackout" for the occasion, which quickly turned sour when Nick Saban's seven-point underdogs promptly went up 31-0 before halftime.
"That was a long time ago, it's hard to remember," Dawgs coach Mark Richt said Sunday when a reporter brought up that night. Suffice to say his fans haven't forgotten. Thanks to their conference's scheduling model, the schools have only met once since then -- in the 2012 SEC championship game, another painful, albeit much closer defeat. They won't soon forget that one either.
"I don't hear it, I don't worry too much about it," Richt said of those fan flashbacks. "It's like I've said before, if you flunked a math test and you go to the end of the next test and you keep thinking about what you did wrong on the old one, that's just not good."
It seems like Richt has been through a lot of those math-test moments during his 15-year tenure. Fairly or unfairly for a guy who's won 74 percent of his games, he's often viewed as a coach who "can't win the big one." Given the backdrop for this one, he'll likely hear it again if the Dawgs don't prevail.
For the first time in 73 games -- dating back to the 2009 SEC title game against Florida -- oddsmakers on Sunday installed Alabama as an underdog. That Ole Miss loss and continued questions at quarterback (Jake Coker was just 17-of-31 for 158 yards Saturday against Louisiana-Monroe) have raised more doubts about the Tide than there have been since … well, before that '08 Georgia game.
Meanwhile, Georgia's looked awfully good against admittedly light competition (its two SEC wins were against Vanderbilt and South Carolina). But Alabama's stout defensive front will pose the biggest test to date for quarterback Greyson Lambert. The Virginia transfer has completed a remarkable 33-of-35 passes the past two weeks, but he's rarely had to throw downfield like he will this week.
Georgia is clearly the class of this year's mediocre SEC East, and with annual crossover opponent Auburn reeling, the opportunity is there for that truly special season that's thus far eluded Richt. But that's got to start with winning a big game in which he's favored.
'A LITTLE EXTRA PIZAZZ' FOR THE TIGERS
The ACC … is not very good this year. I cringed a bit when Virginia Tech coach Frank Beamer tried downplaying his team's second loss in two years to East Carolina by saying of non-conference games: "They're exhibition games, they're preseason games. Now it's on to conference games. Now it's down to being really important."
It's unfortunate for Beamer and the league that those games do count, seeing as the ACC is a ghastly 5-13 against the Power 5, American and Mountain West conferences.
Knowing that, 12th-ranked Clemson (3-0) will be carrying the torch for its entire conference when it hosts No. 6 Notre Dame (4-0) on Saturday night. As one of the league's few remaining playoff hopefuls, the Tigers could really use a signature non-conference win to distinguish themselves from the wreckage around the rest of their conference.
The Irish will be making their first visit to Death Valley since Joe Montana played there in 1977.
On Sunday, Clemson coach Dabo Swinney initially downplayed the matchup as "[no] more important than [previous opponents] Wofford, Applachian State or Louisville." But it did not take much to slightly alter that to: "You're talking about Notre Dame, you're talking about the winningest program in the history of college football. [Technically, the Irish are No. 3.]
"They're all big, but some games bring a little extra pizazz with them."
Last we saw Clemson, two Thursdays ago, preseason Heisman candidate Deshaun Watson threw for just 199 yards and two interceptions in a 20-17 win at Louisville. That performance raised concern over how the Tigers' offense will fare going forward without standout receiver Mike Williams, who suffered a neck fracture when he crashed into the goalpost padding in the season opener.
But despite losing nine starters from last season, coordinator Brent Venables' defense continues to shine. Defensive end Shaq Lawson leads another big, athletic front four that reminds Swinney of … this week's opponent.
"Watching [Notre Dame] defensively, it looks like we're getting ready to play Clemson," he said last week. "… This is a whole different type of animal that we're getting ready to deal with in Notre Dame. This is a legit Top 10 football team."
Respect is so high already for both teams that the winner will surely be talked about as a potential national champion. And while the Irish may be only a partial ACC member, they already have two wins against the conference. A third may well be enough to win this year's Coastal Division.
THIS WEEK'S BOWL FORECAST
Each week, I'll update my predicted lineup for the New Year's Six bowls based on the latest week's games.
Peach: Clemson (ACC champ) vs. Temple (Group of 5)
Fiesta: Notre Dame (at-large) vs. Georgia (at-large)
Sugar: Ole Miss (SEC) vs. Baylor (Big 12)
Rose: Michigan State (Big Ten) vs. Utah (Pac-12)
Orange (semifinal): No. 1 Ohio State vs. No. 4 TCU
Cotton (semifinal): No. 2 UCLA vs. No. 3 Texas A&M
It's becoming harder, not easier, to fill in those semifinal spots, because I just don't trust anyone. Ohio State is still figuring things out. TCU, with its injury-riddled defense, needed a monstrous game from receiver Josh Doctson and some incredible fortune on Trevone Boykin's game-winning touchdown to survive Texas Tech. Texas A&M scored 13 points in the first 57 minutes against Arkansas before Myles Garrett and Christian Kirk came to the rescue.
I didn't bounce any of those three, but I did downgrade Michigan State. Sparty's chances of getting in as a second Big Ten team were always dependent on Oregon remaining a big-time win. That does not look likely right now.
As for the Group of 5 berth, I jumped off Memphis and back on to Temple because I watched the Tigers' wild 53-46 win over Cincinnati last Thursday and find it hard to believe a team that allowed 752 yards will turn around and win the American.
I'LL BE KEEPING AN EYE ON …
Michigan. The rapidly improving Wolverines, which blanked BYU 31-0 on Saturday, will have a say in the Big Ten East race. Jim Harbaugh's defense -- which you may recall played Utah -- ranks No. 3 nationally (3.47 yards per play).
West Virginia. The rapidly improving Mountaineers, which throttled Maryland 45-6, will have a say in the Big 12 race. QB Skyler Howard is the nation's fourth-rated passer, and WVU leads the country in scoring defense (7.7 points per game).
Duke S Jeremy Cash. The All-America candidate was everywhere against Georgia Tech, notching 12 tackles, three TFLs and two forced fumbles, then proclaimed afterward: "The Coastal Division still runs through Durham."
San Jose State RB Tyler Ervin. The fifth-year senior ravaged rival Fresno State for 300 yards and three touchdowns on 42 carries. He now ranks third nationally in rushing (160.3 yards per game) and is tied for first with nine touchdowns.
Texas' special teams. The 'Horns have lost consecutive games on a missed extra point (against Cal) and botched punt snap (against Oklahoma State). The Ghost of Steve Patterson haunts that team. A séance may be in order.
THIS WEEK'S COACH OF THE YEAR
Indiana's Kevin Wilson. A hot seat candidate coming into the season, Wilson has the Hoosiers off to their first 4-0 start since 1990. UAB transfer Jordan Howard, who had 168 yards against Wake Forest, trails only Leonard Fournette nationally.
THIS WEEK'S COACH ON THE HOT SEAT
Tennessee's Butch Jones. It's rare you can pinpoint the exact moment a fan base turns on its coach, but Jones' came in the fourth quarter Saturday against Florida. He needs to start showing he can win something besides Signing Day.
ON TO NEXT WEEKEND
Three games we're most excited for:
--No. 13 Alabama at No. 9 Georgia (Saturday, 3:30 p.m. ET). Georgia star Nick Chubb is getting overshadowed nationally by Fournette. That could change if he breaks Herschel Walker's school record with a 13th straight 100-yard day.
--No. 6 Notre Dame at No. 12 Clemson (Saturday, 8 p.m. ET). It's hard to believe C.J. Prosise was a receiver just last season. The Irish running back is averaging 150 yards per game, No. 5 nationally, and garnering heavy Heisman buzz.
--No. 5 Baylor vs. Texas Tech (Saturday, 3:30 p.m. ET): As Texas Tech showed against TCU, it's got the offense to hang with the Big 12's big boys and the defense to give up 700 yards if Bears QB Seth Russell gets cranking.
Three games you shouldn't miss:
--No. 23 West Virginia at No. 15 Oklahoma (Saturday, Noon ET, FS1): Mountaineers RBs Wendell Smallwood and Rushel Shell combined for 224 yards against Maryland. Can they outduel OU stars Samaje Perine and Joe Mixon?
--No. 3 Ole Miss at No. 25 Florida (Saturday, 7 p.m. ET): Jim McElwain's Gators are 4-0 and playing with house money against "a team that should probably come in here and beat the heck out of us," he said. It's going to get weird.
--No. 1 Ohio State at Indiana (Saturday, 3:30 p.m. ET): Should the Buckeyes be worried about the 4-0 Hoosiers? Or is it actually better that they get out of Columbus and away from the microscope zooming in on their every flaw?
One under-the-radar gem:
--Air Force at Navy (Saturday, 3:30 p.m. ET): Navy QB Keenan Reynolds is just four rushing touchdowns away from matching Montee Ball's FBS career record (77). Also, Navy wants that Commander-in-Chief's Trophy back.
Stewart Mandel is a senior college sports columnist for FOXSports.com. He covered college football and basketball for 15 years at Sports Illustrated. You can follow him on Twitter @slmandel and Facebook. Send emails and Mailbag questions to Stewart.Mandel@fox.com.