Forward Pass: Six teams we rushed to judge, plus three more deserving respect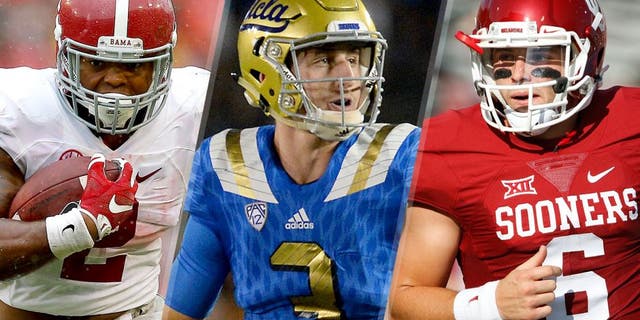 NEWYou can now listen to Fox News articles!
Chaos is customary in college football, so, a Saturday like this past one -- in which four AP Top 10 teams (No. 3 Ole Miss, No. 6 Notre Dame, No. 7 UCLA and No. 8 Georgia) went down -- is not exactly unfamiliar territory. Yet something about this season so far just feels … off. Simply put, I don't trust anyone yet, and I have a feeling that may remain the case most of the year.
A combination of injuries, coordinator changes and a lack of polished quarterbacks are conspiring to form a landscape littered with teams both high on potential and full of flaws. The end result may be an extremely volatile playoff race in which teams we dismiss one week promptly rise up the next, and teams you buy into go inexplicably belly up the next.
I won't endeavor to predict which ones will go in what direction from here, but it's worth taking a moment to reevaluate some of our previous opinions.
Prematurely anointed: Ole Miss, UCLA, Michigan State.
I'm bewildered by the extreme hot-cold nature of Hugh Freeze's Rebels. Over the past two seasons they've beaten Alabama twice, dominated eventual Fiesta Bowl champ Boise State and demolished a 10-win Mississippi State team in last year's Egg Bowl. But when they lose, man, do they lose. Their last three defeats: 30-0 to Arkansas and 42-3 to TCU last season and 38-10 to Florida on Saturday.
With the Bruins, you can only go by what you know at the time, and their wins over BYU and Arizona looked better then than they do now. More pertinently, though, all those fallen star defenders (LB Myles Jack, DT Eddie Vanderdoes, CB Fabian Moreau) caught up to UCLA against previously lifeless Arizona State. Meanwhile, freshman QB Josh Rosen continues to be all over the map.
As for the Spartans, their record the past five years warranted a high preseason ranking, and a Week 2 win over Oregon only seemed to validate it. But at some point you've got to cry foul when purported first-round pick Connor Cook fails to crack 150 passing yards against Central Michigan and Purdue. Michigan State could well win the Big Ten; I just don't know what we've seen yet to support that.
Prematurely dismissed: Alabama, Stanford, Michigan.
All those 'Bama obits from a couple weeks ago will go back on the shelf until the next time the Tide lose a game -- which could well be later this month. The Tide reaffirmed Saturday against Georgia that their physical defense will shut down any team that depends too heavily on its rushing attack, like say, this week's foe Arkansas. Texas A&M could pose a stiffer challenge in two weeks.
Stanford coach David Shaw took a barrage of heat following a 16-6 Week 1 loss at Northwestern. The Cardinal have averaged 42.3 points since and are 3-0 in conference play. (And Northwestern's only allowed three TDs all season). QB Kevin Hogan is playing out of his mind, and RB Christian McCaffrey is averaging a national-best 229.8 all-purpose yards. Stanford will contend for the Pac-12 title.
And since a now-respectable opening Thursday loss to Utah, Jim Harbaugh's Wolverines have allowed just 14 points in four games, including consecutive shutouts of BYU and Maryland. Given Michigan State's and Ohio State's offensive struggles, it's fair to believe Michigan could play Big Ten spoiler.
Time to finally take seriously: Utah, Oklahoma, Texas A&M.
I elevated the Utes to No. 1 in my FOX Four ballot this week because, why not? Utah's looked consistently solid in all three areas (offense, defense and special teams) against quality opponents (Michigan and Oregon). Utah has produced some special teams before (2004 and '08). Why not this one?
Oklahoma's comeback win at Tennessee is admittedly devalued now what with the Vols' descent to 2-3, but the Sooners were particularly impressive in Saturday's 44-24 win over West Virginia. An oft-criticized defense made a bevy of drive-killing plays (seven sacks, five turnovers) against a potent Mountaineers offense, lending credence to the notion this team could take down TCU or Baylor.
And Texas A&M quietly continues to take care of business against good-but-not great opponents like Arizona State, Arkansas and Mississippi State. The anticipated defensive improvement under coordinator John Chavis has come to pass -- Myles Garrett and the Aggies have 19 sacks -- and the offense, while hardly overpowering, is racking up big plays. A&M could win the SEC West.
Of course, all of this comes with one major caveat. If this season remains as turbulent as I expect, these lists could look completely different this time next week.
THE McELWAIN EFFECT
Two SEC East teams played 38-10 contests Saturday. One, Florida (5-0), blew out then third-ranked Ole Miss by that margin, while the other, Georgia (4-1), fell mightily at the hands of Alabama. Naturally, many will now view the Gators (which jumped from 25th to 11th in Sunday's AP poll) as the new division favorite instead of the Bulldogs (which dropped from eighth to 19th).
First-year Florida coach Jim McElwain won't hear of it.
"The thing people don't realize is, we're playing the reigning champs [at Missouri] this week," he told FOX Sports on Sunday. "… We certainly haven't arrived by any stretch of the imagination."
But McElwain still took no shortage of satisfaction in Saturday night's performance, in which the surprising Gators took a 25-0 halftime lead on a veteran Ole Miss team that, a week earlier, he said himself "probably should beat the heck out of us." A week after throwing a late 63-yard touchdown pass to rally Florida past Tennessee, redshirt freshman QB Will Grier (24-of-29 for 271 yards) came out and threw four TDs before intermission.
Notably, he threw them to four different receivers.
"I like when that guy [the quarterback] can play like a good point guard," said McElwain, whose previous protégés include Alabama star AJ McCarron and Saints rookie Garrett Grayson. "Get the ball to your shooters, know to take the shot when you have it. He took three to four checkdowns I'm not sure he would have before."
It's hard to believe how quickly and dramatically the former Colorado State coach has reconstructed a Florida program that slogged its way to a 10-13 record in predecessor Will Muschamp's last two seasons and never ranked in the 90s and 100s in total offense. This year's Gators are up to 51st (5.88 yards per play).
Florida's confidence is seemingly growing by the week, starting from its ugly 14-9 win at Kentucky just two weeks earlier. "There's no doubt that's part of it," said McElwain, "but more than that, it's these guys realizing what they do during the week usually comes to fruition on Saturdays. They're seeing a glimpse of why we do things a certain way."
Now comes a new challenge -- dealing with heightened expectations. Many Florida fans entered the year just hoping for a bowl berth. Now they're likely starting to set their sights on Atlanta. How will McElwain's players handle that?
"I'll be interested to see not only how we play on Saturday, but more so, what's the mindset when we come to work on Monday," he said. "Is it hey, I'm excited I'm getting my belly rubbed, or is it, why am I getting my belly rubbed? Which is, based on putting in the work and doing my job, good things should happen."
It seems like more good things have happened in Florida's first five games than happened in the entire two seasons before this one. McElwain has had that big an effect.
HOUSTON'S BRAXTON MILLER?
Houston coach Tom Herman has been too busy building his own program to spend much time watching the other members of his new conference, the American. However, he did catch Memphis' 53-46 win over Cincinnati two Thursdays ago. ("Both myself and our defensive staff were on suicide watch after that one," he said.) He's also well aware that Temple beat Penn State, East Carolina beat Virginia Tech and, last Thursday, Cincinnati took down Miami.
"You talk about the non-Power 5 conferences -- it's not even close to me in terms of competition between them," the former Ohio State offensive coordinator told FOX Sports on Sunday. "There's the Power 5, there's us, and then the 'Group of Four,' if you will."
The former Big East has emerged as one of this season's most intriguingly competitive conferences. Four teams -- Memphis (5-0), Temple (4-0), Navy (4-0) and Herman's Cougars -- sit between 28th and 31st in the latest AP poll, going by the "others receiving votes" section. Only the Big Ten and Big 12 also have four unbeaten teams remaining. The league as a whole is 9-1 against Herman's so-called "Group of Four" opponents and 5-7 against the ACC, Big 12 and Big Ten.
And the teams at the top could not be more different stylistically. While high-flying Memphis, led by star QB Paxton Lynch, managed to win a game in which it allowed 752 yards of offense (against Cincinnati), Temple held Penn State to 180. Cincinnati's quarterbacks average 45.4 pass attempts per game. Navy runs the triple-option.
As for Houston, Herman is trying to replicate the Ohio State formula, which starts with dazzling dual-threat quarterback Greg Ward Jr. A receiver earlier in his career, the 5-foot-11, 185-pound Ward shredded Tulsa for 273 yards passing and 182 yards rushing in a 38-24 road win Saturday. The junior ranks fifth nationally in total offense (382.5 yard per game) and is the lone player in the country averaging more than 200 yards passing and 100 yards rushing.
"He reminds me a lot of Braxton Miller when we first got to Ohio State," said Herman. "Braxton was probably playing a little too early as a true freshman and had to rely on his athleticism. Greg hadn't played quarterback since high school until the middle of last year. It was like taking a ball of clay and starting to mold it, because it hadn't begun to take shape. He didn't know the difference between a Cover 2 and a Cover 3."
Herman was notably critical of both Ward and his offense after Saturday's game -- saying the quarterback took a "step back" in his development -- despite Houston racking up 638 yards. Thankfully his defense held Baylor-clone Tulsa to 10 first-half points on 51 plays.
Ward, whom I added as a dark-horse Heisman candidate this week, will get an opportunity for exposure Thursday night when Houston hosts SMU. His conference is quickly becoming this season's must-see Thursday TV.
THIS WEEK'S BOWL FORECAST
Each week, I'll update my predicted lineup for the New Year's Six bowls based on the latest week's games.
Peach: LSU (at-large) vs. Temple (Group of 5)
Fiesta: Notre Dame (at-large) vs. Utah (at-large)
Sugar: Alabama (SEC) vs. Baylor (Big 12)
Rose: Iowa (Big Ten) vs. Stanford (Pac-12 champ)
Orange (semifinal): No. 1 Ohio State vs. No. 4 Clemson
Cotton (semifinal): No. 2 Texas A&M vs. No. 3 TCU
This week marks my biggest shakeup to date -- starting with Clemson in the playoff. As I wrote Saturday night, while the Tigers were fortunate to survive Notre Dame's late surge, their defense's ability to completely overwhelm a strong Irish offensive line makes them the team to beat in the ACC. And there aren't a lot of teams in the ACC that can beat the Tigers. Which puts them in quite a favorable position.
And hey, look at that Rose Bowl matchup. The Pac-12 looks like it may cannibalize itself straight out of the playoff. As for Iowa … wouldn't that be something if Kirk Ferentz finally reaches Pasadena in his 17th season? To call the defensively stingy Hawkeyes' remaining schedule "favorable" is putting it mildly.
I'LL BE KEEPING AN EYE ON …
Oklahoma State. After fending off Kansas State 36-34, the season's least-talked about 5-0 team -- led by stud DE Emmanuel Ogbah -- leads the country in sacks (22). The Cowboys face their toughest test to date this week at West Virginia.
Boise State. The 4-1 Broncos slipped back into the Top 25 on Sunday after dismantling Hawaii 55-0. Boise has been a different team since freshman QB Brett Rypien took over Sept. 18, outscoring three opponents 132-14.
Baylor RB Shock Linwood. QB Seth Russell and WR Corey Coleman are the faces of Art Briles' overpowering offense, but Linwood is playing his own part. His 221 yards against Texas Tech bumped him to No. 5 nationally (146.0 YPG).
Ohio State RB Ezekiel Elliott. Look who's back. Bottled up in the fist half against Indiana, Elliott came out in the second and burst for touchdown runs of 55, 65 and 75 yards. He's now one spot behind Linwood on the rushing chart (145.8).
Frank Beamer. Hopes of a redemptive season are fading quickly. The 2-3 Hokies managed just 100 total yards in a 17-13 loss to Pittsburgh, their lowest total since Beamer's very first game in 1987. Sadly, such performances are becoming habit.
THIS WEEK'S COACH OF THE YEAR
Northwestern's Pat Fitzgerald. The 5-0 Wildcats have already won as many games as they did each of the last two seasons, and they're doing it in dominant fashion. Northwestern held Minnesota to 173 total yards in a 27-0 blowout.
THIS WEEK'S COACH ON THE HOT SEAT
This week was so bad I couldn't possibly narrow it down to one guy. How about a five-way tie?
Texas' Charlie Strong. The 'Horns are 1-4 heading into Saturday's Oklahoma game. Last-second losses are one thing. Losing 50-7 to TCU is inexcusable.
Nebraska's Mike Riley. Many questioned the hire to begin with and Riley, now 2-3, did himself no favors by completely botching the last 1:01 of a 14-13 loss to Illinois.
Tennessee's Butch Jones. Arkansas became the latest foe to magically erase a two-touchdown deficit against the now 2-3 Vols. It's getting ugly in Knoxville.
Maryland's Randy Edsall. Scoring a combined six points against West Virginia and Michigan may not even be rock-bottom yet for the fifth-year coach.
UCF's George O'Leary. The Knights are 0-5, with losses to FIU, Furman and Tulane. The only saving grace for O'Leary is as AD he'd have to fire himself.
All that and I didn't even have room for Miami's Al Golden.
ON TO NEXT WEEKEND
Three games we're most excited for:
--No., 23 Cal at No. 5 Utah (Saturday, 10 ET). Lo and behold, these are the Pac-12's lone remaining undefeated teams. Surging NFL prospect Jared Goff, averaging 326 yards per game, goes up against a talented Utah defense.
--No. 13 Northwestern at No. 18 Michigan (Saturday, 3:30 ET). Fifteen years ago the Wildcats memorably topped Michigan 54-51 in Evanston. This season the defenses are allowing an average of 14.6 points per game -- combined.
--Miami at No. 12 Florida State (Saturday, 8 ET). While far from the rivalry's heyday, we finally get to see Everett Golson's 'Noles against decent competition. Hopefully Dalvin Cook can return from a hamstring injury.
Three games you shouldn't miss:
--Navy at No. 15 Notre Dame (Saturday, 3:30 ET). Lesser Navy teams than this 4-0 edition have taken down the Irish. However, LB Jaylon Smith and that run defense seem equipped to slow down Navy star Keenan Reynolds.
--No. 21 Oklahoma State at West Virginia (Saturday, 7 ET). One of these two could play spoiler down the road for league favorites TCU or Baylor. Mountaineers S Karl Joseph is a big-time talent and hard-hitting tackler.
--No. 10 Oklahoma vs. Texas (Saturday, Noon ET). How can you look away?
One under-the-radar gem:
--Washington State at Oregon (Saturday, 6 ET). Oregon's beleaguered defense showed signs of hope in the second half of its 41-24 win at Colorado, but now comes the Cougars' 51 passes-per-game offense.
Stewart Mandel is a senior college sports columnist for FOXSports.com. He covered college football and basketball for 15 years at Sports Illustrated. You can follow him on Twitter @slmandel and Facebook. Send emails and Mailbag questions to Stewart.Mandel@fox.com.