Forward Pass: Power Football isn't dead & might be the way to the national title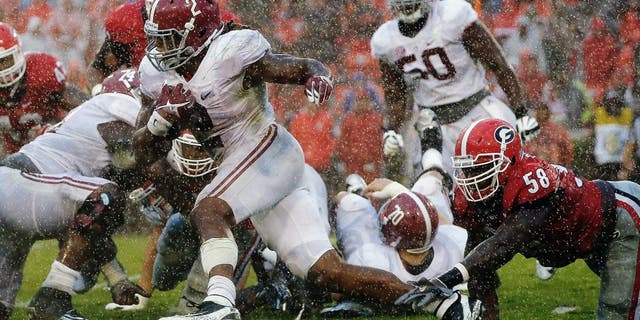 NEWYou can now listen to Fox News articles!
Theoretically, Texas A&M still had a chance to win against Alabama well into the fourth quarter Saturday. Realistically, you knew it would be a long day for the Aggies midway through the first quarter when, on second and 2, six Crimson Tide blockers (the five linemen plus tight end O.J. Howard) stood up six A&M defenders (three down linemen and three linebackers), opening a gigantic hole through which Derrick Henry sprinted 55 yards for a touchdown.
In a matchup of purported Top 10 teams, Power Football poster program Alabama lined up and ran on the Aggies 45 times. Hurry-Up No-Huddle staple Texas A&M threw it 45 times. Henry ran for 236 yards and two touchdowns. Aggies quarterback Kyle Allen threw three pick-sixes.
Alabama -- forever one loss away from being declared a football dinosaur -- won the game, 41-23, but Power Football won the day. And that old-school approach may well win the 2015 season when all is said and done.
Sure, you could have turned on any number of Big 12 games Saturday and watched touchdowns soar through the air. But you could have also started your morning watching resurgent Iowa, now 7-0, run the ball 51 times for nearly 300 yards to strangle Northwestern, or Florida State, with its pro-style attack, win for the 35th time in its last 36 games.
Notre Dame (6-1) is considered a spread team, but, as the Irish have done many times this season, they wore down USC with the power running of C.J. Prosise.
And while LSU coach Les Miles' fake field goal for a touchdown proved the difference against Florida, the Tigers got to that point with their classic formula of handing off over and over to their workhorse running back (Leonard Fournette) to set up a few carefully chosen deep shots for the quarterback (Brandon Harris).
And then there was the day's signature game between Michigan and Michigan State. Weeks, months and years from now, fans will remember the bizarre and extraordinary ending, in which the Spartans stunned the Wolverines by recovering and returning a muffed punt snap. But hopefully they won't forget the intensity of the 59:50 that preceded the Gift Six.
On a crisp October afternoon at the Big House, two bitter rivals staged a timeless struggle of might vs. might. Both coaches, Michigan's Jim Harbaugh and Michigan State's Mark Dantonio, believe heavily in quarterbacks under center and running to set up the pass. But both also happen to have exceptional defensive lines that weren't allowing ball-carriers much in the way of forward progress.
So the two sides went back and forth trying to chip away yards here and there, biding time for the chunk play here or there. You can go full games these days without ever seeing a fullback, but here, Michigan's (Sione Houma) scored both of his team's touchdowns, while Michigan State's (Trevon Pendleton) made his team's longest play of the afternoon on a 74-yard catch-and-run.
Two evenly matched squads basically played to a near-standstill only to have a once-in-a-lifetime special teams play decide the outcome.
"Just an incredible ending to a great football game," stunned Spartans coach Mark Dantonio said afterward.
It appears increasingly likely that this year's playoff race will swing on the outcome of a few more similar matchups.
No. 1 Ohio State's repeat hopes will likely hinge on matchups with as many as three of the aforementioned teams, Michigan State, Michigan and, if both reach the Big Ten championship game, Iowa. Meanwhile, contrary to early hype over Ole Miss and Texas A&M, the SEC West (and in turn likely the SEC) may once again come down to an ever-intense LSU-Alabama showdown (Nov. 7).
Even out west, where the Pac-12 still often gets mistakenly confused for the WAC, the current division frontrunners are two of the nation's most physical teams, Utah (6-0) and Stanford (5-1).
In fact, Stanford -- arguably the most pro-style program in all of college football -- set the tone for the weekend ahead last Thursday when it bludgeoned UCLA, 56-35. Nascent Heisman candidate Christian McCaffrey's career-best 243 rushing yards helped the Cardinal to their third-straight 300-plus yard rushing night.
Afterward, Cardinal coach and Bill Walsh disciple David Shaw enjoyed a moment of smirking at the critics who had started writing him off as too conservative following a 16-6 Week 1 loss to Northwestern. Asked what his torrid offense has done differently since then, Shaw replied flatly: "Nothing."
"Whenever something doesn't happen, people panic," he said. "Coaches and players can't panic. We have won a lot of football games here playing the right way, playing smart football, playing good football, and it's hard for the outside world to understand it."
It's the same outside world that was writing the Alabama dynasty's obit a month ago and is likely now placing the Tide back in their playoff picks. There's no one right way to win football games, but if you've got the pieces to run people over, by all means, do it. It's still working for plenty of people in 2015.
MORE THAN AN UPSET FOR MEMPHIS
Throughout the late afternoon and all night Saturday, a little tidbit scrolled across the ticker during college football games. Memphis had recorded its first victory over a Top 25 opponent since 1996.
That did not nearly capture the moment's significance.
Memphis (6-0) did not just beat the No. 13 team in the country Saturday; it beat Ole Miss, the Tigers' perennial tormentor from the SEC that sits just 80 miles south in a state that's just across the border. That it did so in lopsided fashion (37-24) against a Rebels team (5-2) that previously knocked off Alabama made it that much sweeter.
"For us as a football program, obviously it was great to beat an SEC team at our place, get bowl-eligible and all those things," Memphis coach Justin Fuente told FOX Sports on Sunday. "But for our fans, it's a personal event. They take that rivalry pretty personal. As much as it's nice for us, there's a lot of people that have been associated with for us for a long time that have been through some tough times."
Fuente, 39, knows well just how tough those times were. Four years ago, the former TCU co-offensive coordinator took over a bottom-rung Conference USA program considered an afterthought in its own city and coming off a three-year record of 5-31. Today, the reigning American co-champs are riding a 13-game winning streak and sporting the highest AP ranking (18th) in school history.
It shows you just how rare a moment this is that it's only the third week in the poll's 79-year-history that Memphis has even been ranked, period.
"When we started, we had 51 guys on scholarship and really void of work ethic or pride in the program," said Fuente, who figures to be a hot name on the coaching carousel come early December. "Now, to see kids wear their Memphis T-shirts across campus, to see Tiger Lane, our tailgating area, just overflowing with people at 8:30 a.m., is a complete 180 from when we started. Its pretty special to see, quite honestly."
After falling behind 14-0 in the game's first five minutes -- the fourth time in six games the Tigers had trailed by double-digits -- star QB Paxton Lynch led Memphis to a touchdown or field goal on five of six possessions. Ole Miss is admittedly not the same team that beat Alabama on Sept. 19, having previously lost key defenders Tony Conner and C.J. Johnson to injury. Early against Memphis it lost star DT Robert Nkemdiche to a concussion when playing offense.
But while Ole Miss' defense has regressed, Memphis' inexperienced unit has improved dramatically since allowing 752 yards in a 53-46 shootout with Cincinnati on Sept. 24. Ole Miss managed just 40 rushing yards on 24 carries.
"We knew coming into year the offense might have to carry the team a little bit while the defense improves," said Fuente. "Having a week off [beforehand] obviously helped."
With Boise State suffering its second loss of the season Friday against Utah State, the champion of the American is all but certain to earn the Group of Five's New Year's Six bowl berth. But Memphis is hardly a shoe-in to win it. The conference now boasts two other undefeated Top 25 teams, Houston and Temple (which entered the AP poll this week for the first time since 1979). Fuente's team plays both on the road in back-to-back weeks in November. Heck, this week's trip to high-scoring Tulsa (3-3) has the makings of a trap game.
"That's our challenge -- can we handle the trappings of success?" said Fuente, who spoke Sunday with his mentor, Gary Patterson, about that very subject. "As proud we were [to beat Ole Miss], we have to remember it's one game. We have a long road ahead of us."
IS COLEMAN COLLEGE'S BEST?
It's unlikely that West Virginia's Dana Holgorsen has watched every player in college football, but he does coach in a conference that happens to boast several potential Heisman candidates. So it says something that after the Mountaineers' 62-38 loss at Baylor on Saturday, Holgorsen made the following proclamation about a certain Bears receiver: "You can put me on the record … Corey Coleman is the best player in college football."
Coleman had just finished catching 10 passes for 199 yards and three touchdowns, the latter of which gave him a school-record 16 on the season. Mind you, he reached that number in just six games, many of which he barely played the second half, if at all. To put the feat in perspective, only 12 FBS teams have recorded more receiving touchdowns on the season.
West Virginia unwisely tried to play man against Coleman, who, time and again, burst past respected West Virginia cornerback Daryl Worley and others, often on basic slant-and-goes, for gains like 50 and 42 yards.
"You watch [Coleman], the way he runs his routes, he's so dynamic, so explosive," said Baylor quarterback Seth Russell, who himself racked up 540 total yards and six touchdowns Saturday. "You have to double team him. That's maybe the only way you can try to stop him."
Coleman is the latest in a long line of big-play receivers under coach Art Briles -- Kendall Wright, Tevin Reese, Terrance Williams, Antwan Goodley -- but ostensibly the most talented athlete of the bunch. The fourth-year junior was a four-star prospect and Top 20 recruit in the state of Texas in 2012.
"He's just good," said Briles. "… We knew we were getting a great athlete."
All that being said, it's hardly a given he's even the best receiver in his own state. In yet another TCU-Baylor squabble, Horned Frogs star Josh Doctson (152.4 yards per game) and Coleman (146.2) rank 1-2 nationally in receiving yards. Doctson, who's played an extra game, grabs more passes on average (8.6 to 6.8), while Coleman leads in TDs (16 to 12) and yards per catch (21.4 to 17.8).
Holgorsen, whose team came in having beaten Baylor two of the previous three years, also had high praise for the Bears in general. Briles' team has moved up to No. 2 in both polls behind only defending champ Ohio State.
"This is the best Baylor team I've seen, ever," he said. "… Their O-line is big and physical. They have good running backs. If you double-cover one receiver, they have three others that are pretty good. They have it in a pretty good place here."
THIS WEEK'S BOWL FORECAST
Each week, I'll update my predicted lineup for the New Year's Six bowls based on the latest week's games.
Peach: Iowa (at-large) vs. Memphis (Group of 5)
Fiesta: Notre Dame (at-large) vs. Utah (at-large)
Sugar: LSU (SEC) vs. Baylor (Big 12)
Rose: Michigan State (Big Ten) vs. Stanford (Pac-12 champ)
Orange (semifinal): No. 1 Ohio State vs. No. 4 Clemson
Cotton (semifinal): No. 2 Alabama vs. No. 3 TCU
Four weeks after the Alabama dynasty purportedly crumbled, the Tide now look like one of just two remaining SEC playoff hopefuls, along with LSU. The teams meet Nov. 7 in Tuscaloosa. Whoever wins likely takes the West, unless Texas A&M and Ole Miss screw things up for the Tigers in late November.
Why stick with TCU as the Big 12's rep instead of Baylor when the Bears have been so dominant? Simply because Baylor has played just one Big 12 road game to date, at Kansas, and still has three remaining, including at TCU, whereas the Horned Frogs have already survived three with two left (one of those at Oklahoma). Baylor's had one clunker on the road in each of its back-to-back Big 12 title seasons.
I'LL BE KEEPING AN EYE ON …
Pittsburgh. Pat Narduzzi's 5-1 Panthers beat Georgia Tech on a last-minute 56-yard field goal Saturday, and their sole loss came to undefeated Iowa on a last-second 57-yard field goal. Could surprising Pitt win the wide-open ACC Coastal?
RELATED: How Pitt has morphed into an ACC contender under Pat Narduzzi
North Carolina. Since losing a strange 17-13 opener to now 3-4 South Carolina, Larry Fedora's 5-1 Tar Heels have outscored their subsequent five opponents 230-87. Could surprising UNC win the wide-open ACC Coastal?
Utah State coach Matt Wells. As the coaching carousel churns, expect quite a bit of speculation surrounding Wells, whose 4-2 team controls its division in the Mountain West following a 52-26 drubbing of Boise State.
New Mexico coach Bob Davie. The former Notre Dame coach is hardly a hot name these days, but he does have the 4-3 Lobos in position to reach their first bowl game in eight years following a last-minute touchdown to beat Hawaii.
Targeting. The infuriating rule needs either a rewrite or better enforcement. Michigan's Joe Bolden got ejected Saturday when an opposing blocker pushed him into the "target." The consequence is too great for something so hazy.
THIS WEEK'S COACH OF THE YEAR
Iowa's Kirk Ferentz. Iowa went into Saturday without two starting tackles, a key receiver and with QB C.J. Beathard banged up. Then starting RB Jordan Canzeri went out early. You know the entire team is bought in when the Hawkeyes still did everything they wanted in blowing out a Top 20 team 40-10.
THIS WEEK'S COACH ON THE HOT SEAT
Virginia Tech's Frank Beamer. The venerable Hokies coach may want to take a cue from Steve Spurrier. He deserves to exit on his own terms, but he's shown no sign he's capable of turning around his sliding program, now 3-4 this season.
ON TO NEXT WEEKEND
Oh brother …
Three games we're most excited for:
Honestly …. I can't in good conscience call any of this week's matchups "exciting."
Three games you shouldn't miss:
--No. 15 Texas A&M at No. 24 Ole Miss (Saturday, 7 p.m. ET): It's an SEC West elimination game for both sides, as two up-and-down quarterbacks, A&M's Kyle Allen and Ole Miss' Chad Kelly, look to rebound from last week's poor outings.
--No. 3 Utah at USC (Saturday, 7:30 p.m. ET). Interim coach Clay Helton's offense looked rejuvenated against Notre Dame, his defense still overmatched. USC, 3-3, could well pull the upset, or it could give up 350 rushing yards.
--No. 6 Clemson at Miami (Saturday, Noon ET): Will there be another "Fire Al Golden" banner with the 'Canes sitting at 4-2? Either way, the embattled Miami coach could help his cause with a big upset of a Top 10 team.
One under-the-radar gem:
--No. 22 Temple at East Carolina (Thursday, 7 ET): Five days after cracking the AP Top 25 for the first time since 1979, Matt Rhule's 6-0 Owls visit a potent ECU team (4-3) that's completing 71 percent of its passes. Tricky.
Stewart Mandel is a senior college sports columnist for FOXSports.com. He covered college football and basketball for 15 years at Sports Illustrated. You can follow him on Twitter @slmandel and Facebook. Send emails and Mailbag questions to Stewart.Mandel@fox.com.