Formula E: Teams complete first test at Donington Park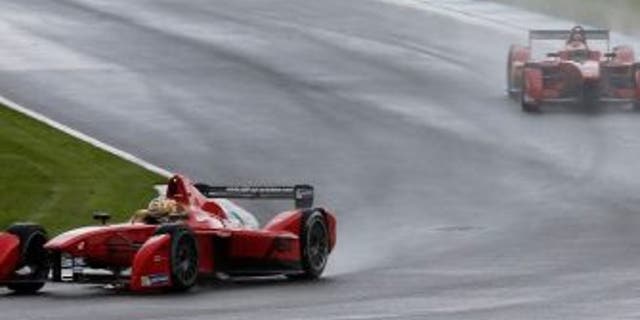 The teams competing in the inaugural all-electric FIA Formula E Championship finally got to take their Spark-Renault SRT_01E cars out onto the circuit, on a damp Wednesday at Donington Park.
With many of the drivers not having driven the car before, the tires not having been tested before and the team owners not being able to have their hands on the cars before, reliability and the understanding of the cars took a much higher priority than lap times.
"We've had virtually no issues," said Rob Arnott, Team Manager at Andretti Autosport. "The car has run exceptionally well for us, almost like clockwork ... which say a lot for a car straight out of the box.
"Franck [Montagny] has been really surprised with the car and its balance, especially in the wet. I was concerned the tires wouldn't be able to cope being a 'one-stop-shop' so to speak but they are very impressive and a good compound.
"Tomorrow we'll debrief and analyze the data but it's apparent battery management is going to be key."
Nicolas Mauduit, Team Manager at Venturi Autombiles, echoed Arnott's claims about battery strategy.
"Overall it's been a very good day learning the car and running a mixture of low and medium power setups," said Mauduit. "We'll go away now and look over the data and get to grips with the car better as well as look in more detail about the regeneration system and improving battery life."
The first official Formula E test will take place on July 3 2014 back at Donington Park, while the first race will be ran on September 13 in Beijing.
FOX Sports 1 will have LIVE coverage of all 10 FIA Formula E races during the inaugural 2014-2015 season.