Former Utah Jazz ball boy selling Michael Jordan's sneakers from 1997 'Flu Game'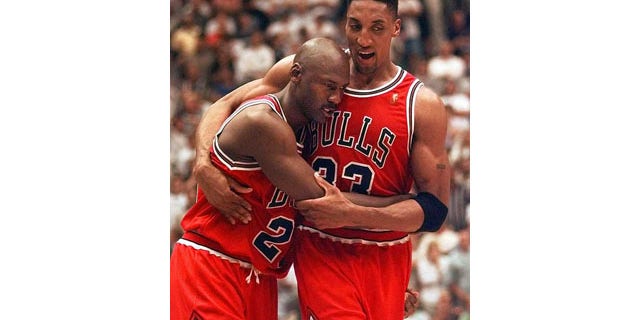 Beginning Monday, a small piece of NBA history will go up for sale.
Preston Truman, a 35-year-old Utah Jazz ballboy, is selling the sneakers worn by Chicago Bulls legend Michael Jordan in Game 5 of the 1997 NBA Finals.
In that game, Jordan, despite battling a severe stomach flue, played 44 minutes and scored 38 points as the Bulls defeated Utah 90-88 en route to their fifth of six NBA championships won during the 1990s. Jordan was so weak by the end of the game that he had to be helped off the floor by teammate Scottie Pippen, and his effort forever immortalized what became known as "Flu Game."
Truman tells that Salt Lake Tribune that he had asked Jordan for his sneakers before the game, when the perennial All-Star was receiving an IV in the trainer's room. True to his word, following the game, Jordan stopped the Bulls equipment manager from packing the shoes away, signed them, and gave them to Truman.
In the intervening years, Truman kept the sneakers in a bank vault, at one point turning down an offer of $11,000 in cash for them. He told the Tribune that he doesn't need the money.
""I'm 35, and 40's just right around the corner, and it seems like time goes by faster the older you get," he says. "Maybe it's just time to get those things out there."
Click for the story from the Salt Lake Tribune