Former UFC champ Rafael Dos Anjos victorious in welterweight debut against Tarec Saffiedine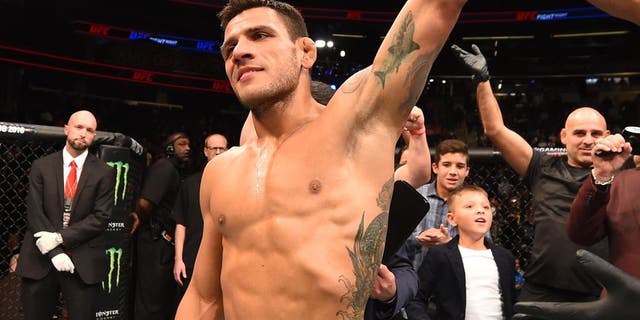 NEWYou can now listen to Fox News articles!
Former UFC lightweight champion Rafael Dos Anjos made an impressive debut at 170 pounds on Saturday with a victory over former Strikeforce champion Tarec Saffiedine in Singapore.
Dos Anjos moved up a division after a pair of losses to Eddie Alvarez and Tony Ferguson but more importantly he was struggling through a tough weight cut to get down to the 155-pound limit.
Judging by his performance on Saturday, Dos Anjos didnt miss a step moving up to welterweight except now he's not taxing his body nearly as much to get down to the lightweight limit.
As the fight got underway, Saffiedine surprised with a takedown after catching one of dos Anjos' first kicks of the fight as he looked to take control on the ground. Unfortunately, his success on the mat was short lived as dos Anjos looked for a kimura from the bottom before eventually working his way back to the feet.
Dos Anjos was ultra aggressive with his striking as he came after Saffiedine with a heavy barrage of punches as well as some hard shots to the body. Saffiedine was strong in his counter striking before Dos Anjos dropped down for a takedown of his own before the round came to an end.
The former lightweight champion turned the fight into a grueling battle inside as Dos Anjos started working inside the clinch during the second round, looking for short punches and elbows.
Saffiedine did a solid job staying out of trouble but didn't get the opportunity to fire back with much offense of his own, instead opting for a more defensive posture while working against the cage.
Dos Anjos continued to assault the body in the final round with a brutal series of body kicks as well as a leaping hook that he used to dig to Saffiedine's midsection.
It was clear that Dos Anjos was the more active fighter while Saffiedine was stuck back pedaling while trying his best to counter his more aggressive opponent.
While he didn't get the finish in his welterweight debut, Dos Anjos showed that he's still a very dangerous fighter at 170-pounds as he dished out a lot of punishment over three rounds against a former Strikeforce champion.
In the end, dos Anjos earned the victory with scores coming back 30-27, 30-27 and 29-28 all in his favor as he gets back on track following a pair of tough losses in his last two fights in the lightweight division.
"I was struggling so hard cutting the weight," dos Anjos said about his final days at lightweight. "I feel I still need to make some adjustments for this weight division but it was a really good test. Tarec is a really tough guy."