Former top-50 tennis player Elena Baltacha dies at age 30 of liver cancer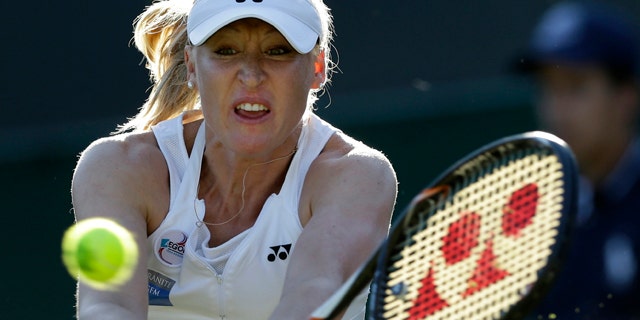 LONDON – Elena Baltacha, a former top-50 professional tennis player who had been fighting liver cancer since retiring from the game, died Sunday. She was 30.
The former British No. 1 died peacefully surrounded by family and friends, the Women's Tennis Association said on its website. The Kiev-born Baltacha, who represented Britain at the 2012 London Olympics, was diagnosed with the illness in January, two months after retiring from tennis and only weeks after she married her long-time coach Nino Severino.
"We are heartbroken beyond words at the loss of our beautiful, talented and determined Bally," Severino said in a statement. "She was an amazing person and she touched so many people with her inspirational spirit, her warmth and her kindness."
Baltacha was born into a sporting family. Father Sergei played football for Dynamo Kiev and English club Ipswich, and won a bronze medal for the Soviet Union at the 1980 Moscow Olympics. Mother Olga represented the Soviet Union in the pentathlon.
After being diagnosed with a chronic liver condition aged 19, Baltacha dealt with illness throughout her career, receiving medication and regular blood tests.
"Elena's journey was never an easy one and yet she consistently showed her strength, good humor and indomitable spirit," WTA chairman Stacey Allaster said.
Her best ranking was 49th in 2010, and she reached the third round at Grand Slam tournaments three times -- at Wimbledon in 2002, and at the Australian Open in 2005 and 2010. Ankle problems eventually forced her to retire in November, and she had hoped to use her experience to develop the next generation of British players.
"We have lost a shining light from the heart of British tennis - a true role model, a great competitor and a wonderful friend," former Fed Cup coach Iain Bates said. "We have so many special memories to cherish, but this leaves a gaping hole for everybody in both British and women's tennis, and words simply cannot express how saddened we are by this news."
Baltacha had already planned a tennis charity event in June, "Rally for Bally," to raise money for a cancer hospital and her tennis academy. It will go ahead in her memory, with competitors including childhood friend Andy Murray, Martina Navratilova and Tim Henman.
"Bally was such a caring human being, always putting others before herself, and a warm, fun person," the WTA's Allaster said. "A shining example of her commitment to looking out for the welfare of others is the Elena Baltacha Academy of Tennis, which she established so that children from disadvantaged backgrounds could learn to play the game she loved so dearly."