Former Raiders player Ben Davidson dies at 72 of prostate cancer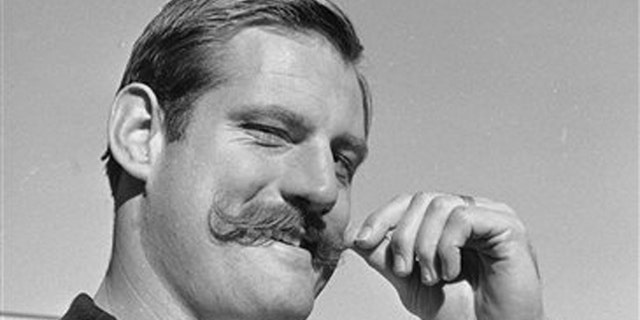 ALAMEDA, Calif. – Ben Davidson, the hulking defensive end who starred for the Oakland Raiders in the 1960s before becoming a famous television pitch man, has died. He was 72.
Davidson died Monday night. He was being treated for prostate cancer. Former Raiders coach John Madden first reported Davidson's death Tuesday on KCBS radio in San Francisco.
Davidson spent 11 years in pro football, starting with the Green Bay Packers and Washington Redskins in the NFL before joining the Raiders in the AFL in 1964.
That's where the 6-foot-8 Davidson became famous. With his distinctive handlebar mustache, raspy voice and physical play, Davidson helped personify Al Davis' renegade Raiders on the 1960s.
"He was a tough, gutsy ballplayer, team oriented with enough meanness in him to be feared and enough talent to be effective," former Raiders teammate Tom Flores said. Flores, who recently played golf with Davidson, got the news while in Las Vegas for a celebration of Davis, who would have turned 83 on Wednesday.
Davidson played in the second Super Bowl for Oakland after the 1967 season and then was on the team that lost the conference title game the next three seasons.
One of Davidson's most memorable plays came on Nov. 1, 1970, against Kansas City. The Raiders trailed 17-14 late in the fourth quarter when Chiefs quarterback Len Dawson ran for a first down to seemingly seal the win.
As Dawson was on the ground, Davidson dived into him with his helmet. In a rage, Chiefs wide receiver Otis Taylor jumped on Davidson and a brawl ensued.
"Their attitude was, if you've got a shot at the quarterback, take it," Dawson recalled in 2010.
The play was negated by offsetting penalties and the Chiefs eventually had to punt. Oakland tied the game on a field goal by George Blanda with 8 seconds remaining and that proved to be the difference in the AFC West race. The Raiders won the division with a record of 8-4-2, while the Chiefs missed the playoffs at 7-5-2.
Davidson didn't play football until going to East Los Angeles Community College. He went from there to the University of Washington, where he helped the Huskies win Rose Bowls in 1960 and `61.
He was then a fourth-round pick by the New York Giants in 1961. He played his rookie season with Green Bay, winning the NFL championship with the Packers in 1961.
He then spent two years in Washington before joining the Raiders in Davis' second season as coach in Oakland. He spent eight seasons with the Raiders. He was a second-team Associated Press All-AFL selection in 1965 and first-teamer in 1967.
"He was just a big, tall, skinny guy that Davis took a chance with," Flores said. "He was able to rush the passer and worked hard to get bigger and stronger, with the character and personality. He was always that way."
After his playing career, Davidson became a successful actor with roles in films like "M-A-S-H," "Conan the Barbarian" and "Necessary Roughness" and he played himself in Miller Lite ads.
Davidson is survived by his wife, Kathy, and daughters Jan, Dana and Vicki.