Former Pro Bowler Kellen Winslow Jr. trying to make a comeback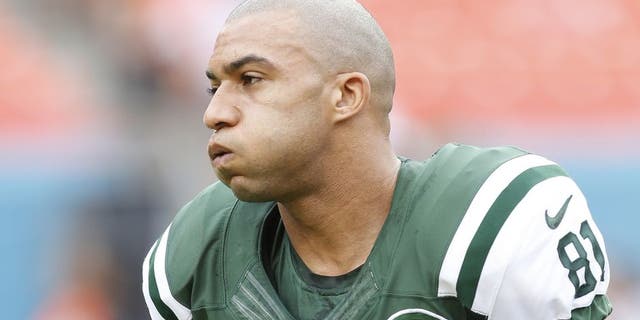 For two years, Kellen Winslow Jr. became so addicted to cycling that he lost 25 pounds logging as many as 350 miles a week while traversing steep inclines.
Winslow now has begun a different kind of uphill climb by attempting an NFL comeback.
A top tight end for 10 seasons, Winslow is trying to return after injuries and other factors led to his departure from the league after the 2013 season.
"My body feels good enough to come back and play at a high level, even better I think because I'm just a little wiser," Winslow told co-host Kirk Morrison and me Friday night on SiriusXM NFL Radio. "It was good to get away from the game just to work on me.
"I want to be a better player than I was before. I think I can."
Winslow is no stranger to overcoming obstacles. The No. 6 overall pick by Cleveland in the 2004 draft, Winslow suffered a broken leg during his rookie season that required two surgeries.
What happened in the following offseason was far worse when Winslow suffered a horrific knee injury during a motorcycle accident.
"I remember (doctors) taking about amputating my leg," Winslow said. "They said I was never going to play again. That really touched me. I remember that like it was yesterday.
"To make a long story short, I decided that, nah, that's not how it's going to be."
Winslow bounced back in 2006 to lead all NFL tight ends with 89 catches for 875 yards and three touchdowns ("On one leg," he added) and made the Pro Bowl in 2007. Even after more knee problems, Winslow became the highest paid tight end in league history by signing a six-year, $36 million contract with Tampa Bay in the 2009 offseason after being traded by Cleveland.
Winslow continued to excel, leading the Bucs in catches for three straight seasons and setting franchise receiving records at the position. He then began a steady decline after being traded to Seattle during the 2012 offseason. Winslow was waived at the end of training camp and bounced between New England and the New York Jets over the next two seasons before teams stopped showing interest in his services.
Winslow not only has to prove he can still play physically but also convince interested clubs that he will be a positive presence. This wasn't always the case during his career when Winslow's brash and outspoken nature caused him to fall out of favor with some coaches and general managers.
Winslow also was arrested in November 2013 after a woman told police she saw him masturbating in a parked car outside of a New Jersey department store. Winslow wasn't charged with exposure but was arrested for possession of synthetic marijuana. The charge later was dismissed after Winslow completed court-ordered terms to clear his record.
Winslow insists he has learned from his past.
"We make mistakes in life," Winslow said. "It's all about reflecting upon yourself, looking at yourself in the mirror and coming out a better person in the end. That's what I am now.
"I've worked my butt off, especially these past couple years. I was cycling like 250 miles a week, sometimes 350. That's the most I ever did. It gave me time to think and reflect and decide what I wanted to do."
Now back to his playing weight of 240 pounds, Winslow said he has spoken about his comeback designs with three of his former coaches who are now with Atlanta, Houston and Green Bay. He hopes a tryout or contract will be forthcoming soon.
Winslow plans to resume competitive cycling at some point. But at age 32, Winslow realized he couldn't wait any longer before giving the NFL one final spin.
"I just decided, 'Man, it's time to put the bike down for a little bit,'" said Winslow, who began his football training last December. "The bike can wait. Guys are racing until they're 50, 60 years old. But the NFL can't wait. There's only a certain amount of years you have."
Winslow said that is a message he would impart upon another high Browns draft pick with a checkered reputation -- €" quarterback Johnny Manziel -- if he had the chance.
"I would tell him to slow down," Winslow said. "None of the outside stuff matters, going to the club and partying and doing all that nonsense ... Look at Tom Brady, Peyton Manning, Drew Brees.
"I believe that if he just learns to be a pro, focus on his craft and eliminate the outside noise, he'll be just fine. Hopefully, he turns it around."
That's the same route Winslow hopes to travel himself.