Former PGA Tour golfer Miller Barber dies at 82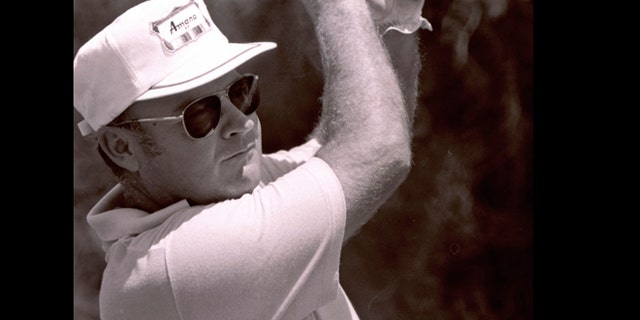 Miller Barber, the unique-swinging golfer who made the most combined starts on the PGA and Champions tours, has died. He was 82.
The PGA Tour said Wednesday that Barber died Tuesday. The tour didn't provide details of the death.
Barber, nicknamed "Mr. X," played in 1,297 tournaments on the PGA Tour and 50-and-over circuit. He won 11 times in 694 PGA Tour starts and added 24 victories in 603 events on the Champions Tour.
"We are saddened by the passing of Miller Barber," PGA Tour Commissioner Tim Finchem said in a statement. "He was a wonderful player who made his mark on the PGA Tour with 11 victories and then really excelled on Champions Tour, becoming one of its best players in the tour's formative years. Miller and the Champions Tour's other early stars helped establish the tour and make it the tremendous success it has become. Golf has lost a great man and competitor."
Barber was born in March 31, 1931, in Shreveport, La., and grew up in Texarkana, Texas. He graduated from the University of Arkansas in 1954, served in the U.S. Air Force and joined the tour in 1959. He won the 1964 Cajun Classic Open Invitational for his first tour title.
Known for his unusual swing that featured a flying right elbow, the two-time Ryder Cup player had his best chance to win a major championship in the 1969 U.S. Open at Champions Club outside Houston. But after taking a three-stroke lead into the final round, he closed with a 78 to finish three strokes behind winner Orville Moody.
Barber won five majors on the Champions Tour, including a record three U.S. Senior Open titles. He made his last competitive appearance last year in the Liberty Mutual Legends of Golf, teaming with Jim Ferree to tie for 11th in the Demaret Division for players 70 and older.
"Miller Barber was a true gentleman that was special in many ways," CBS analyst and instructor Peter Kostis said on Twitter. "I will miss him greatly."
PGA Tour player Geoff Ogilvy spent time with Barber at Whisper Rock in Arizona.
"Rest in peace Miller Barber," Ogilvy tweeted. "Thanks for all the tips and stories. The back of the range at Whisper Rock will never be the same."
Barber said there were two stories about how he was tagged "Mr. X."
In one, he took over the nickname from the original "Mr. X," George Bayer, after outdriving Bayer in a long-drive contest. In the other, Barber said Ferree called him "The Mysterious Mr. X" because, "I never told anywhere where I was going at night. I was a bachelor and a mystery man."
Barber is survived by wife Karen and sons Casey, Doug, Brad, Larry and Richard.