Former Patriots G Logan Mankins focused on helping Tampa Bay's struggling offensive line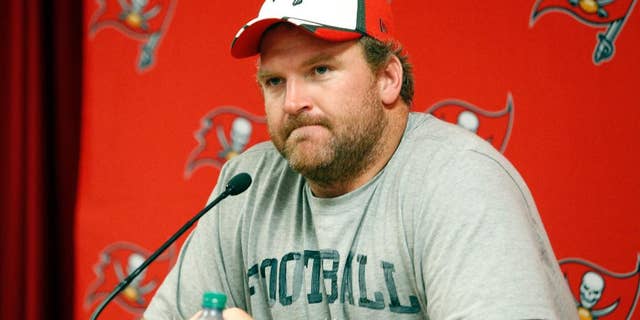 TAMPA, Fla. – Logan Mankins was a little surprised, though not upset, by the trade that sent him from the New England Patriots to the Tampa Bay Buccaneers.
The Bucs acquired the six-time Pro Bowl guard in exchange for tight end Tim Wright and a 2015 fourth-round draft choice and are counting on Mankins to make a difference on their struggling offensive line.
The 32-year-old became available after he and the Patriots were unable to restructure a contract that pays him $6.25 million this season. The Bucs were grateful to get an accomplished veteran they expect to learn the playbook quickly and continue to perform at a high level.
"When someone invests in you, I don't know if everyone feels this way, but myself, I don't want to disappoint them," Mankins said. "I want to be the player they think they're getting."
The Bucs will open the season next Sunday against defending NFC South champion Carolina with four new starters on the offensive line, including Mankins, who has been selected to play in the Pro Bowl each of the past five seasons.
After starting every game he appeared in over nine seasons with New England, he's looking forward to doing whatever he can to help his new team.
He didn't necessarily see the trade coming, however he stressed he's not bitter about having to move on.
"Once you've been around this business long enough, everything is possible. It's a business first and foremost," Mankins said.
"Guys play because they love it, but it is a business. And if you don't understand that it's a business, then you're lying to yourself," he added. "You have to be prepared for whatever happens in this league at any time, and I think I'm always prepared. I didn't know it was going to happen the way it did, but it's not a shocker to me."
The Bucs began training camp with veteran reserve tackle Jamon Meredith trying to make the transition to left guard. He was benched after the first preseason game, and the Bucs tried several alternatives, including a trade for second-year pro Rishaw Johnson, before landing Mankins.
The move came one day after Coach Lovie Smith and general manager Jason Licht met with free agent guard Richie Incognito to determine if one of the central figures of the Miami Dolphins bullying scandal might be a potential solution.
The Bucs have missed the playoffs six consecutive years. They haven't won a postseason game since their 2002 Super Bowl run.
Mankins is accustomed to playing on winning teams, and Smith expects his arrival to have a positive impact in the locker room, as well as on the field.
"It's the entire package that he brings which is good," the coach said.
"He's been (in New England) for a while, he's been in an environment where they won a bunch of games, but we want to be known as a tough football team. You would classify him as a tough football player," Smith said. "It's hard for me to bring up negative things about him that I don't like. I just like the total package that he brings to our team."
Mankins doesn't have any concerns about fitting in or jelling with the rest on the offensive line.
Nor is he worried about whether he is still capable of doing the job.
"I might be in a little decline, I don't know," Mankins said. "How many guys have played 150 games, and then they're still on the upswing? I've played a lot games and a lot snaps, but I think I still got something to give this game and this team. I'll try my hardest for them, and if it's not good enough, then it's not. If it is, then it is."
___
AP NFL website: www.pro32.ap.org and www.twitter.com/AP_NFL