Former NFL coach: Cam Newton 'soft' for wearing gold 'MVP' cleats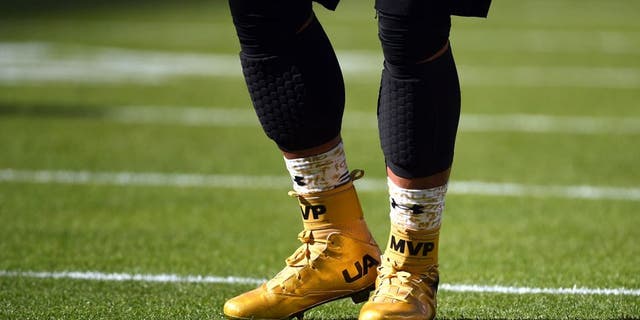 NEWYou can now listen to Fox News articles!
Former New York Giants head coach Jim Fassel originally had the Carolina Panthers defeating the Denver Broncos in Super Bowl 50. Something he saw during the pre-game warmups, however, made him change his mind.
Fassel noticed that Panthers quarterback Cam Newton was wearing gold Under Armour cleats with "MVP" emblazoned on the front. That, he said, is not something a starting quarterback should do.
Flashy pre-game cleats were something of a trend on social media this season. Fassel may not have noticed the Christmas-themed kicks Newton wore in Week 15 ... or the cleats he wore to honor his newborn son before Carolina's divisional-round matchup...or the ones he wore to honor his teammates before the NFC Championship game.
Newton always swaps out his fancy footwear for normal cleats before the game starts. Regardless of his ridiculous reasoning, the gold "MVP" cleats helped Fassel make the right call in Super Bowl 50.