Former New York Yankee Robinson Canó To Make Home Debut As Seattle Mariner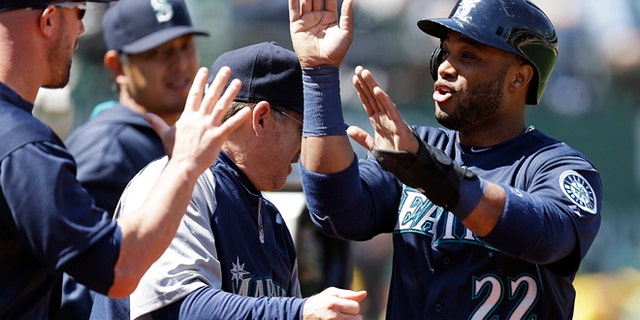 SEATTLE (AP) – The biggest offseason investment ever made by the Seattle Mariners is finally going to make his debut at home.
Sure, Robinson Cano is locked up for the next 10 years. But that first game in a Mariners home white uniform on Tuesday night against the Los Angeles Angels is admittedly meaningful.
"Not just the game in Seattle, but it's emotional for me," Cano said. "I'm very emotional and happy, because I'm starting with a new team for a long time and a new time in my career."
The debut of Cano, new manager Lloyd McClendon and a handful of other new faces highlight a home opener coming on the heels of a successful opening road trip that is creating buzz around the city. For a change, it's in a good way.
Seattle went 4-2 its opening week. The Mariners showed improvement at the plate and promising performances from young pitchers James Paxton and Roenis Elias. Aside from losing in extra innings to the A's and a strange postponement due to poor field conditions in Oakland, the first week could not have gone much better for Seattle.
"I hope the players have created some excitement and I know they're hoping that the fans are excited," McClendon said. "These guys play hard and they try hard. Listen, I don't know how many wins we're going to have but I know we're going to have a pretty good team. I've got butterflies every day. I'm happy for my players."
Seattle is paying Cano $240 million over the next 10 seasons in the hopes that he can help create a winner in the Pacific Northwest for the first time since the early 2000s. Six games certainly is a tiny sample size, but it's a promising start for a club that plays in one of the toughest divisions in baseball.
The first 2 ½ weeks of the regular season — facing AL West foes Oakland, Texas and the Angels — were going to be a challenge for Seattle even before injuries popped up during spring training. When starting pitchers Hisashi Iwakuma and Taijuan Walker were both slowed by injuries in February and left Seattle's rotation in flux, just getting through the first couple of weeks without losing ground in the division seemed the most optimistic goal.
Then Seattle swept the Angels and nearly took two of three in Oakland, losing one in extra innings. They're scoring runs, tied for sixth in the league with 34 despite having one game postponed. Players like Justin Smoak and Dustin Ackley, a duo Seattle has waited to see consistently at the plate, are leading the Mariners in RBIs, driving in 14 of their 34 runs.
And all Cano has done is hit .391 through his first six games.
"You can look around, there are young kids but now you see more veterans," Cano said. "In the past you'd just see only Felix (Hernandez). Now you've got (Fernando) Rodney, Chris Young, Felix, myself, you've got John Buck, you've got (Willie) Bloomquist, you've got a new manager that's been in the playoffs, World Series."
Seattle's players say McClendon's approach is part of the promising start.
"It's a lot different. We've got a lot different attitude," said Hernandez, Seattle's ace, who is already 2-0 with a 1.88 ERA and will make his first home start Friday against Oakland. "We've got a new manager and he's a great guy. He's always keeping us loose."
Paxton will make his second start of the season on Tuesday night, hoping to duplicate the seven shutout innings and nine strikeouts he had against the Angels last week. The Angels will counter with Hector Santiago.
Follow us on twitter.com/foxnewslatino
Like us at facebook.com/foxnewslatino