Former New York Jet Dennis Byrd killed in car accident at age 50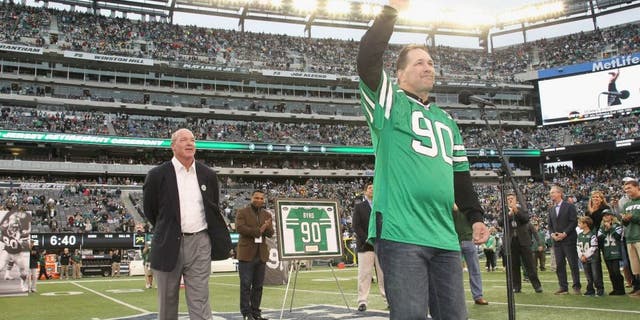 Former New York Jets defensive lineman Dennis Byrd was killed in a two-car accident in Oklahoma on Saturday. He was 50.
Per Tulsaworld.com:
Dennis Byrd, a former University of Tulsa football player who saw his NFL career end after a neck injury, was killed in a two-vehicle collision on Oklahoma 88 north of Claremore on Saturday, the Oklahoma Highway Patrol reports.
The collision sent two others to the hospital in critical condition, according to Kelly Deal, operations director with Oologah Talala EMS.
The crash occurred in late morning. A 17-year-old Claremore youth driving a 2000 Ford Explorer northbound on Oklahoma 88 veered into the oncoming lane, striking a 2004 Hummer H2 driven by Byrd.
Byrd, 50, was pronounced dead at the scene due to massive injuries.
Byrd was a second-round pick out of Tulsa by the Jets in the 1990 NFL Draft.
He suffered partial paralysis after hitting a teammate during a 1992 game and shattering one of the vertebrae in his neck.
Byrd's story became one of inspiration, dedication and drive as he learned to walk again.
Byrd spoke to the team in 2011 and the Jets paid tribute to him by carrying his jersey out to the coin toss against the New England Patriots.
In 2012, the team retired Byrd's jersey and he delivered a stirring speech.
A movie was made of Byrd's life story called "Rise and Walk".