Former Houston Texans cheerleaders file lawsuit alleging harassment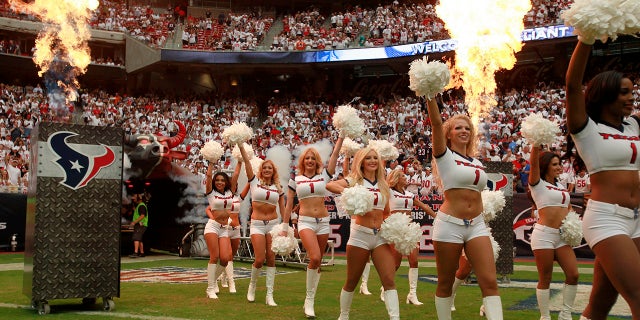 NEWYou can now listen to Fox News articles!
Three former Houston Texans cheerleaders filed a federal lawsuit this week against the NFL team's cheerleading director, alleging various violations and abuse, reports said.
Only one plaintiff, identified by the initials P.G.G., is named in the case, ESPN reported. She worked for the Texans as a cheerleader from April 2017 to April 2018, the report said.
Attorney Bruse Loyd told USA Today Sports that two other plaintiffs were seeking class-action status, and he expects more to come forward.
The plaintiffs claim they were subjected to harassment, including over their "weight and ethnic background," by Alto Gary, director and coach of the Texans' cheerleading programs, USA Today Sports reported.
"Coach Alto walked up to a cheerleader and poked her face asking her if she had gained her 'freshman 15,' saying she looked like she 'ate a plate of salt;" the lawsuit alleged, according to the newspaper.
"Coach Alto walked up to a cheerleader and poked her face, asking her if she had gained her 'freshman 15,' saying she looked like she 'ate a plate of salt.'"
The lawsuit also claims that Gary told a cheerleader that she had "belly jelly" and was a "chunky cheek," ESPN reported.
"Before one game during the 2017 football season, Coach Alto took a cheerleader to a secluded area of the stadium and duct-taped her stomach skin underneath her shorts," the lawsuit alleges, according to the sports network. "Coach Alto then brought that cheerleader in front of the rest of the squad and showed them how much 'better it looks.' At the next practice, Coach Alto pulled out a roll of duct tape and asked said cheerleader if she needed it."
Gary allegedly told a Hispanic cheerleader she couldn't have straight hair and that he would "find another Latina girl to replace her" if she didn't curl it, USA Today reported.
The former cheerleaders are also seeking compensation for labor law violations. The team allegedly failed to pay the former cheerleaders for "off-the-clock" and overtime work, the report said, citing the lawsuit.
The plaintiffs claim the team also didn't pay the federal minimum wage of $7.25 an hour, according to the lawsuit.
The lawsuit also alleges that Gary did not take any action after "several" cheerleaders reported physical assault from fans last season, USA Today reported.
The former cheerleaders, who tried out but didn't make the 2018 squad, attributed the reason to their "efforts to get Alto to change the team's policies," the newspaper reported.
The Texans released a statement obtained by USA Today that said "we are constantly evaluating our procedures and will continue to make adjustments as needed to make the program enjoyable for everyone."
"We are proud of the cheerleader program and have had hundreds of women participate and enjoy their experience while making a positive impact in the local community," Texans spokeswoman Amy Palcic said in the statement.
The allegations add to the increased scrutiny that NFL cheerleading squads have faced in recent months.
Earlier this month, the New York Times reported that several Washington Redskins cheerleaders claimed they were forced to pose topless and act as escorts during a calendar photo shoot trip to Costa Rica in 2013.
Last month, former Miami Dolphins cheerleader Kristan Ann Ware filed a complaint alleging discrimination and retaliation for her religion and gender.
In March, former New Orleans Saints cheerleader Bailey Davis filed a complaint with the Equal Employment Opportunity Commission alleging the team violated the NFL's personal conduct policy, the report said.