Former Green Bay Packers wideout Greg Jennings retires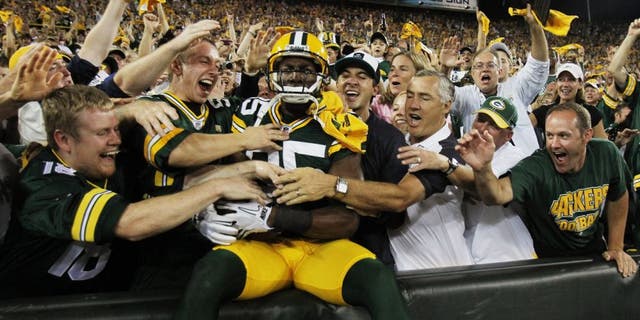 After 10 years in the NFL, mostly with the Green Bay Packers, two-time Pro Bowl wide receiver Greg Jennings is calling it a career.
He announced the decision in a YouTube video Monday morning as part of his family's "Jennings Journey" series.
"I'm done. No more big hits, no more ... Touchdown .... Greg Jennings! .... at least within the lines of a football field," he says in the video.
"I'm done. I'm done and I'm excited to be done. The past 20 years of my life has been football."
Jennings entered the league as a second-round pick of the Packers in 2006 and became a key contributor right away, starting 11 games as a rookie.
From his second season through his fifth, he caught 37 touchdown passes and averaged more than 1,000 receiving yards per season.
During his seven seasons in Green Bay, Jennings topped 1,000 receiving yards three times and helped the Packers win Super Bowl XLV against the Pittsburgh Steelers by catching two TDs in a 31-25 victory.
Jennings left the Packers after the 2012 season for a five-year, $47.5 million contract with the Minnesota Vikings, but he never duplicated his success with Green Bay. He played two seasons in Minnesota, bringing his family along with him. He was released after the second season and signed with the Miami Dolphins, though his family stayed behind -- leading to the launch of the "Jennings Journeys" series detailing their long-distance relationship. Jennings, 32, caught just 19 passes for 208 yards in his one season with Miami.