Former Bills LB explains why he retired from the NFL at 23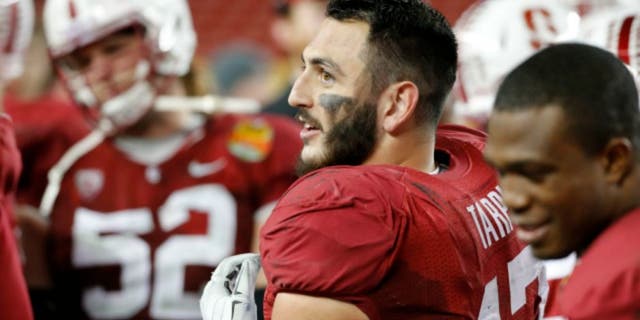 NEWYou can now listen to Fox News articles!
Former Stanford Cardinals star A.J. Tarpley went undrafted in 2015, but made the Bills' 53-man roster and played in 14 games, making two interceptions as a rookie. After just one season, Tarpley retired from football at the age of 23 last week, citing his history of concussions. Tarpley suffered two concussions in his first year with the Bills, and in an essay for MMQB opened up on the hardest decision he's ever had to make.
After suffering concussions in high school and college, Tarpley wrote that he hid a concussion from the Bills in training camp in fear of missing time and being cut from the team.
Via MMQB:
"I met a fullback in a gap and his facemask caught the left side of my helmet. I went through the rest of practice with a headache and tunnel vision, and then went to the trainers after practice and asked them to check me out. I passed balance, vision and memory tests, and once I realized my memory was fine, I didn't press the issue.
For the next few days I had a raging headache. I drank several liters of Pedialyte and gallons of water trying to convince myself that dehydration was the cause. I knew that if I told the trainers about my headache persisting then I would have to be reevaluated and risk missing practice or even game time."
A few months later during the Bills' trip to London, and after staying on the field to help Buffalo mount a goal-line stand, lost feeling in his right arm and shoulder and had trouble seeing. Doctors told Tarpley he was at risk of suffering repeated concussions, and after the Bills' season ended started contemplating his future. Tarpley writes that though he still loves the game, he's at peace with his decision to make his life after football a priority.
"No educated person seems to be denying the relationship between brain injuries and football, yet there are no definitive measures. We still can't answer the question of how much is too much. I was on the fence. I had to decide if I wanted to keep walking that line made thinner and thinner by my concussions....
The hardest thing I've ever done was going up to Rex Ryan's office and telling the man who gave me a chance that I was done playing. This was not about me thinking I couldn't physically play more football without suffering crippling brain damage. I have no current residual effects that I am aware of, cognitively or physically. The decision I made to retire from football is about coming to terms with the totality of my concussion history and what is asked of me as a linebacker. My position put me at an elevated risk for further injury with the likelihood that I would be exposed to hundreds or even thousands of similar situations. I understand that in order to continue playing at the level expected of me, I would have had to put myself in those exact scenarios.
I will never know if I would have received life-impairing damage to my brain somewhere down the line. There is a chance I could have played five more years in the NFL and lived a long, happy and healthy life. But going forward my life will be entirely what I make of it. My happiness is in my hands."