Former big-league sensation Yasiel Puig facing demotion to minors by Dodgers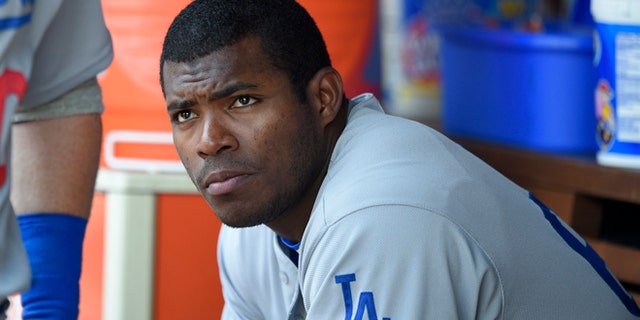 NEWYou can now listen to Fox News articles!
Despite initial reports, Yasiel Puig didn't "storm off," refusing to join the Los Angeles Dodgers on their road trip on Monday. Instead, Puig was following the team's wishes when he didn't show up to the stadium before the team departed on its road trip to Colorado, according to manager Dave Roberts.
Los Angeles picked up Josh Reddick from Oakland on Monday, possibly squeezing the oft-injured, struggling Puig out of a job in right field.
"[Puig] did what the organization asked him to do," Roberts told the Associated Press in a text message. "We didn't want him to come to the ballpark because we knew he wasn't going to Denver with us. We were looking for more production from that position, so we acquired a player who is having a really good year and [has a] great track record."
Puig expects to be sent to the minors on Tuesday after the Dodgers were unable to move the Cuban slugger at Monday's trade deadline, according to his agent, Adam Katz.
"The club informed me and the player understood clearly that they were making every effort to trade him," Katz told the AP, "and that if they were unable to come to terms with another club on a trade — and successful in acquiring another outfielder — that he likely would be demoted."
Fox Sports first reported that Puig had been informed by the team that he would either be traded or demoted, and that the one-time All-Star had stormed off, refusing to report to the plane.
The demotion will be a surprising turn in the fast-burning career of Puig, who hasn't built on the promise of his first two big-league seasons.
After a meteoric rise with the Dodgers, who signed the prospect to a seven-year, $42 million deal in June 2012. He hit 35 homers and drove in 111 runs while batting .305 in 2013 and 2014, but slipped to .255 last season while playing in just 79 games due to hamstring troubles.
Puig has been physically limited and largely inconsistent even when healthy this season, batting .260 with seven homers in 81 games. His on-base-plus-slugging percentage is down to a career-worst .706.
Even some Dodgers fans who adore his effusive personality and considerable talent have begun to sour on Puig, who missed 17 games in June and five in July with hamstring woes.
The mercurial outfielder went 3 for 5 with two RBIs against Arizona on Sunday, playing impressively in his first start since July 20 after his latest bout of hamstring injuries. Since returning from the disabled list in June, he has hit .308 with a much-improved OPS of .830, according to Deadspin.
The Dodgers (59-46) couldn't trade Puig, but they were busy at the deadline as they prepare to chase San Francisco (61-44) over the final two months of the NL West race.
Along with Reddick, who should be an immediate offensive contributor, Los Angeles picked up left-hander Rich Hill from Oakland, right-handed reliever Jesse Chavez from Toronto and right-handed reliever Josh Fields from Houston.
Based on reporting by the Associated Press.
Like us on Facebook
Follow us on Twitter & Instagram