Former All-Star Esteban Loaiza arrested with more than 44 pounds of heroin, cocaine, cops say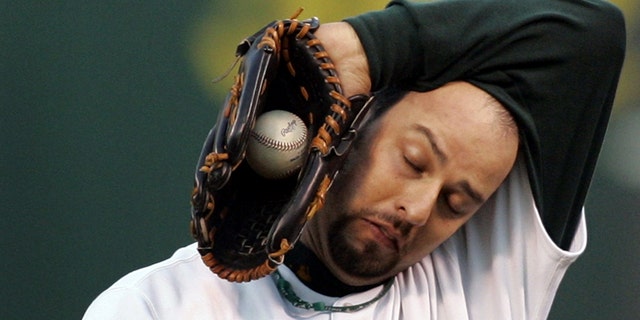 Former MLB All-Star pitcher Esteban Loaiza was arrested in San Diego on Friday on suspicion of possessing more than 44 pounds of heroin or cocaine, court records stated on Monday.
Loaiza, 46, was being held on Monday on charges of felony possession of more than 44 pounds of drugs and two felony counts of transporting and possessing narcotics with intent to sell, jail records obtained by FOX5 San Diego stated. The market value of the drugs was estimated to be $500,000.
The two-time All-Star is being held on $200,000 bail. He was booked into the South Bay Detention Center just before 6 p.m. Friday. Loaiza was first stopped for a traffic infraction after leaving an Imperial Beach home. His car is believed to be used in a drug smuggling operation.
Police searched the vehicle and found "a sophisticated after-market compartment used to conceal contraband," police said.
Loaiza, a Mexican-born pitcher, won 126 games during his career. He played for eight teams in 14 seasons: Pittsburgh Pirates, Texas Rangers, Toronto Blue Jays, New York Yankees, Washington Nationals, Oakland A's, Chicago White Sox and Los Angeles Dodgers.
He capped off his career pitching in 10 games for the White Sox and Dodgers in 2008. His had his best season in 2003 when he won 21 games and finished second in American League Cy Young voting while with the White Sox.
He made $43.7 million during his career, Baseball Reference reported.
Loaiza was the husband of singer Jenni Rivera, who died in a Mexico plane crash in 2012.
Loaiza is scheduled to be arraigned Wednesday.