Forget curse of the Zubaz: Is 1-2 punch of Tigers' staff worn out?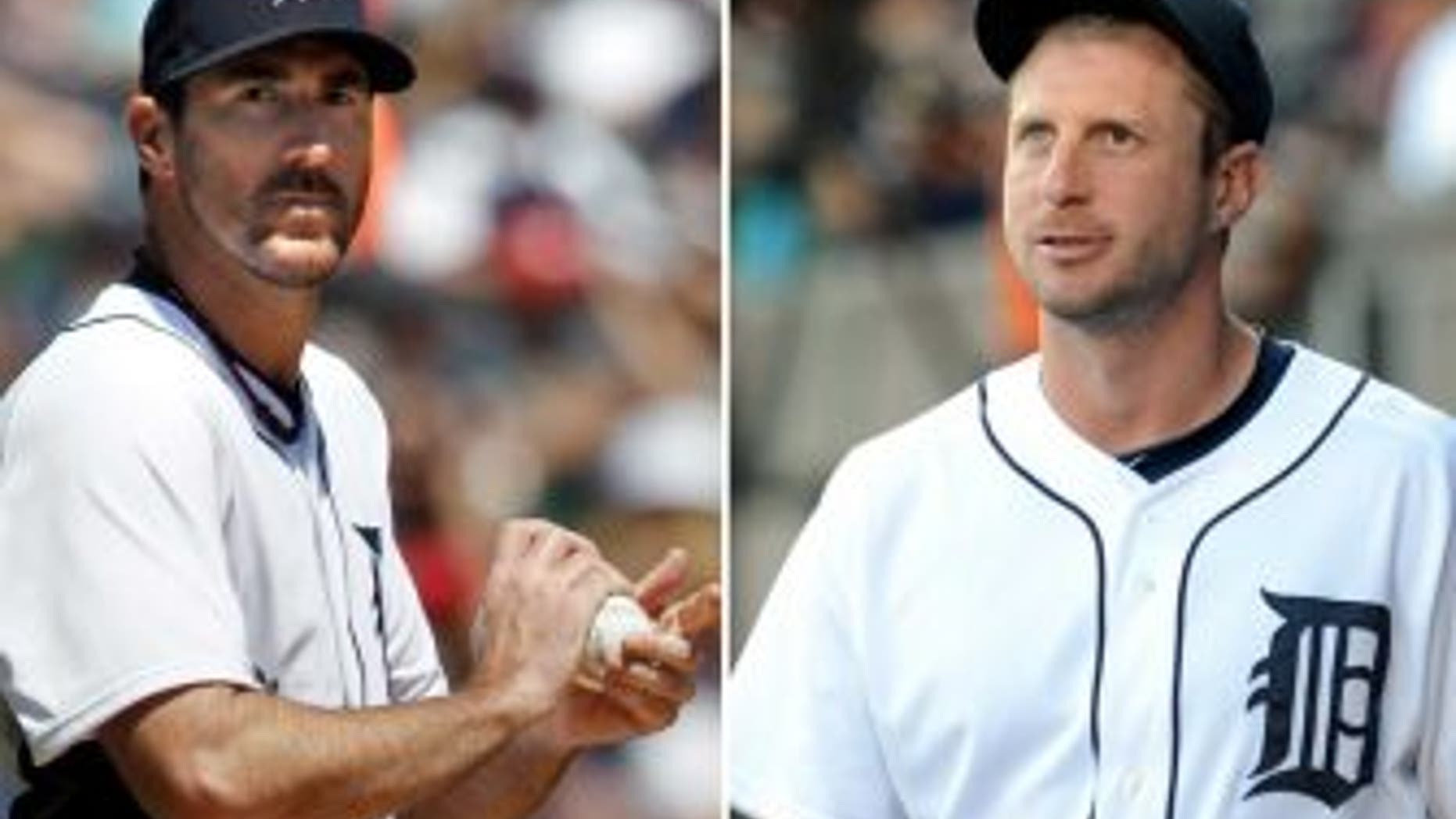 DETROIT — A few weeks ago, it seemed inevitable that the Detroit Tigers would win a fourth straight American League Central title. Then came their ill-fated "Zubaz" road trip, during which plane trouble left them marooned in Boston (with dubious sartorial judgment). They arrived in Cleveland a weary team, were swept there, and entered this weekend's series with the Red Sox having lost 13 of 17 — the worst mark in the AL during that span.
Some blamed the Zubaz, but Torii Hunter disproved that theory with predictable charm. He wore his pair around the Tigers' clubhouse at Comerica Park Friday afternoon — and the Tigers went on to win 6-2.
Having absolved the Zubaz of potential guilt, it appears the explanation for the Tigers' slide is a baseball one: Their pitchers haven't been very good. Or, more accurately, Justin Verlander and Max Scherzer are showing signs of weariness from three straight runs to the ALCS.
That's not to suggest Verlander or Scherzer is injured. In fact, Tigers officials remain confident that both are healthy. However, there's a difference between "suitable health to pitch" and "sufficient velocity and action on the ball to win Cy Young Awards." On that score, Detroit's aces haven't been measuring up — and there might be a straightforward explanation.
Verlander has thrown 14,037 pitches since the start of 2011, including the postseason. That is the most in baseball during that span, according to STATS LLC. Scherzer ranks fourth on that list with 12,276. No other team in the majors has more than one pitcher in the top 10. So if it's risky to carry pitchers with a lot of mileage on their arms, consider the Tigers over-leveraged.
The statistical database at FanGraphs.com confirms what you might expect: Verlander and Scherzer are throwing the slowest average fastballs of their careers, at 93.3 and 92.1 miles per hour, respectively.
When I asked Scherzer Friday if the heavy workload could explain the decrease in his velocity, he acknowledged, "Yeah, there could be something to that. (Pitching deep into the postseason) might affect the first couple months, but it shouldn't affect the later part of the season."
To be fair, the overall results for Verlander and Scherzer in 2014 are hardly disastrous. Despite the regression on their fastball velocities, both rank among the top 25 starters in baseball, according to pitching WAR as calculated by FanGraphs. Yet they haven't been dominant lately — a frightening notion for an organization that has relied on many of the same arms in each of the past three Octobers.
Scherzer, who's allowed 16 earned runs in 19 2/3 innings over his past three starts, was adamant Friday that he's "not hurt." Still, there will be plenty of scrutiny when he opposes fellow free-agent-to-be Jon Lester in Saturday's national Baseball Night in America telecast on FOX (7 p.m. ET).
The Tigers still have an excellent chance to reach the postseason, particularly in a division with only one other team (the White Sox) at or above .500. In the end, their greatest opponent might be fatigue, from three long — but ultimately unfulfilling — trips to October. As the industry frets more than ever about the optimal use for pitchers, just being tired is a formidable foe.
NOTEWORTHY
• Amid the fervor over friends and former Cuban league teammates Yasiel Puig and Jose Abreu playing against one another at Dodger Stadium this week, we shouldn't have overlooked another Cuban-born All-Star candidate in that series: White Sox shortstop Alexei Ramirez.
Sentimental favorite Derek Jeter is likely to win the AL fan balloting, but Ramirez, 32, should earn the first All-Star selection of his career. Quietly, Ramirez has been perhaps the majors' best all-around shortstop in 2014 outside of Colorado's Troy Tulowitzki.
After an inconsistent 2013, Ramirez ranks — by scouts and advanced metrics — as one of the top defensive shortstops in the game. He's also posting a career-high .816 OPS, behind only Tulowitzki and Boston's Xander Bogaerts among everyday shortstops. (And Bogaerts is transitioning to third base after the signing of Stephen Drew.)
• Now that the draft is wrapping up, the trade market will begin to take shape. One rival club executive predicted that San Diego outfielder Chris Denorfia will be coveted by a number of teams.
Denorfia doesn't possess outstanding tools, but he's precisely the type of player contending teams want in July: He plays multiple outfield spots and entered the weekend with an .822 career OPS against left-handed pitching. Denorfia is a valuable role player as a right-handed-hitting outfielder, similar to the way Lou Piniella once deployed Reed Johnson with the Cubs.
Plus, the Padres (already 13 games back in the National League West) seem likely to move a veteran player or two. Denorfia will be a free agent after the season and highly unlikely to receive a qualifying offer, so the Padres' best chance to bring back value for him is through a trade.
• Robinson Cano's first season in Seattle continues to be, well, strange. The Mariners have a winning record (31-29), and he leads the AL with a .333 batting average. So, there are reasons to be encouraged. And yet he's hit only two home runs, which puts him on pace for . . . um . . . five or six over the 162-game season.
Cano won't win any awards for best dollar-for-dollar signing. (That will go to Baltimore's Nelson Cruz.) Cano has maintained his OPS near.800, which is respectable. And we know Safeco Field isn't a hitters' haven. But let's just say it wouldn't be a bad idea for him to have seven or eight dingers by the time he sees his buddies at the All-Star Game.
• May 12 represents a crucial benchmark in the Toronto Blue Jays' surprising journey to status as the AL East frontrunner: Casey Janssen made his season debut that night after missing the start of the season with an abdominal strain.
Janssen's arrival immediately stabilized what had been an inconsistent bullpen. The Jays are 20-4 since, the best record in baseball, while Janssen is 11 for 12 in save opportunities with a 0.00 ERA.