Ford, Toyota teams tired of Chevy dominance at the Brickyard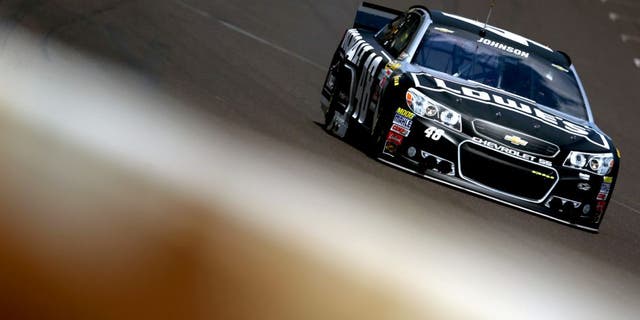 How different did the world look the last time a non-Chevrolet driver won the Brickyard 400, NASCAR's second biggest race?
Consider these fascinating little nuggets:
-- United States President Barack Obama was a little-known state senator
-- Chase Elliott was 6 years old
-- There was no Chase for the Sprint Cup
And the list goes on.
The bottom line: It's been awhile, 13 long years in fact, since a car without a bowtie on its nose crossed Indianapolis Motor Speedway's hallowed yard of bricks in first place when the checkered flag waved on a Sprint Cup Series race.
Of course, all of this begs the question of why Chevy has been so remarkably dominant at the fabled 2.5-mile track where other manufacturers have gone to Victory Lane a total of just five times in the 21 races held since NASCAR first came here in 1994.
Veteran team owner Jack Roush, a Ford man his entire career, offered a well-thought-out explanation for this most intriguing pattern, in an exclusive interview with FOXSports.com in the IMS garage late Friday evening.
"Once you work out a combination of springs and bars that work really good for a race team, they're able to carry it from one package to the next with making small adjustments to it," said Roush, who received his mathematics degree with a minor in physics from Berea College in 1964. "(Many) things work in a combination. Once a team gets the code -- many times when I've had it for different racetracks, I've not really understood it -- sometimes you can carry it forward from driver to driver. ... I think it's just a matter of having the momentum and having a good playbook that has a good combination of those setup parameters. Whether they understand it or whether they don't, it works to their advantage as long as they stay true to what's working."
Indianapolis, which unlike most tracks features four distinct corners, is a virtual carbon copy of itself at opposite ends of the track -- another factor that Roush believes has allowed Chevy to keep its advantage through the three generations of Sprint Cup cars that have competed here since 2002 -- the last time a non-Chevy driver prevailed, courtesy of Bill Elliott's win in a Ray Evernham-owned Dodge.

"There's two things going on there," Adam Stevens, crew chief for Toyota driver Kyle Busch, said of Chevy's reign. "No. 1, if you look at the percentage of the field, most of them are Chevrolets. That helps. Historically, some of the best teams have been Chevrolet teams. So, you've got odds in your favor to begin with.
"On top of that, they've always had a strong motor package. If there's a place where the motor is going to shine, it's here. So, they've got a couple things in their favor."
Whether Roush and Stevens are correct in their theories or not, history reveals that Chevrolet has been king at Indy for a really long time -- a fact not lost on drivers and crew chiefs from the sport's other two manufacturers, Ford and Toyota.
"Hopefully, we took a little wind out of their sails today," said Ford driver Joey Logano, after qualifying second for Sunday's race. "It is no secret they have been fast here in the past. I think their package -- and they have great motors -- when you come to a racetrack like this they have great aero and motors, and that stands out here. It is good to be able to top them in qualifying, but when you put great teams and great drivers together like they have over there, and a lot of them, they are going to be racing up there for the win. There are a lot of good teams that are driving those cars."
After Chevy drivers led two of Friday's three practices at Indy, the Toyota of Carl Edwards captured the pole on Saturday afternoon, followed by Logano's Ford and David Ragan's Toyota. The highest qualifying Chevy was fourth-place Tony Stewart.
Are the results from qualifying an indication that perhaps the Ford and Toyota teams are ready -- after years of futility -- to finally end the Bowtie Brigade's lengthy reign at the Brickyard?
Perhaps the debut this weekend of a new, high-drag aero package has helped level the playing field between the manufacturers. Or maybe the Ford and Toyota seems are simply tired of losing at Indy.
Ragan, for his part, isn't willing to take Chevy's mediocre qualifying performance on Saturday as a sign that the manufacturer's top drivers won't be at the top of the leaderboard come late Sunday.

"It gives me a little confidence when they drop the green flag, but after that there's a lot of good guys out there that have very fast race cars that will be at the front of the field before it's all over," said Ragan. "I think the 48 (Jimmie Johnson) and the 24 (Jeff Gordon) and even the 5 (Kasey Kahne) had some really good runs yesterday on old tires, so I know they're spread out through the field.
"It gives you a little bit of confidence for a few minutes maybe tonight, but when they drop the green flag I guarantee you that in order to win this race tomorrow we're still going to have to outrun the 4 (Kevin Harvick), and the 14 (Stewart) looks good and the 24, the 5. I don't think there's anything to get too excited about."