For the Kicking Colquitts, punting is a family affair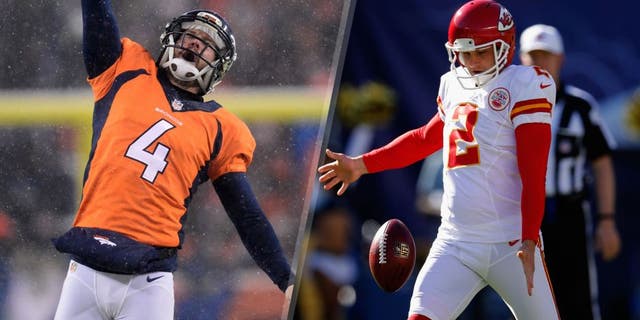 The NFL's greatest family punting legacy -- the Kicking Colquitts -- began with a man who never attempted a kick in college or professional football and a son who answered a want-ad.
It will grow even more if a third-generation Colquitt -- Britton -- is on the winning end Sunday for Denver in Super Bowl 50.
As much media attention is placed on the Manning family, the Colquitts are an even more impressive clan when you consider how many members have flourished in the special-teams ranks.
Britton is now in his seventh season with the Broncos.
His brother Dustin has spent the past 11 years in Kansas City.
Their father Craig won two Super Bowl titles with the Pittsburgh Steelers in the 1970s.
Craig's nephew Jimmy spent one season with Seattle in the 1980s.
Two cousins (Travis and Greg) were college punters.
And then there's the patriarch who started it all -- Lester Colquitt.
He was a standout high school punter in Knoxville, Tenn. before a military commitment kept Lester from accepting a scholarship offer to the University of Alabama. Lester didn't pursue playing again once completing his service, instead returning home and becoming a police officer.
That didn't end Lester's love of kicking.
"They would say he used to come home with his big old cop motorcycle boots and he'd punt the ball," Britton told FOXSports.com earlier this week. "It would literally go the entire block. Kids were just terrified (to catch it) when the ball would come down. They would dive out of the way."
Colquitt admits some of the yarns he's heard about his grandfather may be exaggerated ("B-lesters" is what the family calls such tall tales). But the improbable story about how Britton's father began his path to the NFL is true.
The University of Tennessee was so desperate for punting help in 1974 that a classified listing was placed in the Knoxville News-Sentinel promoting tryouts. Craig Colquitt, who was working in a department store two years removed from his own high school punting days, answered the advertisement. He won the job and ended up playing for eight NFL seasons.
Craig then began passing the torch to Britton and Dustin, who is three years older.
"In the backyard he just showed us the fundamentals," Britton said. "Instead of running around passing the ball with our hands, we were passing it off our feet to each other. You would run a route and it would be like, 'Lead me.' That's directional punting right there.
"It was great for learning the basics and teaching you the drop, which is the most important thing anyway."
Although punting is in their DNA, there was no guarantee Britton and Dustin were going to try following in their father's footsteps. Neither began playing organized football until high school. Dustin didn't even pursue the sport his first three seasons there, instead focusing on soccer skills that earned him college scholarship offers.
"Our kicker got hurt and Dustin filled in," Britton said of Dustin's introduction to football. "The story there is Dustin didn't like the tight pants. It was like, 'I don't think I can do this in front of all these people.' But in the first real game, he had a girl come up to him behind the fence before the first game who screamed at him, 'Hey Colquitt -- nice butt!'
"He was like, 'OK, I can do this. Now I'm in.'"
The anecdote is reflective of how the Colquitts grew up without a sibling rivalry. Another one: Britton would always attend the kicking camps held by his father and former Volunteers/NFL kicker Fuad Reveiz. Dustin didn't.
"There was no competitive punting between us at that point," said Britton, 30. "Our dad did a real good job of teaching us early but not pushing football on us. I wanted to play growing up but our parents wouldn't let us because we did soccer and they didn't want us to get hurt.
"I think my dad knew eventually when the door was open (for football) we'd be able to do it."
Britton's path to NFL success was far bumpier than the one taken by his brother. Britton had four alcohol-related arrests at Tennessee, which created huge red flags among NFL teams. While his brother was a third-round draft pick, Colquitt was forced to enter the league in 2009 as an undrafted college free agent. He spent time on Miami's practice squad before being signed to Denver's 53-man roster later that season.
Britton has gotten his personal life together, which has led to punting prosperity. He surpassed Dustin as the NFL's highest-paid punter in 2013 when signing a four-year, $13 million contract extension in Denver. For their careers, Britton has the higher gross average (45.2 yards to 44.8) while Dustin is better in net average (39.5 to 39.1).
Now a father of three, Britton says his family's legacy "and what an honor and how crazy it is" means even more to him as he gets older.
"Whenever Dustin and I play that's very surreal because I'm almost pinching myself being in the NFL , much less getting to play against my brother twice a year," said Britton, referencing the AFC West rivalry between the Broncos and Chiefs. "When you're talking Super Bowls, that's even wilder. But the fact I grew up around Super Bowl rings has provided some normalcy this week. One reason I think I've been able to make it is the belief that I can be there and a lot of grace from God because I definitely needed that."
Britton's own family recently made some off-field news when the Denver Post reported he was forced to spend $1,800 on a Super Bowl ticket for his one-week old daughter to attend. More headlines about Colquitt's kids may be coming in the future. His three-year-old son Nash has already learned how to fully extend his leg whenever playing around with the football.
"My first daughter is into it more than he is, but it's in him," Britton said. "When he came into the hospital room recently to see the baby, for whatever reason, he was kicking his leg around."
Britton, though, wouldn't be disappointed if Nash tries to follow a different athletic pursuit.
"I'll teach him some stuff, but honestly I'd rather Nash play golf," Britton said. "Then I'd be able to play golf more."
Maybe so, but the Golfing Colquitts doesn't quite have the same ring to it.