For Caps, no goalie issues this time around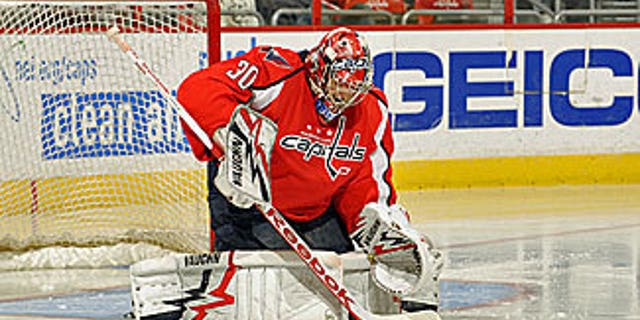 ARLINGTON, Va. -- Bruce Boudreau addressed assembled members of the media at Kettler Capitals Iceplex the day before Game 3 of his team's Eastern Conference quarterfinal series and the first question directed at him Saturday was about switching his top two centers for practice.
The next three questions were about Jason Arnott, then one on his young defensive pairing of John Carlson and Karl Alzner, and on the press conference went for more than six minutes. There was one question that wasn't asked, and it signifies so much for the 2011 Stanley Cup Playoffs edition of the Washington Capitals.
No one asked Boudreau who his starting goaltender will be Sunday against the New York Rangers at Madison Square Garden.
"It is not a decision that we have to make at this time," Boudreau said. "We've had to make it a lot in the past few years."
In each of the past two postseasons, who Boudreau would chose to play in net for Game 3 has been one of the hot-button issues leading up to the contest. Each year Jose Theodore started as the team's No. 1 goalie only to be replaced by Semyon Varlamov -- for the start of Game 2 in 2009 against these Rangers and during Game 2 in 2010 against Montreal.
Each year Boudreau stuck with the young Russian goaltender and was rewarded with strong performances. This year there is no question about who will be in net at Madison Square Garden for Game 3 -- and isn't Varlamov.
Michal Neuvirth earned the nod for Game 1 of this series by being the healthiest and most consistent of the two young goaltenders vying for the spot, and he's rewarded Boudreau's trust with two mistake-free outings as the Capitals built a 2-0 series lead.
"[Neuvirth] has been playing great and we're very confident with him," Boyd Gordon said. "He's been playing great for us all series. We're confident with either guy but [Neuvirth] is our guy and he's been playing unbelievable."
The 23-year-old from the Czech Republic has stopped 46 of 47 shots in the first two games, yielding one goal in nearly 79 minutes of work in Game 1 and pitching a 22-save shutout in Game 2. New York's lone goal came after a defenseman was worked over on the forecheck and a forward wasn't able to get into position in time to stop a one-timer on a pass from behind the net -- a tally Neuvirth had little chance of stopping.
Otherwise, Neuvirth has been impenetrable. A combination of strong defense from the Capitals and poor offense from the Rangers has limited the number of crazy saves he has had to make, but Neuvirth hasn't offered New York any chance to grab some momentum with a soft goal, either.
"My team is playing huge right now," Neuvirth said. "It has been two very solid defensive efforts. We're blocking a lot of shots and I'm facing a lot of shots from the outside so they're making my job easier. Hopefully we've got to keep it the same job we did the last couple games."
Confidence in the team's defense and goaltending is a two-way street. Neuvirth's calm, poised demeanor has helped the guys in front of him play better and their ability to keep the Rangers from dangerous scoring chances has helped him find his rhythm despite less than seven periods of NHL postseason experience.
"When you have faith in your goaltending, and we have faith in both of them -- either one that went in or goes in and I still believe that both of them will play before this playoffs is done -- it is a calming effect on the team that you know you can make a mistake and there's a good chance your mistake will be covered up by the goaltender," Boudreau said. "In other situations as teams that I've played on, if you don't have belief in the goaltender you know you play so safe that you can't make a mistake or its in your net. We don't want to make mistakes, but that's the kind of effect that he has on you that he'll be there to bail you out."
Boudreau has made that assertion about both goaltenders playing clear on multiple occasions. Varlamov had a great finish to the regular season, but in the end his inability to stay healthy cost him. He has also proven to be able to handle the pressure of the Stanley Cup Playoffs, and Boudreau isn't likely to lose much sleep if he has to call on the 22-year-old Russian.
The battle between Neuvirth and Varlamov for the starring role in net for Washington is far from finished, and Braden Holtby is likely to squeeze his way into the competition again whether it is this postseason or next fall. For now, though, the net belongs to Neuvirth.
"To me it doesn't make any difference, whether it was last year when we were switching goalies or when we're staying with the same guy this year," Matt Bradley said. "We're all confident in whoever we have back there, regardless if it is [Neuvirth] or [Varlamov]. Right now [Neuvirth] is playing great hockey and he's doing well. If they put [Varlamov] in, we'd be just as confident because we know he can be just as good. For us, I don't think it is something we worry about at all. It is just something you kind of go with."
Added Neuvirth: "I don't think about a lot of stuff. I'm just going game-by-game. Who knows what is going to happen? I'm really happy with my two games so far and I'm excited for the next game."