Following cancellation, Florida eager for season opener, chance to end 7-game losing streak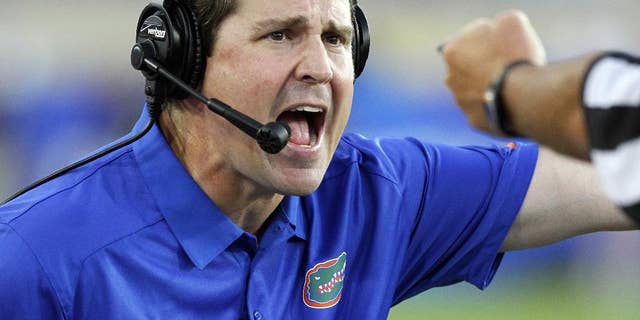 GAINESVILLE, Fla. – It's been 11 months since Florida's last victory, so waiting another week to try to end the drought might not seem like a big deal.
It was agonizing for the Gators.
Florida's season opener against Idaho was postponed because of lightning and heavy rain, and then canceled four days later. Florida players were the big losers in the deal, missing out on a chance to end a seven-game losing streak and erase memories of a miserable season that was the program's worst since 1979.
The Gators get another opportunity Saturday against Eastern Michigan (1-0), which beat Morgan State 31-28 last week.
"When I finally get out there, pray for them," Florida linebacker Michael Taylor said. "That's how we all feel because we've got some stuff to let out. It's been a while, so we're just ready to take the field."
Florida seemingly would have taken advantage of size, speed and talent mismatches against Idaho, which managed just four wins over the last three seasons and ranked as one of the worst defenses in the country in 2013.
Then again, the Gators went 4-8 last season and lost to then-lower-division Georgia Southern. They haven't won since beating Arkansas 30-10 in Gainesville on Oct. 5.
They had planned on ending the streak last Saturday.
Now, they will end up waiting at least another seven days.
"It's just a lot of stuff built up in you ready to get out, so we're just going into this week hoping it doesn't happen again and just able to take everything out on Eastern Michigan," defensive end Dante Fowler Jr. said.
Last week's scheduled opener was delayed nearly three hours by numerous lightning strikes around the stadium. Once it did start, Valdez Showers returned the opening kickoff 64 yards and gave the Gators great field position. But another strike prompted officials to pull players off the field again.
This time, for good.
The game was officially canceled Wednesday, with Florida agreeing to pay Idaho the contracted $975,000 and refunding about $2 million in tickets. Insurance is expected to cover most of the lost revenue.
Maybe more important to the program, Florida lost a chance for quarterback Jeff Driskel and his teammates to fine-tune new coordinator Kurt Roper's up-tempo, spread offense. How the offense performs will be key to Florida's chances of vying for the top spot in the Southeastern Conference's Eastern Division.
"We're all ready to get out and just show everybody what we're about," receiver Latroy Pittman said. "First impressions are everything. We just want to get the good message out there that we're ready and that we're going to be competing for something in 2014."
___
Here are five other things to know about the Eastern Michigan-Florida game:
SUSPENSIONS LIFTED: Despite Florida's opener lasting just 10 seconds, coach Will Muschamp reinstated three players suspended for the Idaho game. Receiver Demarcus Robinson and defensive tackles Darious Cummings and Jay-nard Bostwick will play against Eastern Michigan, a decision that drew some criticism this week. Muschamp defended his call by saying discipline goes beyond suspending players for games.
SEASON-OPENING STREAK: Florida has the second-longest opening-day streak in the nation. The Gators have won 24 straight openers, five shy of Nebraska. They have outscored opponents by a combined 327-58 over the last eight season-opening victories, but have been less-than-impressive the last two years under Muschamp. The Gators beat Toledo 24-6 last season and edged Bowling Green 27-14 in 2012.
EAGLES VS SEC: Eastern Michigan is 0-6 against teams from the SEC, losing to Arkansas, Florida, Missouri, South Carolina and Vanderbilt (twice). The Eagles haven't fared particularly well in recent matchups against the powerhouse league, either, losing by 46 at Vandy in 2010, by 36 at Arkansas in 2009, by 23 at Vandy in 2007 and by 39 at Florida in 2004.
LAST MEETING: Coincidentally, Florida's last matchup against Eastern Michigan was supposed to be the second game of the 2004 season but ended up being the Gators' opener after Hurricane Frances postponed the Week 1 contest against Middle Tennessee State. Florida handled the Eagles 49-10 — a game that was delayed a little more than an hour because of lightning.
INJURIES: Florida will be without backup linebacker Jeremi Powell for at least three games following arthroscopic knee surgery, and defensive back Marcus Maye (hamstring) is considered doubtful to play.