Foam finger inventor: Miley's not No. 1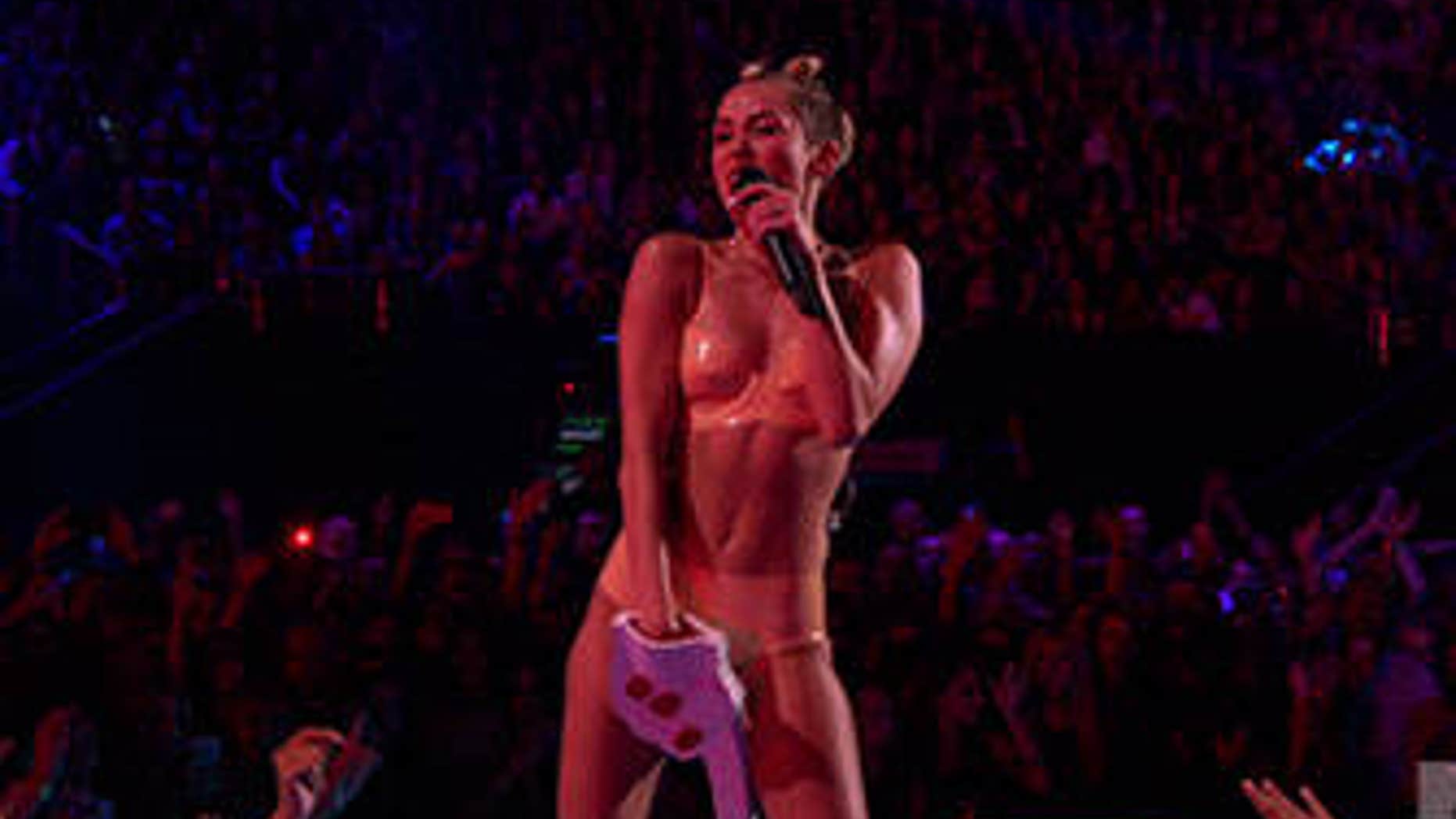 When a 16-year-old Steve Chmelar created the original "No. 1 hand" as a way to support his high school basketball team at the Iowa state championships in 1971, he never expected to see one used in quite the way Miley Cyrus did at the MTV Video Music Awards.
But Chmelar, now a 59-year-old VP of commercial sales at a construction supply company, says he's gotten attention, nonetheless, since the 20-year-old pop star's salacious antics shined a new light on his creation, which can be found these days in most any stadium or arena in the country in the form of a foam finger.
Now, in case you missed it -- if you did, lucky you -- this, via MTV.com , was Ms. Cyrus at the VMAs, doing unspeakable things to a white foam finger during her duo with Robin Thicke:
Yahoo! Music did a little digging and traced the origin of Cyrus' finger back to stylist and fashion host Lisa Katnic. Katnic told Yahoo! that she created the finger, which is all white with red painted nails, a year ago for use in an editorial shoot, but it didn't make the cut.
The finger later turned up in Thicke's racy video for "Blurred Lines" before making its live debut with Cyrus.
But if we're really giving credit where credit is due, we should go all the way back to Chmelar's parents' garage in Ottumwa, Iowa, where he fashioned the original creation out of galvanized hardware cloth, paper mache, spray paint and a red marker over the course of a few days.
The finger made only two appearances -- at the state semifinal and championship game in Des Moines -- before it was retired for good. But an AP photographer snapped a photo of Chmelar at one of the games, and it ended up in the school yearbook, where it became an inspiration for fans all over the world.
"It was pretty popular at the game," Chmelar told FOXSports.com. "Nobody had ever seen anything like that before, so it got some attention. And then when the team made its trip back to Ottumwa from Des Moines, I recall being on the bus with the team, holding the finger out the window."
Several years after Chmelar created his original No. 1 finger, a man named Geral Fauss -- after designing failed prototypes using cardboard and plywood -- created the first foam finger and began selling them at the 1978 Cotton Bowl game. Chmelar said he has never spoken with Fauss, but that he believes it was his creation that inspired the digit we all know today.
"I don't have evidence of newspaper clippings from around the country, but I do recall people from other states saying that they had seen the picture," Chmelar said. "You get enough of those photos around somewhere and you get people with creative minds, one thing leads to another and other people copy it and it goes on."
That said, Chmelar went on to patent his own creation -- a concrete forming system called Riser Solutions that is used to construct tiered concrete -- and he doesn't hold a grudge against Fauss or anyone else who has profited off a finger design he was responsible for.
"I wish I could feel the responsibility weighing down my pockets; I've not gained a dime from any royalties or anything like that," Chmelar said. "But it's just a matter of satisfaction. It was fun to do it and create it, and it's certainly rewarding to see what it's become and the variations of it."
Which brings us back to Miley -- whose phallic interpretation of "what to do with a foam finger" was not exactly what Chmelar had in mind in 1971. Chmelar said he didn't see Cyrus' performance live, but that he watched it after a relative brought it to his attention on Facebook.
"For people that like that kind of entertainment, I'm sure that it met their needs," Chmelar said. "If I had a choice between Julie Andrews singing 'The Sound of Music' and Miley Cyrus doing 'Can't Stop,' I'd go the Julie Andrews route, but everyone has their choice and their decision.
"I would say that it certainly misrepresented its intent to encourage team support," Chmelar added. "She took an honorable icon that is seen in sporting venues everywhere and degraded it. Fortunately, the foam finger has been around long enough that it will survive this incident. As for Miley Cyrus, let's hope she can outlive this event and also survive."
Normally, one foam finger-related story would be enough for one week, but on Monday the Lehigh Valley Iron Pigs also made news when they announced they'd be giving away foam fingers to the first 3,500 fans at Tuesday's game in honor of Prostate Cancer Awareness Night.
While the Iron Pigs' giveaway is misrepresenting the original nature of the finger, according to Chmelar, at least it comes with a message Chmelar can support.
"Neither application would necessarily be as I intended it to be; the real scope of it was to encourage fan support," he said. "To see it used as a prop for a dance, I don't see much added value there. But on the flip side, the prostate cancer concept, if it can be used in a manner that promotes better health or more awareness of problems that men go through, I don't necessarily see a problem in using it that way.
"I do hope that they designed the foam finger to look as though it was wearing a latex glove."
You can follow Sam Gardner on Twitter or e-mail him at samgardnerfox@gmail.com .